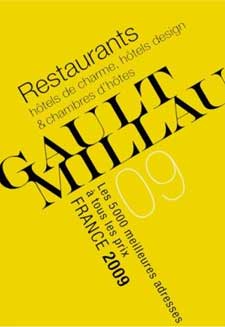 Mauro Colagreco, elected Gault Millau's Chef of the Year 2009, was born and bred in La Plata Argentine. The first non-French chef to win this prestigious award, his parents, part Basque, part Italian are obsessive foodies, as are his three sisters. Hardly surprising that Mauro chose a culinary career, in France, working for Alain Ducasse, Guy Martin, Bernard Loiseau and Mauro's mentor, Alain Passard.
For Mauro, his restaurant Mirazur, Menton, is a dream come true, and in 2006, aged 30, he won his first Michelin star. But where does he eat? And why?
"When I go to a restaurant I want to relax, not think of work. I don't expect grand service, I expect to eat well. Chefs work so hard; I now close Monday and Tuesday so I can get out, see what's going on. On warm evenings there's nothing nicer than an aperitif on Plage Napoleon where I sit and watch the sea, maybe chat with Mr Likermann, owner of the Hotel Napoleon just across the road.
A few meters from the border is, La Spiaggetta dei Balsi Rossi, the owner offers 4 starters, depending on the market, four mains, excellent home-made pasta and sensational sea-views, coming here re-charges my batteries, restaurants I like have none of your hi- technology, just good ovens and chefs with a passion for fresh ingredients.
On Mondays I'm usually chez Bruno Cirino at his Café La Fontaine, with other local chefs and friends, we tuck into his delicious ravioli filled with veal's feet mixture that is truly wonderful, stuffed baby vegetables, Niçoise style, rabbit with juicy olives, entrecote Béarnaise, cod cooked in a herb crust, washed down with local wine, we finish with tangy lemon tart.
Menton's great. My wife Daniela, a fashion stylist, was actually looking for a place in Barcelona when we heard about Mirazur. It's a former tabac transformed by architect Rick Mather for Jacques Chibois, but Monsieur Chibois didn't want to neglect his Grasse restaurant, La Bastide Saint Antoine www.jacques-chibois.com. And Mirazur needed new owners. It was the best decision we ever made!
We live near the restaurant, just over the border, in Italy; I can see our home from Mirazur. I go to the covered markets at Menton, or Ventigmilia and Cours Saleya, Nice. I've created an herb garden at Mirazur and grow my own produce.
When we feel like putting on our best clothes we head over to Keisuke Matsushita in Nice. I love his Zen philosophy of cooking; he loves working with vegetables as much as I do. Kei's Mediterranean spin on dishes such as Tempura of Norwegian lobster, courgette flowers with green tea sauce, or beetroot millefeuille with wasabi are remarkable, he spices and slices beef in a purely oriental style. It's a huge contrast to the beef we cook in Argentina, outside on the feu-du bois! Wines chez Kei are mostly organic and he sticks to the rhythm of the seasons.
Sometimes it's nice to travel around the region and on one of these trips I met Jacques and Valérie Guerin, who created La Domaine de Mille Vignes in 1979. The Domaine is interesting because it covers the three appellations of Languedoc, Fitou, Muscat and Rivesaltes, over just 7.5 hectares. Their production is limited, picking takes place at the time of full organic maturity, amid a lot of partying among friends who call themselves "les Vendanguers de la Violette", there's also a wine dedicated to them. Ask the local chefs about this wine and they smile, I've even heard that they drink Cuvée de la Cadette 2004 at the Elysée Palace!
I'm a fanatic of olive oil, especially if it comes from Serge and Martha Toscan-Chiaramonti's olive groves. They are artisan-agriculteurs who love the earth and work very hard growing and preserving superb vegetables and fruits. Some years they only produce about 200 litres, it's pure nectar. Sometimes I see them in local markets and then I buy Martha's Pate d'Olive and home-made lemon jam.
Daniela and I love the views from the Vista Palace Hotel, although it can be hairy getting up there! Chef Charles Semeria creates a fusion of exciting flavours, matching the breathtaking views.
Paris-Rome is another favourite address in Menton. The Michelin-star restaurant is in the Paris-Rome Hotel, owned by the Castellane family since 1906, the epoch when wealthy travellers stopped in their chauffeur driven limousines on the way to Italy. The menu's traditional, Provence/Italian, say, Filet of charolais Beef Rossini, Version 2008 or Canon of Rodez Lamb with deconstructed caponata and basil caramel, its' all good".
Mauro's Address Book:
Café La Fontaine,
4 avenue General de Gaulle,
La Turbie,
T: 04 93 28 52 79
Keisuke Matsushita,
22 ter rue de France, Nice,
T: 04 93 82 26 06
Menton Market
Les Halles, Menton,
Hotel Restaurant Paris-Rome,
79 avenue Porte de France, Menton,
T: 04 93 35 73 45
La Spiaggetta dei Balsi Rossi,
Via Romana Antica,
Ventigmilia,
T: 0184 227 020
La Plage Napoleon
Opposite 29 Porte de France,
Menton,
T: 04 93 35 49 22
Vistaero Restaurant,
Vista Palace Hotel,
1551 route de la Grande Corniche,
Roquebrune, Cap Martin,
T: 04 92 10 40 00
Serge & Martha Toscan-Chiaramonti,
2067 route de la Condamine, 06500
Castellar
T: 04 92 10 28 44
Jacques Guérin,
Domaine Les Milles Vignes,
24 avenue Saint-Brancat,
Pierrfeu-du- Var
T: 04 94 48 24 01.
Mauro's Mirazur Restaurant