Fall brings an abundant harvest to the streets of Paris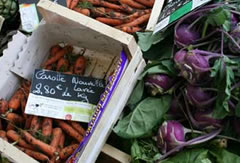 Summer holidays are officially over. Scarves are flung around necks and copper leaves spill from the chestnut trees along the Seine. With a nip in the air, chairs are disappearing from breezy terraces; umbrellas are snapped shut, and doors slam on cosy cafés as Parisians prepare for cooler months ahead. Gone too are the mountains of strawberries, the flowing streams of summer cherries. Stuffed with the fullness of autumn, the French countryside has been trucked to Paris and the open-air markets explode in fiery shades of scarlet, bronze and gold. Shopping baskets now brim with treasures found on forest floors. Stalls swell with cheery clementines. Rickety crates of corn are banged down next to mounds of purple plums and pears with windblown cheeks.     As the weather turns, chefs cast seafood and salads from menus, roll up their sleeves with relish and bring down their pots to prepare the first of the season's rich, robust sauces. Restaurants begin to feel warm and homey again, their blackboards scrawled with comforting delights that capture the flavours of fall: sautéed wild mushrooms, quail with roasted figs, rabbit in mustard sauce.     The French live by the seasons, anticipating and cherishing each new market pleasure. The rural connection remains strong, with discerning Parisians yearning to draw closer to 'the source'. But in a city fiercely passionate about food, le marché not only provides a venue for fresh regional produce; it plays an important part in the daily art de vivre. Armed with trolleys and baskets, the ritual daily market trip gives locals a chance to meet friends over a café crème, exchange cooking tips with the eccentric poissonnier and banter away to the bloodstained boucher. Customers form strong relationships with their favorite merchants, who act as culinary counsellors. Even the French pharmacist is trained to identify les champignons, and dispenses advice on preparation and cooking.     A ramble through the produce market provides an interesting way for food lovers to discover Paris – revealing much about the character and habits of those who live in each neighbourhood. There are three types of markets scattered throughout the city: roving markets, merchant streets and small covered markets, each with its own personality and flavor. Generally, covered markets have become more of historical
interest than culinary, unable to compete with supermarkets.  Open-air roving markets set up at dawn under colourful canopies, only to vanish again around lunchtime. They come alive twice a week, leaving in their wake streets strewn with boxes and broken baguettes. With the help of pecking pigeons and an army of brooms, the cobbles are soon returned to normal.     Straddling the eastern fence of the once noble Marais and the working class Bastille is one of Paris' most fashionable roving markets – the lively Marché Bastille, with more than 200 merchants.  Erected along the broad tree-lined Boulevard Richard Lenoir under the protective wing of Genie de la Bastille, it draws a mix of artists, designers and advertising types from the hip neighbourhoods nearby. Originally the site of a "Ham and Scrap-Iron Fair", you are now more likely to encounter oozing farmhouse cheeses, exceptional seafood at Jacky Lorenzo's, herb and butter-filled escargots de Bourgogne and the occasional squawking chook or baby goat. Jump the fence into the Marais for lunch, a quarter loaded with restaurants.    Across town, Marché President-Wilson is the smartest, most genteel roving market in town, catering to the well-heeled 16th arrondissement, home to embassy families, wealthy executives and celebrities. Under the watchful eye of George Washington on his horse, Avenue du President Wilson is transformed twice a week into an opulent banquet. Step into the long aisle of stalls sandwiched between the Musée d'Art Moderne and the Musée de la Mode et du Costume and you'll be swept past huge pans of steaming paella, crepes on the griddle, speckled quail eggs and foie gras. With a local clientele who demand superior quality, you can be assured pristine produce. Many locals do their flower shopping here, choosing from a breathtaking array of blooms. Bouquets are arranged while they fill their plaid trolleys.    The eastern end of the market runs into Place de l'Alma, made famous by the death of Princess Diana, and from here you can stroll over Pont d'Alma into the exclusive 7th. Wander down Avenue Rapp to the charming rue St Dominique, and lunch at this restaurant that defines vieille France—the welcoming La Fontaine de Mars, with its red and white checked tablecloths, clanging kitchen bell, lacy curtains and traditional cuisine from the south-west, opened at the turn of the 20th century. It was named after the small fountain nearby, commissioned by Napoleon.    The few tables set up in fine weather under the stone arcade are always jammed with residents from the bourgeois 7th tucking into seasonal bistro fare – try the excellent cassoulet or the heavenly crème brûlée. Across the street is the pretty pastry-shop Duchesne, endowed with chandeliers and dense croissants aux almonds – and close by, the tranquil Musée Rodin.         Despite its proximity to the Eiffel Tower, tourists usually leave the quiet 7th alone. But trek further in and you'll discover a very intimate side of old-money Paris. Marché Saxe-Breteuil, a large market with a lively country village atmosphere, has set up its colorful striped canopies under the shadow of the Eiffel Tower since 1873. Bustle past pots of lavender honey, tubs of tapenade, rustic fruit tarts and poodles. Try some Tomme de Savoie cheese, wines from Sancerre, fish transported that very morning from Trouville and geese from the Perigord.       A…
SUBSCRIBE
ALREADY SUBSCRIBED?
BECOME A BONJOUR PARIS MEMBER

Gain full access to our collection of over 5,000 articles and bring the City of Light into your life. Just $60 a year.

Find out why you should become a member here.

Sign in

Fill in your credentials below.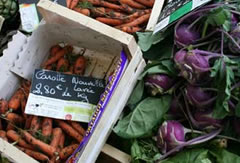 Summer holidays are officially over. Scarves are flung around necks and copper leaves spill from the chestnut trees along the Seine. With a nip in the air, chairs are disappearing from breezy terraces; umbrellas are snapped shut, and doors slam on cosy cafés as Parisians prepare for cooler months ahead. Gone too are the mountains of strawberries, the flowing streams of summer cherries. Stuffed with the fullness of autumn, the French countryside has been trucked to Paris and the open-air markets explode in fiery shades of scarlet, bronze and gold. Shopping baskets now brim with treasures found on forest floors. Stalls swell with cheery clementines. Rickety crates of corn are banged down next to mounds of purple plums and pears with windblown cheeks.
    As the weather turns, chefs cast seafood and salads from menus, roll up their sleeves with relish and bring down their pots to prepare the first of the season's rich, robust sauces. Restaurants begin to feel warm and homey again, their blackboards scrawled with comforting delights that capture the flavours of fall: sautéed wild mushrooms, quail with roasted figs, rabbit in mustard sauce.
    The French live by the seasons, anticipating and cherishing each new market pleasure. The rural connection remains strong, with discerning Parisians yearning to draw closer to 'the source'. But in a city fiercely passionate about food, le marché not only provides a venue for fresh regional produce; it plays an important part in the daily art de vivre. Armed with trolleys and baskets, the ritual daily market trip gives locals a chance to meet friends over a café crème, exchange cooking tips with the eccentric poissonnier and banter away to the bloodstained boucher. Customers form strong relationships with their favorite merchants, who act as culinary counsellors. Even the French pharmacist is trained to identify les champignons, and dispenses advice on preparation and cooking.
    A ramble through the produce market provides an interesting way for food lovers to discover Paris – revealing much about the character and habits of those who live in each neighbourhood. There are three types of markets scattered throughout the city: roving markets, merchant streets and small covered markets, each with its own personality and flavor. Generally, covered markets have become more of historical

interest than culinary, unable to compete with supermarkets.  Open-air roving markets set up at dawn under colourful canopies, only to vanish again around lunchtime. They come alive twice a week, leaving in their wake streets strewn with boxes and broken baguettes. With the help of pecking pigeons and an army of brooms, the cobbles are soon returned to normal.
    Straddling the eastern fence of the once noble Marais and the working class Bastille is one of Paris' most fashionable roving markets – the lively Marché Bastille, with more than 200 merchants.  Erected along the broad tree-lined Boulevard Richard Lenoir under the protective wing of Genie de la Bastille, it draws a mix of artists, designers and advertising types from the hip neighbourhoods nearby. Originally the site of a "Ham and Scrap-Iron Fair", you are now more likely to encounter oozing farmhouse cheeses, exceptional seafood at Jacky Lorenzo's, herb and butter-filled escargots de Bourgogne and the occasional squawking chook or baby goat. Jump the fence into the Marais for lunch, a quarter loaded with restaurants.
   Across town, Marché President-Wilson is the smartest, most genteel roving market in town, catering to the well-heeled 16th arrondissement, home to embassy families, wealthy executives and celebrities. Under the watchful eye of George Washington on his horse, Avenue du President Wilson is transformed twice a week into an opulent banquet. Step into the long aisle of stalls sandwiched between the Musée d'Art Moderne and the Musée de la Mode et du Costume and you'll be swept past huge pans of steaming paella, crepes on the griddle, speckled quail eggs and foie gras. With a local clientele who demand superior quality, you can be assured pristine produce. Many locals do their flower shopping here, choosing from a breathtaking array of blooms. Bouquets are arranged while they fill their plaid trolleys.
   The eastern end of the market runs into Place de l'Alma, made famous by the death of Princess Diana, and from here you can stroll over Pont d'Alma into the exclusive 7th. Wander down Avenue Rapp to the charming rue St Dominique, and lunch at this restaurant that defines vieille France—the welcoming La Fontaine de Mars, with its red and white checked tablecloths, clanging kitchen bell, lacy curtains and traditional cuisine from the south-west, opened at the turn of the 20th century. It was named after the small fountain nearby, commissioned by Napoleon.
   The few tables set up in fine weather under the stone arcade are always jammed with residents from the bourgeois 7th tucking into seasonal bistro fare – try the excellent cassoulet or the heavenly crème brûlée. Across the street is the pretty pastry-shop Duchesne, endowed with chandeliers and dense croissants aux almonds – and close by, the tranquil Musée Rodin.
   
    Despite its proximity to the Eiffel Tower, tourists usually leave the quiet 7th alone. But trek further in and you'll discover a very intimate side of old-money Paris. Marché Saxe-Breteuil, a large market with a lively country village atmosphere, has set up its colorful striped canopies under the shadow of the Eiffel Tower since 1873. Bustle past pots of lavender honey, tubs of tapenade, rustic fruit tarts and poodles. Try some Tomme de Savoie cheese, wines from Sancerre, fish transported that very morning from Trouville and geese from the Perigord.
 
    A short metro ride away is the chic department store Le Bon Marché. La Grande Epicerie, on the ground floor, is said to be the best grocery store in Paris. Brimming with Left Bank locals pushing laden trolleys, this exclusive supermarket supplies one-stop gourmet shopping. It also boasts an extensive selection of French wines and there's an art de la table department on the second floor.
    Nearby on Boulevard Raspail, a fashionable organic farmer's market springs up on Sunday mornings. Eco-conscious Parisians and chic residents from St Germain converge on the tree-lined stretch in droves for the Marché Biologique Raspail. Farmers load up dewy pears, cider, vegetable tarts and homemade cakes at first light, jump in their trucks and rattle into town. Produce is grown and prepared according to strict organic regulations. Sample some organic wine from the Cote du Rhone, keep your eye out for healthy whole-wheat galettes…and celebrities.
      In contrast to roving markets, merchant streets consist of stalls that tumble out of cluttered specialty shops along established thoroughfares. If you want to experience the merchant streets bursting with life, weekends are the liveliest time to visit. Locals dally in the cafés that become an extension of their lounge room, busker's sing and piano accordionists belt out traditional tunes.
 
    Late Sunday morning, families are gathering fruit and vegetables and hunting down a duck to roast for Sunday lunch, still a treasured tradition in France. Laden with a baguette, a tart, a bottle of wine and a cheese or two, Parisians slip behind heavy doors to their apartments.  Inside, family and friends chop, stir and bake, creating a mingling of wonderful aromas that float into courtyards and waft down stairwells. Save the clinking of knives and forks, an audible hush falls over the streets while the city settles in for a long lunch.
    Just a short walk from the Arc de Triomphe is Rue Poncelet – a vibrant street in the residential 17th,, catering to a loyal band of middle-class families. Agile fishmongers at Daguerre Marée squelch about in rubber boots scooping up mussels by the liter and pouring cockles onto dripping ice beds. Frenzied customers at Roger Boucherie order plucked pigeons, quails and guinea fowls, while hot roasted rabbits are slipped into bags.
    Hunting remains a steadfast tradition in France, with September opening la chasse. Brightly feathered pheasants and partridges hang high above heads, away from yapping dogs. Field hares grown plump and flavorful on the lush green grasses of summer are cheap and plentiful and by November, venison and wild boar are proudly displayed, dressed in their coats. Larks are on hand for those with the urge to make lark paté, as well as countless country patés in deep earthenware pots. The demand is a little lower at the horse butcher next door, identified by three sculptured horse heads.
    Sample some cheese from the family-run Alleosse, widely considered the finest fromagerie in Paris. Many cheeses are selected personally from the best dairies in France and aged in cellars beneath the shop. Cheese too has its seasons, making it easier to pick from the almost 400 kinds produced in France. Livarot, a pungent cow's-milk cheese from Normandy, is being snapped up along with St Marcellin, with its blue-mold rind. Charolais and Pont d'Eveque are also popular. Cheese at serious fromageries is unpasteurised; no self-respecting fromager would carry anything else, shuddering at the thought of plastic impostors. Ask for soft cheese pour manger tout de suite if you intend to eat it immediately – you will be guaranteed a perfectly ripe specimen.
     Originally the city's oyster market, Rue Montorgeuil in the 2nd remains the last precious crumb of old Les Halles, the sprawling wholesale produce market that fed the French capital for eight centuries before its controversial departure over 30 years ago. Gutsy and raw, the narrow, ancient street where some of Paris' finest chefs do their shopping still echoes the spirit and grubby charm of the quarter once known as "the belly of Paris".
    Gaze up at the golden snails above l'Escargot Montorgueil and poke your nose into Stoher, an ornate pastry shop founded in 1730, claiming to be the oldest in Paris. The area is loaded with good cafés and is particularly alive on Saturday afternoons.
    A crop of professional kitchenware shops that once flourished on Les Halles' grimy rim have survived in streets nearby, the cream of the crop being E. Dehillerin. Selling to chefs since 1820, the store is crammed with copper saucepans, tart tins and crepe pans.
    One of Paris' oldest merchant streets is the charming rue Mouffetard on the edge of the Latin Quarter. Surrounded by ancient alleyways infused with medieval history, this Left Bank area of bookshops, writers and students is devoted to learning. Described by Hemingway in A Moveable Feast, the street has changed little over the centuries, its bumpy grey cobblestones worn smooth with the passage of time.
    The street climbs up and along its hilly way from the medieval church of St Medard, past rabbits with cottontails, fleshy pig's ears, pearly strings of garlic and North Sea prawns. Ruddy-faced merchants unpack wooden boxes brimming with figs and herbs from the scented hills of Provence and bellow out the day's promotions. Be sure to look up at number 134 to watch the mural of forest animals roaming across the four-storey building.
   At the top of the street is Place de la Contrescarpe, a square surrounded by cafés frequented by students from neighboring universities, and nearby, the Luxembourg Gardens, showered in autumn leaves. It's the city's backyard on sunny weekends. But by the beginning of December the sun has gone and winter is just around the corner. The chestnut trees are bare and shivering, the Seine a cold flat grey. Parisians dig gloves out of drawers and zip precious poodles into stylish coats. Thoughts turn to firewood and Christmas trees, turkeys with tail feathers, fat geese and truffles – and once again, the markets reinvent themselves.
 
Market Research
ROVING MARKETS
Trading hours: 8 or 9 am to around 1pm.
Marché Bastille
Boulevard Richard-Lenoir beginning at rue Amelot.
Metro Bastille or Richard Lenoir, 11th
Thursday and Sunday
Marché President-Wilson
Avenue du President-Wilson between place d'Iena & rue Debrousse
Metro Alma Marceau or Iena, 16th
Wednesday & Saturday
Marché Saxe-Breteuil
Ave de Saxe from Place de Breteuil to Ave de Segur
Metro Segur or Duroc, 7th
Thursday and Saturday
Marché Raspail
Boulevard Raspail, between rue de Rennes & rue du Cherche-Midi
Metro Rennes or Sevres-Babylone, 6th
Tuesday & Friday, Organic on Sunday only
MERCHANT STREETS
Opening hours: Tuesday – Saturday 8 or 9 am – 1pm and 4 -7pm; Sunday 8 or 9am –1pm
Rue Poncelet
Beginning at Ave des Ternes and extending down rue Bayen
Metro Ternes, 17th
Rue Montorgueil
Beginning at rue Rambuteau
Metro Sentier or Les Halles, 1st  & 2nd
Rue Mouffetard
Beginning at rue de l'Epee-de-Bois
Metro Censier-Daubenton or Place Monge, 5th
SHOPS AND RESTAURANTS
Alleosse, 13 Rue Poncelet, Paris 75017
Daguerre maree, 4 Rue Bayen, Paris 75017
Duchesne, 112 Rue Saint-Dominique, Paris 75007
E Dehillerin, 18-20 Rue Coquilliere, Paris 75002
La Grande Epicerie, Le Bon Marché,
38 Rue de Sevres, Paris 75007
Metro Sevres-Babylone
Open 8.30am to 9pm Mon-Sat.
Stohrer, 51 Rue Montorgueil, Paris 75002
La Fountain de Mars, 129 Rue St Dominique, Paris 75007
Tel: +33 1 47 05 46 44, Metro Ecole Militaire
Open daily for lunch 12pm-3pm; dinner 7.30pm-11pm 7.30 – 11pm
Reservations recommended
©. Jane Paech
 
---
---