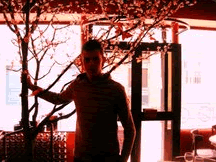 Rue de Tournelles, between Place des Vosges and Place de la Bastille, a crisp winter lunchtime, discovering a cute neo-bistro recently opened by Benoit Chagny (ex-Christian Constant, Ledoyen & Vigato).
Now there's good news and bad. The good is that the welcome is warm, and the blackboard promises culinary marvels. The bad is that Chagny has decided to change the name from L'Evasion to L'Endroit, which was its' name under the previous owner!
Brings to mind Issur Danielovitch Demsky who changed his name to Kirk Douglas and never looked back. Cheer up Benoit.
Chagny looks glum. "L'Evasion" means Moroccan cuisine to the French, and my cuisine is trad-modern French", he explains. A bit of a conflict because this guy loves Morocco, the décor is terra-cotta and Chagny's featuring an exhibition of Moroccan photos. Zoot ze life is complicated.
But Chagny's cuisine is not complicated, it's honest and fresh as the morning dew. From his time spent with Vigato (Apicius) there's excellent starters of, say, foie gras with honey and warm bread. A soothing charlottes of rattes potatoes with herbs. Courgette soup with goat's cheese and chives or a fine marinated salmon. Mains include a remarkable long-cooked beef cheeks with carrots, cut with a trace of vinaigrette, souris d'agneau (soft bits from the lamb's leg) with cumin and pommes purée, or sea-bass with olives. Ignore les pruneaux d'Agen, profiteroles or nougat glacé au jus de fruits rouges and taste the remarkable Brioche rotie, with burnt caramel sauce and glace caramel. Chagny also honed his patisserie skills chez Lenotre. Yum!
And talking of Kirk, he features on a poster at L'Affiche (The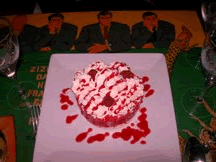 Poster) a dear little bistro dedicated to the cinema and fine traditional cuisine des terroirs. Marie Depoulain, the owner explains: "Rummaging around in a boutique dedicated to cinema posters, we decided on the theme for L'Affiche". Pleasure to go to the loo here, read the posters, those were the days, you'll sigh. They don't make 'em like that any more.
So what about the food? Well it must be good the place is packed and they're waiting for the poster decorated tables. Traditional charcuterie as a freebie starter. Crème Brulée of pumpkin and coriander. Thick grilled calves liver or cutting-edge lomo of tuna (don't know, but it's delicious). Pot-Au-Feu and, for the Ladies who do: Millefeuille of legumes.  Pudds are wicked, ladies look the other way or to hell with it and go for the Marquis au Chocolat or Sablé Breton mousse au Citron. "To-morrow is another day", said Scarlett.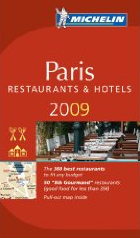 L'Endroit.
4 rue des Tournelles, 4th (Metro:Bastille)
T: 01 42 72 03 07
Lunch menu 14€ – 3 courses (sensational quality/prix)
Dinner 33€ – 3 courses A La Carte 27€ + wine
Shut Sunday Lunch & Monday
Private Room for Parties
A L'Affiche,
48 rue de Moscou, 8th (Metro: Rome)
Lunch: Starter-Main or Main-Dessert 21.50€
3 courses – 25.50€ + wine
A La Carte – 30-40€ + wine.
Shut Sat Lunch and Sunday.