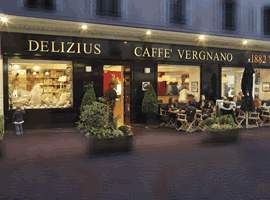 "I was looking at "To Have and Have Not" the other day", says Dustin Hoffman. "Bogart goes out fishing with a client. The guy's sitting there with the marlin on the line, and he's not listening to Bogart, Bogart's saying, "let him run, let him run". But the guy does it his own way, loses the fish. And it occurred to me it's just like making movies or setting up a restaurant!"
In between making movies Hoffman loves to cook (yes that was him at The Cordon Bleu, Paris, last week) fish and eat. He's also crazy about a great cuppa coffee. And he's starring in seven Café Vergnano's in-house coffee videos which could be called, "Everything you've wanted to know about coffee but were afraid to ask – the movie". 
"Call us the "Weird Couple", says Hoffman of his relationship with coffee maven, co-star, and Vergnano's CEO Franco Vergnano. Founded in 1882, Vergnano has set up 25 coffee shops, bistros and delis worldwide, always with the feeling that you're in Italy, even the aroma reminds you of Roma.
Hoffman, twice Oscar winning star of The Graduate, Marathon Man, Tootsie and, on your screen now, Le Parfum and Stranger Than Fiction, also stars in Vergnano's in-house movies, showing in rue Cler, now.
At Café Vergnano, as well as sumptuous coffees, Hoffman can tuck in to a dozen antipasti, bruchettas and tartines, twenty different types of pasta, stuffed with, say beetroot, shrimp, cepes, parmesan, the Cruise wedding left-overs.
The cappuccino's excellent and the coffee carte features at least 10 rosetta topped Chantilly/choco/coffee delights: make mine a macchiato. 20 different types of ice-creams and sorbets, just like in Italy.
Chef is Italian- born Claudio Sammarone who prepares the bounty of Italy daily in his shiny kitchens beneath the chic black and red canteen, décor by Roberto Ferraro. Check out the black and white photos, a complete history of Vergnano. It's your "little Italian", everything you need for your busy lifestyle; good food, no smoking, free Wi-Fi and plasma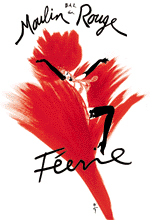 screens showing Hoffman. They'll serve you in 30 minutes at any time of day. Or just sit at the bar for the best piadina veneziana and chianti in town. Impossible to ignore Delizuis "the deli", to take home, vow you made it yourself, just like Katie Cruise and the Hoffmans.
Ciao bella et buon appetito.
40 rue Cler, 7th (Metro:Ecole Militaire)
T: 01 47 05 00 53
Open 7/7 from 7h00 to 22h.
Average Spend 18€ + wine