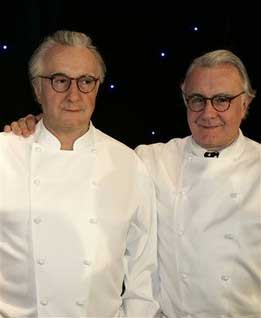 "Sharing knowledge is not just sharing for the sake ot it, it's also sharing to keep the knowledge alive. We have to open our doors to all those who love cooking", said Alain Ducasse one day last week, shortly after Ecole de Cuisine Alain Ducasse launched. The man's a marvel, runs 21 restaurants globally, and is now showing at Musee Grevin (See photo). "This has been a long-time dream, following the pro-cookery school in Argenteuil, I wanted to create a programme in tune with the times, adapted to individual wants and needs. I looked at about 200 locations before I found this", he says.
"This" is a former company canteen now a 700- square meter state of the art space, decorated by Pierre Yves Rochon, with four "to die for" Miele and Perene kitchens: Cepes: Truffe: Piment: Olive. The wine cellar, with huge tasting table set on a natural tree trunk, is for tastings given by chef sommelier Gerard Margeon or one of his team. There's an outside terrace where students can sit and taste their efforts, a boutique and culinary multimedia space with video and photo studio and meeting room.
The team is headed by Romain Corbière ex-Le Relais du Parc and Louis XV. "To ensure everyone's needs are met the school features two levels of learning for each course. Level 1 for beginners, level 2 for more advanced students", explains Corbière. "Courses can be taken for half-days, days or evenings. Students leave with a real method, as well as tricks, tips and recipes they have had time to develop, and above all assimilate", adds Ducasse who is writing a book inspired by his new school: Cuisine – Simple – Sain et Bon will be published in the autumn in English and French versions.
www.ecolecuisine-alainducasse.com
64 rue du Ranelagh, 16th (Metro:Ranelagh)
T: 01 44 90 91 00
165€ half day – 280€  full day
Haute Cuisine of AD – 205€  half & €330 full day
Mini chefs – 90€ for a two-hour course
The official lowering of TVA has now been accepted by the 27 members of the European Union and  has been the talk of the town for months. From  July 1st it's 19.6% down to 5.5% not on everything, seems like it might be a Catch 22 situation, but as long as prices are going south, right?
Alain Ducasse  has made sure his restaurants are keeping "down" with the straightened times. At Au Lyonnais, Benoit, Spoon and Rech, Ducasse chef sommelier Gerard Margeon serves "les Grands Crus en carafe" until 31st July. In each of the four restaurants there are dishes to match the vintage wines. Hurry to the elegant art-deco brasserie Rech, for Bar de Ligne en filet grillè à la diable to match Chateau Pichon Longueville Comtesse de Lalande. It's here that genius superchef Jacques Maximin has taken over the pianos. This virtuoso of the copper pots and pans has transformed the motivation of the classic art-deco seafood brasserie. "Saumon d'Ecosse Label Rouge au gros sel Jacques Maximin" is one of the signature dishes, created by Alain Ducasse to honour the skills of his friend Max. Begin with a gleaming sea-food platter. Turbot, sea-bass, sole are cooked whole, Maximin brings a Mediterranean spin to sardines, clam chowder, octopus carpaccio with pesto. Add perfect camembert and XL chocolate eclair.
Go to Spoon for fabulous fusion,  Bento at the bar. "The menus in all four restaurants are light, not in the generosity of the dishes – but sur l'addition", promises Ducasse.
Spoon:
12 rue Marignan, 8th
(Metro: Franklin D Roosevelt)
T: 01 40 76 34 44
Aux Lyonnais
32 rue St-Marc, 2nd
(Metro: Drouot-Richelieu)
T: 01 42 96 65 04
Rech,
62 avenue des Ternes, 17th
Metro: Ternes
T: 01 45 72 29 47
Benoit,
20 rue St, Martin, 4th
Metro:
T: 01 42 72 25 76
Alain Ducasse Cookery School,
64 rue de Ranelagh, 16th
Metro: Ranelagh,
T: 01 44 90 91 00
www.ecolecuisine-alainducasse.com
Robert Pini New York media, communications and film industry maven just launched
www.jpzenger.com "which approaches news from a different angle". Every day, he compiles a list of the best quotes from articles in the international press, "this means you enter each story from a human perspective", he explains. Often Pini picks up on issues that would completely pass you by if you just stick to the more mainstream press. Did you know about the first black woman rabbi? You can also subscribe to receive a daily newsletter.
Crisis what crisis? Looking for the ultimate dining experience? www.dinnerinthesky.com may be the answer. The concept, created by Belgium Marketing Executive David Ghysels, is daring darling. Eleven French chefs (Passard, Veyrat, Gagnaire, Alleno, Marx, Anton, Chef of Elysee Palace, Roth, Blanc, Sinicropi, etc) are taking up the challenge to serve lunch or dinner "in the sky". You're hoisted up, with the chef of your choice and 21 other nutters, 157 feet above the Tuileries Gardens, in a luxurious cradle/table/crane. Yeah, but what happens if you need the loo? Are you insured? Oy vey! 11-15 September. From 924€ per person + Tasting by Bar Hemingway's Colin Field (The Ritz) about 840€.
Meanwhile, back down to earth with Cafe Moderne who have lowered their prices by 10%. Talented Jean-Luc Le Francois produces 2 generous courses for 26€ three for 33€.
40 rue Notre Dame des Victoires, 2nd (Metro: Bourse)
T: 01 53 40 84 10