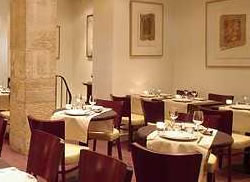 So how's Bouchet doing since he packed his kit, quit The Crillon kitchens, where he reined supreme from 1997-2002? Before that his formation reads like a Who's Who of restaurants a wannabe chef should work. After the army, Concorde Lafayette with Joel Robuchon,  then Jamin with JR, rue de Longchamp. La Tour d'Argent and the opening of Tour d'Argent Japan followed. That was the birth of a passion for Japan, which Bouchet visits as often as he can, as consultant and Japanophile, even speaks the language. At The Crillon, where Bouchet replaced superchef Christian Constant, he was responsible not only for Les Ambassadeurs, (where he won **Michelin), but also L'Obelisque, the bar, salon de the, everything, tout, tout, tout. "It was like a huge cruise-ship", he recalls.
By 2002 Bouchet had enough of star-wars, did not need that continuous pressure from ambitious hotel directors who treasure their posts rather than the welfare of the hotel. He needed space for Japanese adventures, family, and his dream of creating DB his own bistro. "There are two specific categories of restaurant that count to-day", he explains. The groups who have mega-bucks to lose promoting their palaces and "les petites maisons" like mine, with a modern style of cooking fresh market products, where you pay for what's on the plate, not the décor.
With a motivated team including dining room manager Yann le Pevedic and kitchen manager, Sylvain Pinault, with him at The Crillon, Bouchet works from his tiny state-of-the-art open kitchen producing dishes worked to perfection. Dishes that have quickly become DB classics, such as the starter charlotte of crab, tomato, lettuce and mango. Or, mixed warm seasonal vegetables with truffle vinaigrette. The feather- light feuilleté of asparagus and foie gras, moistened with truffle juice; the secret's in the ingredients and Bouchet's perfect technique. Mains include leg of 7-hour roast lamb, mashed potatoes. Roast organic chicken in two servings, tasty potatoes cooked in the chicken fat, thyme flowers, green salad. Always market suggestions, say, Breton turbot, roasted on a bed of spinach capers and lemons, sprinkled with olive oil and balsamic vinegar. Around the plate a circle of miniature lemon and caper balls, which the commis in the kitchen "nearly went blind" preparing!".  Lobster macaroni on a purée of wild mushrooms, a drizzle of jus made from the shell. Desserts are light, as in fromage blanc with a puree of mango, strawberry cappuccino. Rhubarb sablé topped with crème brulée, fresh strawberries and almond ice-cream. Wines can be ordered by glass, carafe or bottle. Try the red 2001 Marsannay
from Bruno Clair or the white Chateau Haut Bertiniere premieres cotes de Blayes 2003.
Some clients come daily, the better to appreciate this talent. Should one mention a celebrity client, who insists on sitting with a view of the kitchen and barks if the food doesn't arrive tout de suite? Yes, it's a dog, and Bouchet has a special set of dishes for this spoiled, lucky, toutou.
Plans for la Rentree, in September, include launching a unique space next door to his bistro which will include a cookery school and boutique. "A culinary career is like the Tour de France", Bouchet, who recently became Grandfather a little Nathan, reflects: "You have the flat which is easy, the climbs, the emotions, you have to have the strength to carry on whatever's thrown at you, but the hardest is to stay the course. The problem with many chefs to-day is that they have heads too big for their toques!"
DB at Dominique Bouchet,
11 rue Treilhard, 8th (Metro: Miromesnil/St. Augustin)
T: 01 45 61 09 46
www.dominique-bouchet.com
Average price: 40€ + wine
Closed Sat-Sun August.