Dolls, the Past, and l'Atelier de Maïté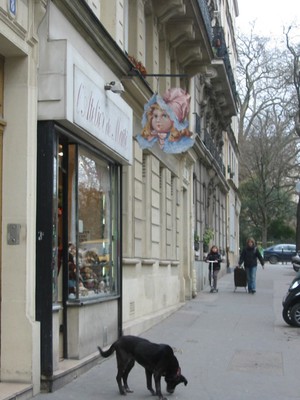 The innocuous location of l'Atelier de Maïté is a reminder that time is fleeting: the shop is a stone's throw from a Paris park and across from a café where young people congregate after work for l'apéritif. From the Atelier, you can hear the late-afternoon harmonies of squealing children at play, the bistrots with the buzz of those ready to take on the world. All this activity can be heard while perusing Maïté's wares—items passed on by their original owners who tossed them, or simply forgot them. Upon stepping inside, anyone who ever had a favorite doll, toy, or object of affection in youth will feel their heart immediately soar with joy and memories of climbing the narrow attic staircase at Grandma's to uncover those sweet items. Once objects used every day, dolls and teddy bears now rest on shelves, perhaps watching and waiting to one day again have their moments. Maïté has accumulated and brought back to life magnificent dolls of bygone times in thirty years at this location and a total of fifty years with her stand at the Puces de St. Ouen. Her collections include French Jumeau porcelain dolls and numerous Unis-France brands, each doll with her own intricate and true-to-the-period outfit. Marvelous German Steiff ear-tagged bears are interspersed at angles and in easy chairs, couched amidst the porcelain ladies as though one without the other will not do. On a back shelf, a 7-inch doll with a pretty bow and long red ponytail sits in a small rocking chair.  Something about her thousand-yard stare gives pause. Maïté hands her to me and I instinctively manipulate the arms, one arm back, the other forward, as the head turns, left then right, over and over. The doll obeys me, staring back as her incredible beaded blue eyes came to life. Five years old again, I cradle my Madame Alexander as she entertains me with her body "dance." We discuss our next playtime move, flatten our rumpled dresses and toss our hair that needs brushing. We are fixated on the present and our affection, one for the other, forever. My real doll was larger, but in this moment they are one and the same. "She has no clothes, poor thing," says Maïté. "I don't have an idea yet what to dress her in. I don't do too many from the US, you see." She lifts the doll to display the "Made in USA" stamp on the lower back. Gently she returns the Madame Alexander doll to her rocking chair, squares the oversized green hair bow and affectionately dabs her tiny nose. I stare at the doll, one to the other, that incredible, now-waylaid complicity of passive yet eternal doll friendship surging once again like some sweet sure fact of life. Maïté, who likely has seen this all before, returns behind her counter where she resumes sewing at an old-fashioned machine. My reverie is broken by an outside noise. I snap a few shots, thank Maïté, open the door and step outside.   L'Atelier de Maïté 8, rue Brochant Paris 17e 01.42.64.23.93 Kathleen Burke is a writer and lover of France who lives in Paris and Massachusetts. Her most recent book on France is   Please spread the word about Bonjour Paris and send an
invitation to your friends to receive the newsletter
.  In advance, thank you.
SUBSCRIBE
ALREADY SUBSCRIBED?
BECOME A BONJOUR PARIS MEMBER

Gain full access to our collection of over 5,000 articles and bring the City of Light into your life. Just 60 USD per year.

Find out why you should become a member here.

Sign in

Fill in your credentials below.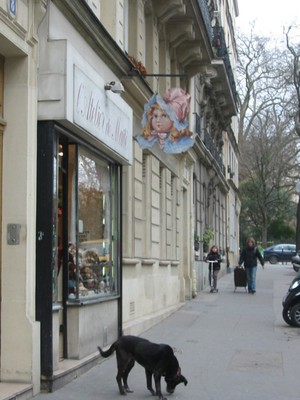 The innocuous location of l'Atelier de Maïté is a reminder that time is fleeting: the shop is a stone's throw from a Paris park and across from a café where young people congregate after work for l'apéritif. From the Atelier, you can hear the late-afternoon harmonies of squealing children at play, the bistrots with the buzz of those ready to take on the world. All this activity can be heard while perusing Maïté's wares—items passed on by their original owners who tossed them, or simply forgot them.
Upon stepping inside, anyone who ever had a favorite doll, toy, or object of affection in youth will feel their heart immediately soar with joy and memories of climbing the narrow attic staircase at Grandma's to uncover those sweet items. Once objects used every day, dolls and teddy bears now rest on shelves, perhaps watching and waiting to one day again have their moments.
Maïté has accumulated and brought back to life magnificent dolls of bygone times in thirty years at this location and a total of fifty years with her stand at the Puces de St. Ouen. Her collections include French Jumeau porcelain dolls and numerous Unis-France brands, each doll with her own intricate and true-to-the-period outfit. Marvelous German Steiff ear-tagged bears are interspersed at angles and in easy chairs, couched amidst the porcelain ladies as though one without the other will not do.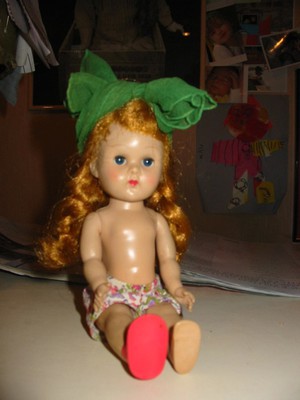 On a back shelf, a 7-inch doll with a pretty bow and long red ponytail sits in a small rocking chair.  Something about her thousand-yard stare gives pause. Maïté hands her to me and I instinctively manipulate the arms, one arm back, the other forward, as the head turns, left then right, over and over. The doll obeys me, staring back as her incredible beaded blue eyes came to life. Five years old again, I cradle my Madame Alexander as she entertains me with her body "dance." We discuss our next playtime move, flatten our rumpled dresses and toss our hair that needs brushing. We are fixated on the present and our affection, one for the other, forever. My real doll was larger, but in this moment they are one and the same.
"She has no clothes, poor thing," says Maïté. "I don't have an idea yet what to dress her in. I don't do too many from the US, you see."
She lifts the doll to display the "Made in USA" stamp on the lower back. Gently she returns the Madame Alexander doll to her rocking chair, squares the oversized green hair bow and affectionately dabs her tiny nose.
I stare at the doll, one to the other, that incredible, now-waylaid complicity of passive yet eternal doll friendship surging once again like some sweet sure fact of life.
Maïté, who likely has seen this all before, returns behind her counter where she resumes sewing at an old-fashioned machine. My reverie is broken by an outside noise. I snap a few shots, thank Maïté, open the door and step outside.
L'Atelier de Maïté
8, rue Brochant
Paris 17e
01.42.64.23.93
Kathleen Burke is a writer and lover of France who lives in Paris and Massachusetts. Her most recent book on France is
Please spread the word about Bonjour Paris and send an invitation to your friends to receive the newsletter.  In advance, thank you.
More in Antiques shopping, Bonjour Paris, childrens activities, Neighborhood, Paris shopping, Paris with children, Shopping, travel with children
---
---