Dining at Le Train Bleu: An Unforgettable Experience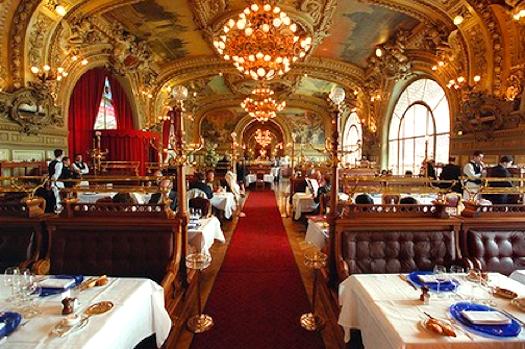 Are you looking for a unique yet quintessential Parisian dining experience, one that offers an exceptionally interesting atmosphere and fascinating history along with classic traditional French cuisine? If so, you should not miss the opportunity to enjoy a meal at Le Train Bleu.
Le Train Bleu is located in the Gare de Lyon, yes, that's right, a train station! But this magnificent, opulent train station restaurant is unlike any other in the world—and dining there is an unforgettable experience.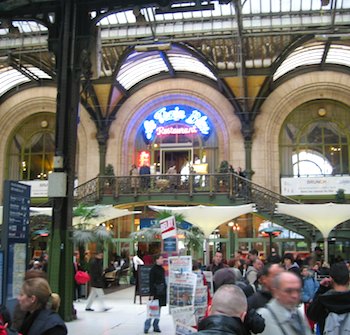 In 1900, Paris mounted an International Exposition, a "World's Fair" for which several magnificent structures were built, structures that continue to delight with their exuberant, even over-the-top, turn-of-the-20th-century optimism and panache: the Grand and Petit Palais; the exquisitely beautiful Pont Alexandre III; and the Gare de Lyon.
The entrance to Le Train Bleu is inside the station, at the top of steps leading up and away from the hustle-bustle of the main quais. To enter this restaurant is to step back in time and into another world: the extravagant décor is breathtaking, the welcome respectful and dignified. Entering here you feel a natural inclination to speak in hushed tones, as if you were entering a sacred space. And yet the restaurant is filled with lively conversation, enjoyed at the lower decibel level the French are famous for.
The fact that this restaurant was nearly closed in the early 1970s adds to the sense of privileged good fortune in being there. The story, as told by American food critic M.F.K. Fisher, is that she was informed, in hushed and mournful tones by the devoted and aggrieved waiters who served her one day, that the restaurant's survival was threatened; she in turn passed the word along to her friend, New Yorker correspondent Janet Flanner, who spoke about it to the French Minister of Culture André Malraux, who saw to it that the place was designated as a national historic monument, securing its preservation. So it is that the restaurant survived and is still there to be enjoyed in all its belle époque glory.
And glorious it is! Imagine being able to enjoy a meal in a space as elaborately decorated as the palace of Versailles, with its abundance of gilt decoration and painted ceilings. Imagine enjoying a classic three-course French meal while looking out on Paris as the sun sets, massive windows open to the evening breeze, heavy red velvet curtains pulled back to reveal the view.
Well, you don't have to imagine it. You can experience it.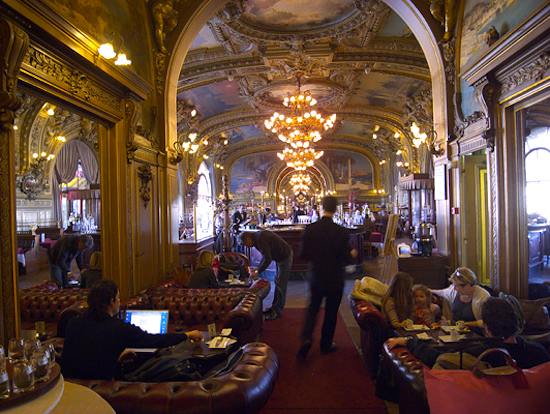 It is of course possible to spend a great deal of money on a meal at Le Train Bleu, but there are also options for those on a limited budget. The Menu Réjane, a sumptuous prix-fixe meal is offered at €55, and includes everything (even wine) but coffee. Still a splurge for some, but worth every sou. (There is also a children's menu offered at €16 for those less than 11 years of age.) The food is presented with impeccable artistry and every time I have been there, the service has been kind, solicitous, and highly professional. And the cuisine? In a word, exquisite.
If the prices for a full meal are prohibitive, there are other possibilities. You can go into the Big Ben Bar for a drink, a tea, a sandwich, or Sunday brunch (€40), and the bar area, uncrowded as it is most evenings, with its red leather furniture and old-fashioned appointments, is perhaps even more evocative of times gone by than the main dining room. Here it is easy to imagine yourself sitting in the same chairs that the Hemingways might have before departing on one of their trips to Switzerland or the South of France. (It was in this station that Hadley Hemingway's suitcase—in which she had packed all of her husband's manuscripts—was stolen. Surely one of the saddest mishaps in the history of literature!)
You can of course arrive at the restaurant by taking the métro to Gare de Lyon: in which case you should be sure to notice the murals painted on the walls, celebrating various destinations along the way toward the Côte d'Azur, as you move into the main station.
Scenic walk
But if you have the time and the inclination, you might choose to do what I did with my students last summer, on the advice of a French acquaintance who recommended that we take the train to Quai de la Rapée, then find our way over to the station by way of rue de la Bastille, rue de Bercy, rue Crémieux, and on to the rue de Lyon. My students grumbled about this out-of-the-way approach until they turned the corner onto rue Crémieux. Then the grumbling stopped instantly, and they were absolutely delighted to stroll along this charming, atypical Parisian street, with its painted facades. It's a wonderful way to begin an evening you'll never forget.
PRACTICAL INFORMATION:
Gare de Lyon, Paris 12
Complete directions & hours at website
PHOTO CREDITS: Train Bleu dining room. ©SMH.au; Gare de Lyon. Wikicommons; Le Train Bleu bar ©surrealiste; and rue Cremieux. ©Arthur Palacio
Janet Hulstrand is a writer, editor and teacher based in Silver Spring, Maryland. She teaches Writing From the Heartat the Essoyes School. Click on her name to more about her and read her essays published by BonjourParis.
Would you like to submit a story or request a story topic? Your stories & ideas welcome.
NEW: exclusive content for subscribers in every newsletter. Subscribe for free.
Paris Restaurants: Frommer's ShortCuts Kindle version  [Released September 26, 2011]
The Authentic Bistros of Paris
Open Road's Best of Paris 3E [Released September 20, 2011] by Andy Herbach, bestselling author of Open Road's 'Eating & Drinking' menu-translator guides to Paris
Paris to the Past: Traveling through French History by Train [Released June 2011] Past & current train travel history, highly reviewed



Sleep on the charming Isle Saint-Louis…
Hôtel Saint-Louis en l'Isle is a 3* hotel on the exclusive Îsle-St-Louis, village on a Seine island in center Paris. Just 20 rooms, w/ free Wi-Fi, AC, satellite TV, soundproofing & exposed wooden beams. Charming stone-wall & wooden beam breakfast "cave" with vaulted ceilings. Métro: Pont Marie. Hotel de Ville, Notre Dame, St Michel and Marais nearby. Past Booking.com guests have rated this hotel 8.8 of 10.
**** Eligible for the best-price match guarantee from Booking.com.

Be smart!
Bookmark this link to the BonjourParis—Booking.com site & use it every time so your preferences are stored & deals are updated when you return. Book, shop around & if you find a better rate for the same deal, contact Booking.com for your BEST PRICE MATCH GUARANTEE.

Paris Shuttle is a leading provider of Paris airport transfers…save up to 30% by booking your airport transfers in advance online.
Leave a reply
Your email address will not be published. Required fields are marked *