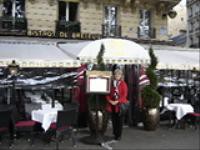 Essoyes, France, is a quaint village about two and a half hours southeast of Paris with a new museum dedicated to the famous impressionist painter, Pierre Auguste Renoir. He is perhaps the most famous resident of the tiny village of Essoyes. Renoir, born in Limoges in 1841 and raised in Paris, began his career as a ceramics painter at the age of thirteen. But it was painting with oils on canvas that became his true love. He married Aline Charigot of Essoyes and they maintained a home there. Both are buried in the gated cemetery just a short walk past the atelier: Renoir's verdigris bust is atop his marker, but Aline's is mysteriously missing. One of their sons, filmmaker Jean Renoir, was quoted as having referred to his time in Essoyes as the happiest of his life.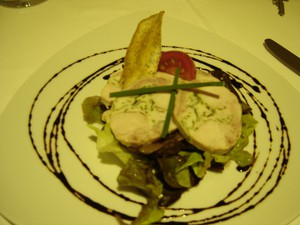 Once you have visited Essoyes, it is easy to see why: golden hills of champagne vineyards, green mountainous ridges, farm fields and stone cottages, the castle known as Hériot Château which is now the school, the Ource River dotted with ducks flowing throught the center of the charming village. On a hillside overlooking the valley sits a gracious family-run hotel, Hôtel des Canotiers, on Rue Pierre Renoir, where you can expect warm hospitality, great views, and wonderful meals. When I was there this past October as part of Janet Hulstrand's writing workshop, "Writing from the Heart…in the Heart of Champagne," I found the restaurant at this hotel was usually bustling with not only the guests but also those who came solely to partake of the meals prepared by chef Frederic Joffrin. If you dine there, please ask Jacky Chenut for the époisses cheese—a soft, tangy, local cheese with a rind marinated in burgundy—and tell him that Renee from North Carolina recommended it.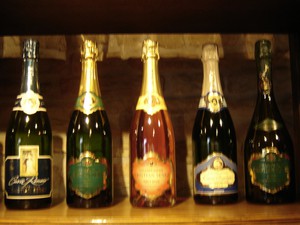 There are many local champagneries in and around Essoyes. We visited Christian Senez and spent an afternoon touring the operation. Hervé, one of the vignerons for this champagnerie, loves to share his knowledge about the process of taking the grape to the glass, and the facility is warm and inviting. You'll want to take a bottle, or two, or twelve with you.
There are many artists in Essoyes: Musée Atelier du 11 is the studio of Denis Herbillon and Anne Fierobe on the rue Victor Hugo. They are very generous with their time and glad to give tours of their facility. Their artwork ranges from traditional to eclectic.
You will find Essoyes to be picturesque and worth taking several snapshots of the street scenes and reproductions of Renoir's paintings, some of which cover the entire sides of buildings. Here and there easels pop up with other reproductions or to mark noteworthy locations. Flowers spill over the window boxes and terra cotta pots; fruits and vegetables beckon from underneath the awning of the market; heavenly aromas from the bakery pull you inside and the warmth and friendliness of the villagers will inspire you to return to Essoyes, France.
Official site: Essoyes Office of Tourism
Subscribe for free so you don't miss a story & don't forget our searchable library of 7,000+ stories about France travel. 50 original stories monthly: travel guides, Paris events, dining, lodging, shopping, French lifestyle, recipes, photography & more since 1995.
Shop direct at Amazon.com (and merci for using our direct link, your support allows us to publish BonjourParis.)
and check our Francophiles Favorites loaded with French-themed items for travelers and Francophiles. Choose your category at the right edge, then click the category's last page number to browse the latest listings.
Short-cut to our 100 TOP SELLING ITEMS

(please wait for widget to load—updated daily)

 

 

 

 

 

 

 
Save an additional 5% on Auto Europe car rentals:

Auto Europe is your best choice for car rentals in France and Europe. Most competitive rates, no drop fees.
Bookmark & use our link for a 5% code discount here:  Auto Europe Car Rental
Don't overlook Auto Europe for international flights, click Auto Europe Flights