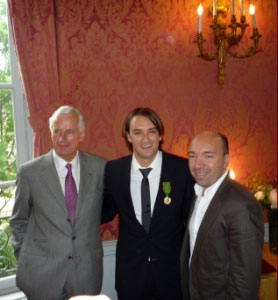 Nice one Cyril. He came to Paris from Rodez (midi-Pyrénées) with his little suitcase and big plans, last week the talented 30-something chef had "Chevalier dans l'Ordre du Mérite Agricole" pinned on to his designer lapel by Agriculture and Fisheries Minister Michel Barnier. Yes he can. www.cyrillignac.com
Le Meridien Hotel, Etoile is famous for its' Jazz Club Lionel Hampton (1908-2007). The genius musician was Godfather to the Meridien Jazz Club, the Paris hot spot for jazz afficionadoes. Have a drink at the bar, open all day, and then do Sunday Brunch at L'Orenoc. Begin with fresh juices, seafood and avocado cocktails, hot and cold soups, verrines, salmon, Lebanese and Greek hors d'oeuvres, delicious sushi and sashimi, southern roasted vegetables, tapenades, warm croissants and breads, crunchy salads. Then, beneath heated toques, hot chicken and beef dishes, scrambled eggs. Finish with the cheese and dessert buffet, even the ladies who do will not resist. It's New Orleans style with a Jazz band, but don't sit too near the musicians if you want a private conversation – and yes, they play requests. Well worth a visit, but do book. During the week Eric Brujan (ex-Hotel Montalambert) is the perfect chef for the Meridien having done time in the US of A and Hotel Nikko, Paris.
Jazzy Brunch at l'Orénoc, Sunday – 12.30pm- 3.00pm
Mother's Day Jazzy Brunch June 7th – 59€+ wine
Father's Day Jazzy Brunch June 21st – 59€+ wine
Sunday Brunch – 49.50€ + wine
L'Orenoc, Le Meridien Etoile,
81 Boulevard Gouvion Saint-Cyr 17th (Metro: Porte Maillot)
T: 01 40 68 30 40. www.lorenoc.com
The chic way to discover Hotel Raphael is, go straight to the roof terrace Jardins Plein Ciel for drinks or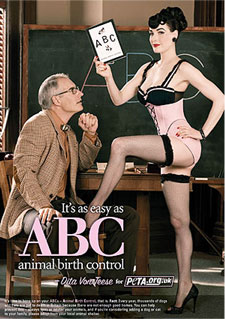 dinner. The all-round view of Paris is incredible and when you're not looking at the view you'll be checking out the celeb clientele. Sip a Dita Von Teese cocktail (they love her so much they named it for her (cointreau, violet syrup, ginger, lemon juice and apple 20€) www.dita.net If it's chilly le Bar Anglais is equally exciting for breakfast, lunch or dinner. And, if you want a gastronomic experience try "La Salle A Manger" where chef Philip Delahaye does not disappoint. The Raphael is a well kept secret, a classic comfortable hotel with va-voom under its' bonnet, if it was a car it would be a Bugatti Veyron, a handbag it would be a Kelly. Pop in and see for yourself, because you're worth it, and watch this space for the launch of Villa Majestic www.majestic-hotel.com
Raphael Paris
17 Avenue Kleber 16th (Metro: Kleber)
T: 01 53 64 32 00 www.raphael-hotel.com
The weather will change soon and you'll be looking for that bucolic terrace. With a menu created by Alain Ducasse, Le Relais du Parc is what you're looking for. So who's in the kitchen? Young talent Alexandre Nicolas, ex- Spoon, Paris, has taken over from Roman Corbière, gone to launch www.ecolecuisine-alainducasse.com The terrace is more beautiful each year, and, if it's chilly, eat inside. Chef Nicolas is worried about endangered species of fish so you can eat without guilt, le maigre, le colin, le lieu jaune de ligne, le rouget, la lotte, le salmon bio cooked to perfection. Each morning at 11.30 chef decides on "le menu du jour" noted on a blackboard. Entrée, main, dessert (by the talented Cyril Dupuis) 37€. Dinner (47€) or A La Carte, wines by the bottle, glass or leave it to the sommelier and discover his "secrets du cave" served in small carafes, red or white. Pop in for a Club Sandwich, Caesar salad,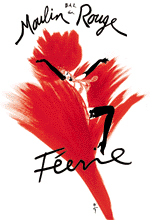 cocotte de legumes, delicious dishes, friendly service led by the wonderful Gonzargue, served on the prettiest terrace in Paris.
Renaissance Paris Hôtel Le Parc Trocadero
57 avenue Raymond Poincaré, 16th (Metro: Victor Hugo)
T: 01 44 05 66 10 www.parisrenaissance.com