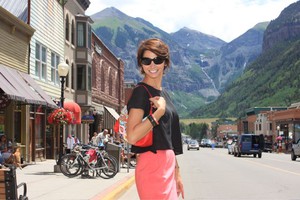 I grew up with five brothers and no sisters. This meant I was destined to be either a tomboy or a priss. I became the latter. I learned French, how to tie a scarf and how to fix myself up with little visible effort put forth very early on. Eleven years of living in Paris followed. The die was cast; I had become a femme du monde of sorts, a well-traveled woman who valued the elegance and refinement a life in France has to offer.
Sports had little to do with my Parisian world; like most French women, I stayed in shape from all the walking I did in the French capital and by minimizing my portion sizes. The idea of watching any kind of a sporting event in person or on T.V. was considered by my then French husband (of noble descent) something for the masses. (Tuning into Rolland Garros, or the French Open, was acceptable, but anything else was for the most part considered plouc or hillbilly-like.)
Then I moved back to the States, discovered the thrill of road riding and met a super cyclist. I traded out my airy summer skirts and tops for an array of slick cycling jerseys and shorts, the same "silly" outfits I had seen many a Frenchmen squeezed into on Sunday rides in the French countryside.
I brought my bicycle and my American boyfriend on a trip to France and together we pedaled through the rich farmlands, the verdant valleys, the historic hilltop villages and the lush vineyards of my beloved adopted country that I had come to know so well. Yet from the seat of a bicycle I was able to embrace this glorious land in a much different way. My senses felt totally imbued with wonder and satisfaction as I crossed France's vast fields of sunflowers, its neat rows of lavender, its bunches of grapes hanging from the vine, its Monet-esque meadows dotted with red splashes of poppies. I readily encountered people as I passed through their villages, towns and hamlets at the tranquil pace I maintained cruising along on my bike.
Tuning into the Tour de France on T.V. seemed like a logical next step. By now I had come to know a fair amount about cycling: I understood that the sport required as much of a team effort as an individual achievement, I realized there was a certain hierarchy to be respected on each team and within the peloton and that it took great talent and lots of experience for one of those "young bucks" to become a top racer.
My American guy coached me about the sport both on and off the bike and I came to consider cycling one of the most demanding athletic feats on the planet. To me, the Tour de France, the grueling three-week bike race that takes place every July in France, seems like Wimbledon, the World Cup of Soccer and the Olympics all combined. Its international flavor also rivals the worldwide appeal of these other renowned sporting events and in the case of the Tour, the organizers put on a show that's moved to some twenty different locales both in France and in bordering countries every day of the competition.
Enough of this jock talk. I'm a girly-girl, albeit a fairly sophisticated one. You can bet it's the Tour's pageantry, the awe-inspiring scenery, the beauty of the cyclists in their vibrant jerseys on their shiny, candy-colored bikes that thrill me the most. Seeing the peloton blow across vast stretches of rural France like a bright swath of Pierre Frey fabric flapping in the wind leaves me breathless. Then on the last day when they descend on Paris like a swarm of bees searching for a hive, I feel my heart quicken, my excitement mount as though I was seeing the City of Light for the first time.
All the years I lived in France, I never attended the final stage of the Tour de France on the Champs-Elysées. Ça ne se fait pas, or that's not done, was the message that was conveyed to me by my very proper Frenchman. I never sought to explore the event on my own.
It took a move back to the States and a different perspective for that to happen. Here it's somehow easier for me to be a fan of the Tour de France. And it doesn't mean I have to give up my girly-girl side either.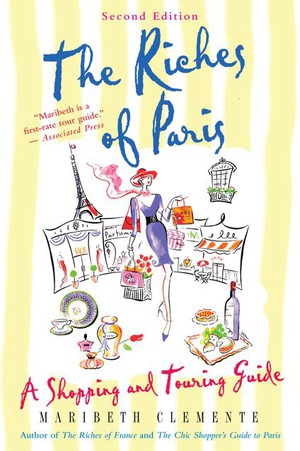 Maribeth has authored four shopping and touring guides on France including "The Riches of France" and "The Riches of Paris." She now lives in Colorado where she enjoys hiking, biking and skiing. Visit her blog, BonjourColorado.com. There you can find several posts about the Tour de France including a podcast and story of an interview she did with Graham Watson, renowned photographer of the Tour for over thirty years.
Paris Shuttle is the leading provider of pre-bookable airport transfers in Paris. Book your airport transfer with Paris-Shuttle.com and save up to 30%.
If you're coming to France (or for that matter anywhere) you can reserve your hotel here. To rent a car, Bonjour Paris recommends Auto Europe.