Courbet Faces Off with Facebook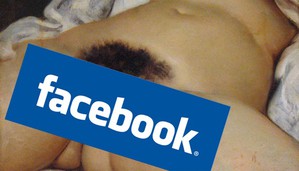 The transatlantic culture wars are raging again and this time, the eye of the storm happens to be my favorite subject of late – Gustave Courbet's infamous painting
L'origine du monde
(The Origin of the World). It appears that this centuries-old French masterpiece has caused some unwelcome waves at Facebook, the American social networking site which has transformed the world as we knew it. In a nutshell, Courbet painted L'origine du monde in 1866 on commission for Turkish diplomat Khalil-Bey. The painting features a disconcertingly close-up view of the sexual anatomy of a female body. Basically, a nude lying on a bed with her legs spread, except that the artist zoomed in so far that the viewer is left to contemplate a certain black triangle. The rest of the model's body is left up to the imagination. This is where, in my opinion, Courbet's genius comes into play. For the most part, the idealized female nudes depicted in Western art preceding L'origine du monde left the juicy parts (pardon the pun) up to the imagination, not the other way round. The painting was kept under wraps in privately owned hands until 1995 when it was publicly displayed at the Musée d'Orsay in Paris. Understandably, it has stirred considerable controversy ever since, which would have pleased Courbet to no end. He was notoriously anti-establishment and went out of his way to draw attention to himself. I believe he was one of the first naughty boys of the art world. However, it must be noted that the French have largely taken Courbet and his lascivious work under their collective wing, taking pride in his gall and his libertine ways. L'origine du monde has taken on the status of a national treasure. After all, the French do have a reputation for being rather laissez-faire in matters of the flesh. At the very least when it comes to Art. Fast forward to 2011, the United States. Enter Facebook. The sheer amount of global connections occurring every second through this site is mind-boggling. Nevertheless Facebook bravely attempts to maintain some semblance of control over the data being disseminated by its hundreds of millions of users. One of those users is Copenhagen-based artist Frode Steinicke. His five minutes of fame hit him unexpectedly when he uploaded an image of Courbet's Origin of the World to his own page, to illustrate some remarks he posted about a Danish television show. To his utter surprise, the powers-that-be at Facebook took issue with his sense of indecency and promptly disabled his account. Oh la la! What ensued was a veritable mudslinging competition. "This is an unreasonable censorship, especially as this is a famous painting, part of the French cultural heritage," said Steinicke. Thousands of people have tweeted, blogged, messaged, and facebooked about the horreur of the prudish morals of the US-run giant, verbally assaulting the founder Mark Zuckerberg himself. Despite the sticky censorship issue, Facebook makes no secret about its rule banning nude images from the site. Bah non! The French have taken this incident very personally. They are after our petit Courbet! It is an attack on French culture itself!! Led in protest by French writer Luc Wouters, several hundred Facebook users have posted Courbet's painting in solidarity with Steinicke, only to have their accounts disabled. One French blogger went as far as calling on the Minister of Culture to make a formal complaint of American censorship on an iconic French masterpiece. I can just hear Courbet chuckling. The story spread like wildfire, ironically due to the global interconnectivity which Facebook itself has made possible. News sources welcomed a little saucy scandal on the heels of the attention Facebook received following the movie
The Social Network
. Facebook has since explained its position, apologizing for not recognizing the celebrity of the fetching mademoiselle. In due course Steinicke's account was enabled and the offending image removed. I would venture to suggest that this isn't about liberté, fraternité or egalité. So let's not get the muskets out so quickly; sometimes 'the rules is just the rules'. (Please refer to the author's previous Bonjour Paris
articles
to read about her personal encounter with Gustave Courbet's L'origine du monde.) Photo from
Artinfo
If you're coming to France and want to remove the stress out of any and all planning, dynamo Lisa Buros-Hutchins of
www.YourParisExperience.com
can arrange anything and everything, including planning your honeymoon and/or making dinner reservations. Nothing is beyond her. Say Bonjour Paris referred you and put her to the test of making your stay in France perfect.
SUBSCRIBE
ALREADY SUBSCRIBED?
BECOME A BONJOUR PARIS MEMBER

Gain full access to our collection of over 5,000 articles and bring the City of Light into your life. Just 60 USD per year.

Find out why you should become a member here.

Sign in

Fill in your credentials below.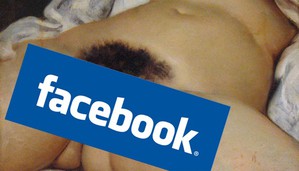 The transatlantic culture wars are raging again and this time, the eye of the storm happens to be my favorite subject of late – Gustave Courbet's infamous painting L'origine du monde (The Origin of the World). It appears that this centuries-old French masterpiece has caused some unwelcome waves at Facebook, the American social networking site which has transformed the world as we knew it.
In a nutshell, Courbet painted L'origine du monde in 1866 on commission for Turkish diplomat Khalil-Bey. The painting features a disconcertingly close-up view of the sexual anatomy of a female body. Basically, a nude lying on a bed with her legs spread, except that the artist zoomed in so far that the viewer is left to contemplate a certain black triangle. The rest of the model's body is left up to the imagination. This is where, in my opinion, Courbet's genius comes into play. For the most part, the idealized female nudes depicted in Western art preceding L'origine du monde left the juicy parts (pardon the pun) up to the imagination, not the other way round.
The painting was kept under wraps in privately owned hands until 1995 when it was publicly displayed at the Musée d'Orsay in Paris. Understandably, it has stirred considerable controversy ever since, which would have pleased Courbet to no end. He was notoriously anti-establishment and went out of his way to draw attention to himself. I believe he was one of the first naughty boys of the art world. However, it must be noted that the French have largely taken Courbet and his lascivious work under their collective wing, taking pride in his gall and his libertine ways. L'origine du monde has taken on the status of a national treasure. After all, the French do have a reputation for being rather laissez-faire in matters of the flesh. At the very least when it comes to Art.
Fast forward to 2011, the United States. Enter Facebook. The sheer amount of global connections occurring every second through this site is mind-boggling. Nevertheless Facebook bravely attempts to maintain some semblance of control over the data being disseminated by its hundreds of millions of users. One of those users is Copenhagen-based artist Frode Steinicke. His five minutes of fame hit him unexpectedly when he uploaded an image of Courbet's Origin of the World to his own page, to illustrate some remarks he posted about a Danish television show. To his utter surprise, the powers-that-be at Facebook took issue with his sense of indecency and promptly disabled his account.
Oh la la! What ensued was a veritable mudslinging competition. "This is an unreasonable censorship, especially as this is a famous painting, part of the French cultural heritage," said Steinicke. Thousands of people have tweeted, blogged, messaged, and facebooked about the horreur of the prudish morals of the US-run giant, verbally assaulting the founder Mark Zuckerberg himself. Despite the sticky censorship issue, Facebook makes no secret about its rule banning nude images from the site. Bah non! The French have taken this incident very personally. They are after our petit Courbet! It is an attack on French culture itself!! Led in protest by French writer Luc Wouters, several hundred Facebook users have posted Courbet's painting in solidarity with Steinicke, only to have their accounts disabled. One French blogger went as far as calling on the Minister of Culture to make a formal complaint of American censorship on an iconic French masterpiece. I can just hear Courbet chuckling.
The story spread like wildfire, ironically due to the global interconnectivity which Facebook itself has made possible. News sources welcomed a little saucy scandal on the heels of the attention Facebook received following the movie The Social Network. Facebook has since explained its position, apologizing for not recognizing the celebrity of the fetching mademoiselle. In due course Steinicke's account was enabled and the offending image removed. I would venture to suggest that this isn't about liberté, fraternité or egalité. So let's not get the muskets out so quickly; sometimes 'the rules is just the rules'.
(Please refer to the author's previous Bonjour Paris articles to read about her personal encounter with Gustave Courbet's L'origine du monde.)
Photo from Artinfo
If you're coming to France and want to remove the stress out of any and all planning, dynamo Lisa Buros-Hutchins of www.YourParisExperience.com can arrange anything and everything, including planning your honeymoon and/or making dinner reservations. Nothing is beyond her. Say Bonjour Paris referred you and put her to the test of making your stay in France perfect.
More in Art, French artists, News in France, Paris artists
---
---