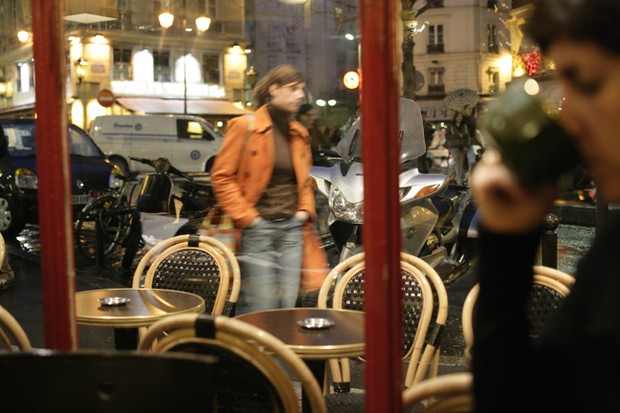 Comptoir Relais Saint Germain Cafe. ©Clay McLachlan 2011
The café culture is always strong in Paris; however, during winter the cafés become a warm living room with a window facing the hustle and bustle of the city.
I stopped for a late afternoon (read: almost dark) café at the extremely popular Comptoir Le Relais Saint Germain in the 6th Arrondissement.
I love the juxtaposition of the woman sipping tea on the right mixed with the clarity of the woman walking by in an orange coat outside.
Twilight is one of my very favorite times to photograph. When the lights of the city match the light in the sky, everything, for me, takes on a special warm glow.
This image is dissected in a way that gives a three-dimensional feeling to this two-dimensional image. The woman in the foreground slightly out of focus and the woman in the background give depth of field while the red lines break the image up into sections from left to right.
Stay warm and enjoy a moment of reflection as often as you can!
Technical details: Canon 1Ds Mark II, 45mm lens, F 2.8, ISO 400, 1/30 second.

Clay McLachlan is a Paris-based photojournalist with a clientele that includes internationally acclaimed top chefs, resorts and restaurants. His work has been published in award-winning books you can learn about at Clay McLachlan.com. Clay shares a slice of life in France and beyond in a photo published weekly in BonjourParis.

Subscribe for
FREE

weekly newsletters with subscriber-only content.

BonjourParis has been a leading France travel and French lifestyle site since 1995.

 
Readers' Favorites: Top 100 Books, imports & more at our Amazon store
We daily update our selections, including the newest available with an Amazon.com pre-release discount of 30% or more. Find them by starting here at the back of the Travel section, then work backwards page by page in sections that interest you.
Please support our site by clicking on this banner for all your Amazon.com browsing. Merci!