Some Year's Eve suggestions. If your New Year's resolution is to get out more, 2006 starts here: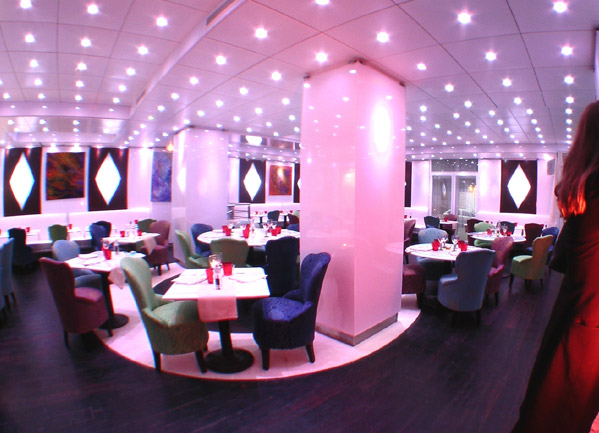 Le Ripaille tiny new bistro (one to watch – more in a future BUZZ) for 75€ + wine probably the best value in town. Foie gras maison, Saint Jacques with truffles, bitter orange sorbet, filet de biche (baby deer) or chicken with wild mushrooms and all the trimmings + desserts
68 rue des Dames, 17th (Metro: Rome).
T: 01 45 22 03 03 
 
Le Pavillon
Montsouris
is very romantic, Mata Hari once lived in this Napoleon 111 villa. The
99€
dinner includes foie gras, turbot and langoustine, filet de biche, chocolate desserts and, make way for Mr. DJ.
20 rue Gazan, 14th (RER:Cité-Universitaire)
T: 01 43 13 29 00
Music Hall where it's New Year's Eve every day/night of the year. year. 230€  includes champagne flowing and a delicious dinner with a ten dish menu-degustation including oysters in sea-weed jelly with cauliflower and almonds. No constraints here, you choose from a menu created by the talented Hervé Nepple and crazy patissier Yvan Le Pape. The gregarious "ringmaster" Valerio guarantees a night to remember.
63 avenue Franklin Roosevelt, 8th (Metro: Franklin Roosevelt)

Les Bateaux Parisiens for a "how would you like to be down by the Seine with me" tra-la-la night. 300€ (including champagne and cruise). All aboard 19.45. Departure. 20.30. Return next year at dawn.
Port de la Bourdonnais, 7th. (Metro: Invalides)
T: 01 44 11 33 55
Les Trois Marches de Gerard Vie is 20 minutes from the centre of Paris, at Versailles. Spend a splendid evening à la Marie Antoinette, tasting tantalizing dishes by this daring, generous and talented chef. 7 courses include: Sévruga caviar with mousse of pommes de terre, Foie gras with artichoke mousse. Lobster with carrot juice. Veal with celery root ravioli and white truffle cream,divine desserts. No hidden extras, for 370€, you'll sip Champagne Louise Pommery, followed by an excellent La chassagne Montrachet and an amusing littleChateau Talbot. Dance the New Year in and stay the night. Why not? It's only once a year dear.
Les Trois Marches de Gerard Vié,
Trianon Palace & Spa,
1 boulevard de la Reine, 78 000 Versailles,
T: 01 30 84 50 00
L'Espadon at The Ritz will set you back 1,950€. Michel Roth is planning Beluga caviar with blinis, whole black truffles, sauce Perigord, filet mignon de veau et foie gras, girolles and pommes souflées. The finest wines and champagne (included, bien sur) and dancing. Stomping at The Ritz.
15 place Vendome, 1st (Metro: Tuileries)
T: 01 43 16 30 80 
And, if you still have an appetite on the 1st Chez Francois promises help with the hangover. 39€ includes 3-courses, wine (Chateau Pitray 1996 Cotes de Castillon) and, say, starter ravioli of lobster, main, daurade royale, bayaldi de legumes with basil oil. Parfait glace au café etc.
www.chezfrancoise.com
Aerogare des Invalides, 7th (Metro:Invalides)
T: 01 47 05 49 03
Happy New Year dears.