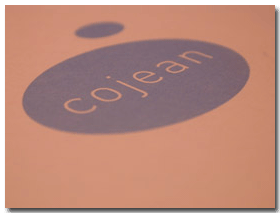 If you are in the Madeleine area, you owe it to yourself to stop at Cojean for a snack, be it time for brunch, lunch or an afternoon treat. Created by Alain Cojean a few years ago, it offers fresh and delicious food in a zen décor. Behind the large windows, decorated with square patches of grass, the restaurant is airy and bright, painted with soft natural colors.
On the shelves to the side, you can take your pick among the self-serve items, which change regularly depending on what's in season. Look closer, notice their poetic names and read their composition, carefully inscribed on little labels. An array of salads, with unusual ingredients in tasty pairings, provide the healthy yet filling options that are so hard to find when touring a city. You could also have one of the sandwiches, in different breads, sizes and fillings. Just last week, I enjoyed a spelt* and green bean salad with hazelnuts, and a mini-sandwich of bressaola*, fresh fig, pear and Fourme d'Ambert*, on a loaf of whole-wheat walnut bread. Move on to the dessert section, where you can choose the small colorful tub of your liking, be it an ascetic fromage blanc* with berry sauce, a lime crumble or a chocolate pistachio tiramisu.
At the large counter, a friendly waiter in a baby-blue shirt will run up your items and take your order for a grilled sandwich (I recommend the vegetarian one, with mozzarella, pesto and roasted veggies), a plate of lasagna or grilled vegetables, a bowl of soup from the daily selection (which the other day included a cream of roquette* and a velvety pumpkin soup), a freshly squeezed fruit and/or herb juice, or one of the appetizing cookies and cakes giving you the eye behind the glass case.
You can buy these goodies to go, and savor them while window-shopping around the place de la Madeleine, or you can eat at a table, perched on a high designer stool, leafing through the fashion and art magazines (French, British or American) you borrowed from the stack at the end of the counter. The place gets pretty busy at lunchtime, but this gives you a unique opportunity to eat shoulder to shoulder with a sophisticated Parisian crowd, overhearing fascinating snippets of conversation if you're lucky (and understand French).
You can probably tell that Cojean (pronounced the French way, it does not rhyme with bean) is one of my favorite lunch places. It has set a new trend in Parisian lunch eateries, which I am very happy to see more and more followed, providing high-quality and healthy fast food in a pleasantly hip environment.
Cojean
4 rue de Sèze
75009 Paris
M° Madeleine
01 40 06 08 80
Mon-Sat 8am-6pm
Sandwiches 3 to 6 euros, salads 4 to 6 euros.
Bressaola: Italian dried beef in paper-thin slices, lean and moist.
Fourme d'Ambert: blue cheese from Auvergne, a region in the center of France.
Fromage blanc: a type of plain yogurt, with a thick texture and a mild taste.
Roquette: also called rucola or arugula, a peppery and tangy spear-leaved salad green.
Spelt : (épautre in French) a round and fluffy grained cereal, a cousin of wheat.
—
In her column "A Parisian Home Chef," native Parisian Clotilde Dusoulier happily shares recipes, food shopping bonnes adresses, entertaining tips and restaurant recommendations. Read more in
her gastronomic blog,
Chocolate & Zucchini
.