"It's the alchemy between the best ingredients and the savoir faire of the master chocolate makers", explains Godiva's Master Chocolate Maker, Jean Claude Sibret. The Brussel's based choco-maven was in town for one day only, last week, introducing, to "le tout Paris", the new improved Godiva boutique on rue Saint Honoré. Pop in and see that they've "gone Platinum" with a stunning new collection. And while you're making up your mind sip a Chocolixir. Don't ask, just do it, because you're worth it. The 11 th Paris Salon du Chocolat runs from 22-25 th October and, if you can't make it in Paris, catch it at the Metropolitan Pavilion & Altman Building, New York (10-13 th November). "From Pierre Hermé to Alain Passard, from starters to pudds, soup to nuts it's all there", promises organiser Sylvie Douce Sylvie Douce & François Jeantet are partners at work and in life. They are the CEOs of Event International Inc, a Paris-based international marketing, press relations and event production agency.. Ten years ago, they conceived the brilliant and delicious idea of a chocolate show for the public and the Salon du Chocolat was born, in Paris. In its first year, the Salon welcomed 40,000 visitors. Each year since, the show has increased in popularity, reaching 100,000 last October over four days. Based on the enthusiastic responses of American visitors, Sylvie and François chose New York, for a U.S. Show. In 1998, the first Chocolate Show was held on Thanksgiving weekend at the Puck Building. The second Chocolate Show moved to the Metropolitan Pavilion in 1999 to accommodate more visitors and exhibitors. This year, the Chocolate Show expands with the addition of the Altman Building, adjacent to the Metropolitan Pavilion. "Basically, we're offering 40,000 square feet of chocolate in every conceivable form," explains François Jeantet. The Chocolate Show also made its debut in Tokyo, Japan, in February 2000, and the fourth edition of the show will take place from January 26 to 31, 2005 at Isetan Shinjuku and February 8-14 at Isetan Kokura. "Our goal is to celebrate chocolate," explains Sylvie. "To foster a richer appreciation and understanding for this wonderful, magical substance. "The Chocolate Show aims to introduce people to the many ways one can experience chocolate using all the senses!" Sylvie & Francois trawl the world promoting the Chocolate Show. China, Peking, Shangai, Switzerland and Russia. Well, someone has to spread the good word. Jean Paul Hevin's chocolates are usually referred to as "jewels" and are displayed in his St. Honoré boutique window in an "eat your heart out Cartier" sort of way. He sculpts them and
fills them with seasonal cheeses. His boutiques in Paris are unique, as is his spin on "Nutella" his chocolate spread, he vows by all that's holy, you can eat and not put on weight. Hevin should know, he spreads it on his daily bread and lost about 20 kilos. At the Salon du Chocolat Hevin will be in heaven, up there on the runway, with the super-models for the annual Chocolate Fashion Show. His choco-dress this year is designed in collaboration with stylist Paule Ka. "I decided to work with Ka as his creations are like mine, chic, simple and rich in ideas". Yum… Patrick Roger does not do ordinary, he's the hip-hop Master Chocolate maker of Saint Germain des Pres. He'll take you on a choco journey and you don't even need a passport, just take your taste buds baby. Roger's often inspired by the hair-raising motor-bike races he takes part in most weekends. "My life is poised between emotion and perfection", he explains. Think the Mick Jagger of the chocolate world; think exciting. There's one good thing about this BUZZ, it's calorie free!  This is more than you can say for Pierre Hermes's "desirs",  Automne-Hiver 2005, although the Picasso of Patisserie has slimmed down, lost 45 kilos, and is no doubt writing a "How I lost a ton of weight eating Chocolate" coffee table tome. PH is not at the Salon du Chocolat, you'll have to leg it and line up at one of his boutiques to taste the likes of Dune, Tarte Mogador, Carrément Chocolat (all his new delights are marked with a blue flag)and, while you're there, do order a Sapin pH2 for delivery between 22 & 23 December. And, although it's not chocolate, BUZZ dedicates PH's Cake Sarah to the luscious Sarah Gilbert Fox : green tea biscuit, candied chestnuts and passionfruit gelee. PH explains, "the biscuit, flavoured with green tea, contributes a dominant bitter note balanced by the sweetness of the candied chestnut. The powerful acidity of the passion fruit gelee is projected on to a background of chlorophyll notes." Enjoy! Godiva, 237 rue St. Honoré, T: 01 42 60 44 64 (Metro: Concorde)
http://www.godiva.be/
Salon du Chocolat, Porte de Versailles – Hall 5, (Metro: Porte de Versailles or Balard) Buy your tickets on line:
http://www.salonduchocolat.fr/
Pierre Herme, 72 rue Bonaparte, 6 th (Metro: St. Sulpice) T: 01 43 54 47 77 (
http://www.pierreherme.com/
launching mid-October) 185 rue de Vaugirard, 15 th (Metro: Pasteur) T: 01 47 83 89 96 Jean-Paul Hevin, 231 rue Saint-Honore,…
SUBSCRIBE
ALREADY SUBSCRIBED?
BECOME A BONJOUR PARIS MEMBER

Gain full access to our collection of over 5,000 articles and bring the City of Light into your life. Just 60 USD per year.

Find out why you should become a member here.

Sign in

Fill in your credentials below.
"It's the alchemy between the best ingredients and the savoir faire of the master chocolate makers", explains Godiva's Master Chocolate Maker, Jean Claude Sibret. The Brussel's based choco-maven was in town for one day only, last week, introducing, to "le tout Paris", the new improved Godiva boutique on rue Saint Honoré. Pop in and see that they've "gone Platinum" with a stunning new collection. And while you're making up your mind sip a Chocolixir. Don't ask, just do it, because you're worth it.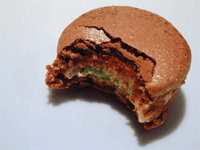 The 11 th Paris Salon du Chocolat runs from 22-25 th October and, if you can't make it in Paris, catch it at the Metropolitan Pavilion & Altman Building, New York (10-13 th November). "From Pierre Hermé to Alain Passard, from starters to pudds, soup to nuts it's all there", promises organiser Sylvie Douce
Sylvie Douce & François Jeantet are partners at work and in life. They are the CEOs of Event International Inc, a Paris-based international marketing, press relations and event production agency..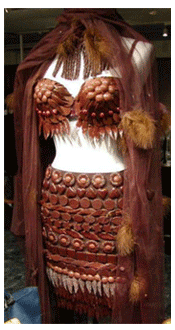 Ten years ago, they conceived the brilliant and delicious idea of a chocolate show for the public and the Salon du Chocolat was born, in Paris. In its first year, the Salon welcomed 40,000 visitors. Each year since, the show has increased in popularity, reaching 100,000 last October over four days. Based on the enthusiastic responses of American visitors, Sylvie and François chose New York, for a U.S. Show. In 1998, the first Chocolate Show was held on Thanksgiving weekend at the Puck Building. The second Chocolate Show moved to the Metropolitan Pavilion in 1999 to accommodate more visitors and exhibitors. This year, the Chocolate Show expands with the addition of the Altman Building, adjacent to the Metropolitan Pavilion. "Basically, we're offering 40,000 square feet of chocolate in every conceivable form," explains François Jeantet. The Chocolate Show also made its debut in Tokyo, Japan, in February 2000, and the fourth edition of the show will take place from January 26 to 31, 2005 at Isetan Shinjuku and February 8-14 at Isetan Kokura.
"Our goal is to celebrate chocolate," explains Sylvie. "To foster a richer appreciation and understanding for this wonderful, magical substance. "The Chocolate Show aims to introduce people to the many ways one can experience chocolate using all the senses!"
Sylvie & Francois trawl the world promoting the Chocolate Show. China, Peking, Shangai, Switzerland and Russia. Well, someone has to spread the good word.
Jean Paul Hevin's chocolates are usually referred to as "jewels" and are displayed in his St. Honoré boutique window in an "eat your heart out Cartier" sort of way. He sculpts them and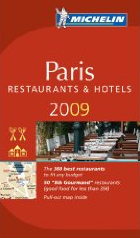 fills them with seasonal cheeses. His boutiques in Paris are unique, as is his spin on "Nutella" his chocolate spread, he vows by all that's holy, you can eat and not put on weight. Hevin should know, he spreads it on his daily bread and lost about 20 kilos. At the Salon du Chocolat Hevin will be in heaven, up there on the runway, with the super-models for the annual Chocolate Fashion Show. His choco-dress this year is designed in collaboration with stylist Paule Ka. "I decided to work with Ka as his creations are like mine, chic, simple and rich in ideas". Yum…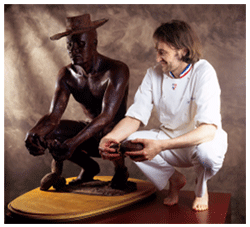 Patrick Roger does not do ordinary, he's the hip-hop Master Chocolate maker of Saint Germain des Pres. He'll take you on a choco journey and you don't even need a passport, just take your taste buds baby. Roger's often inspired by the hair-raising motor-bike races he takes part in most weekends. "My life is poised between emotion and perfection", he explains. Think the Mick Jagger of the chocolate world; think exciting.
There's one good thing about this BUZZ, it's calorie free!  This is more than you can say for Pierre Hermes's "desirs",  Automne-Hiver 2005, although the Picasso of Patisserie has slimmed down, lost 45 kilos, and is no doubt writing a "How I lost a ton of weight eating Chocolate" coffee table tome. PH is not at the Salon du Chocolat, you'll have to leg it and line up at one of his boutiques to taste the likes of Dune, Tarte Mogador, Carrément Chocolat (all his new delights are marked with a blue flag)and, while you're there, do order a Sapin pH2 for delivery between 22 & 23 December.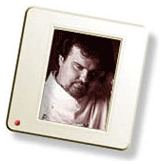 And, although it's not chocolate, BUZZ dedicates PH's Cake Sarah to the luscious Sarah Gilbert Fox : green tea biscuit, candied chestnuts and passionfruit gelee. PH explains, "the biscuit, flavoured with green tea, contributes a dominant bitter note balanced by the sweetness of the candied chestnut. The powerful acidity of the passion fruit gelee is projected on to a background of chlorophyll notes." Enjoy!
Godiva,
237 rue St. Honoré,
T: 01 42 60 44 64 (Metro: Concorde)
Salon du Chocolat,
Porte de Versailles – Hall 5,
(Metro: Porte de Versailles or Balard)
Pierre Herme,
72 rue Bonaparte, 6 th (Metro: St. Sulpice)
T: 01 43 54 47 77
185 rue de Vaugirard, 15 th (Metro: Pasteur)
T: 01 47 83 89 96
Jean-Paul Hevin,
231 rue Saint-Honore, 8 th (Metro: Palais Royal)
T: 01 55 35 35 96
Patrick Roger,
108 Boulevard Saint Germain (Metro:Odeon)
T: 01 43 29 38 42
And not forgetting:
Pierre Marcolini,
89 rue de Seine, 6 th (Metro: Saint Germain des Pres)
T: 01 44 07 39 07
---
---