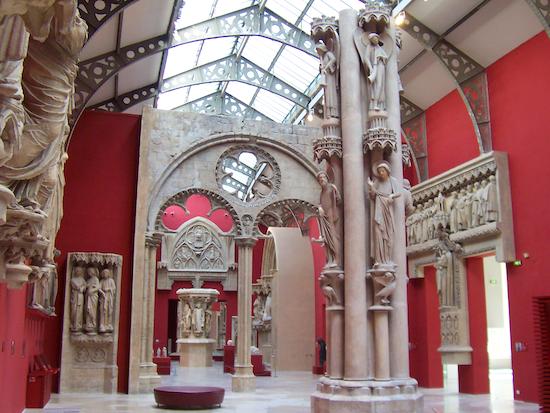 In the midst of the architectural treasure-trove that is the Cite de L'Architecture et du Patrimoine (Museum of French Architecture and Monuments, roughly) you can't help but note an arresting sculpture of a smiling angel mounted on one of the great walls. Leaning slightly towards the viewer, this angel catches your eye, inevitably engaging you. Who is she? Indeed, she steals your heart once you learn her story. This angel is a true-to-original plaster cast made by the then-groundbreaking French architect, Eugène Viollet-le-Duc, the uber-restorer of French-things-medieval and one of the early persuasive voices for the importance of preserving the enormous patrimony of French architecture through the ages.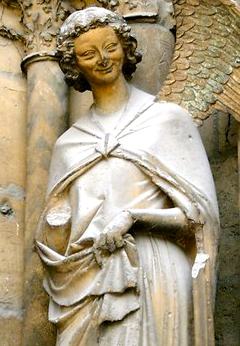 The angel is a perfect cast of the "Smiling Angel of Reims" the beloved symbol of that glorious gothic Reims Cathedral of Notre Dame…. set in the heart of Reims in the center of the Champagne region within an hour of Paris. Thanks to this plaster cast angel, it was possible to restore the original entirely and with its beauty intact, along with much of the magnificent Cathedral which was virtually leveled by Nazi bombing campaigns in World War II.  And through the ages Reims Cathedral has been home to the coronations of the Kings of France through the centuries and is one of the most important gothic cathedrals in France.
So many arresting stories coincide here. In the mid-19th century architect Eugène Viollet-le-Duc (not to be confused with writer, Violette le Duc) was convinced of the need to preserve and restore the immense architectural patrimony of the French state. He and his architecture students made in excess of 125 plaster casts, some massive, some of a fine architectural detail or sculpture and ensuing generations kept the casts safe and in sound shape. The foresight involved in making those casts has provided a vast trove of historical architectural artifacts, offering contemporary viewers a virtual walk through Romanesque, medieval, gothic and Baroque French patrimony all in one stunning high-ceilinged, open, light, multi-floored space. There are also permanent exhibitions that consider the impact of Chinese or Catalan style on French architectur;e and a lovely hall full of notable stained glass and frescoes.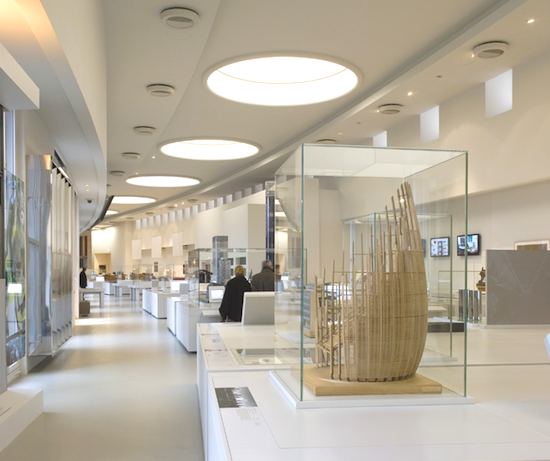 The Cite de L'Architecture et du Patrimoine, opened in September 2008 in the Trocadero complex, is no everyday museum. It is a repository for a splendidly unique walk through the history of French architectural treasures, but, is also a vibrant center for exhibitions that challenge, consider and reconsider the nature of modern French cities and communal life. A very popular past exhibition invited noted modern architects, a dream team of international visionaries, to re-imagine Paris as a green city that incorporated its outlying quarters and communities in radical ways. The visions were diverse and provocative. Shows like this are typically accompanied by numerous symposia and opportunities for visitors to weigh in with feedback.
The café has killer views over the Seine to the Eiffel Tower, making for perfect contemplation of one of France's most famed patrimonial treasures over a pot of tea or coffee, a sandwich or some pastry.  There is, of course, an excellent bookshop within the museum as well. Whether you have an impassioned interest in architecture and history, contemporary city planning or simply a more targeted love for the gothic be assured that a visit to this extraordinary museum will be so very well worth your visit.
PRACTICAL INFORMATION:
Cite de L'Architecture et du Patrimoine (Museum of French Architecture and Monuments)
Tél: 01 5851 5200
Palais de Chaillot
1, place du Trocadéro, Paris 16th
Métro: 6, 9: Trocadéro
Vélib': 16014, 4, avenue d'Eylau
Open:  Monday, Wednesday, Friday, Saturday & Sunday: 11am-7pm; Thursday: 11am-9pm; closed Tuesdays. Last entry 30 minutes before closing time.
Entry: €8 adult for permanent collection; free first Sunday of every month. Temporary exhibit entry fees vary, consult site for variety of pricing options.
RER: C, Champs de Mars-Tour Eiffel (cross bridge to other side of Seine)
Bus: 22, 30, 32, 63, 72, 82
Accessibility: Access via the Pavillon de Tête, 1 place du Trocadéro. Lift by the main staircase on the left.
Sally Peabody is a Paris specialist who leads Your Great Days in Paris, small group cultural and culinary tours in France, the Pays Basque, Istanbul and Turkey.