Chocolate French: A Tempting Compendium of All Things Chocolate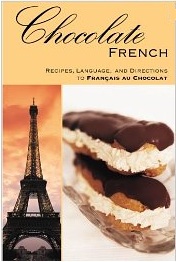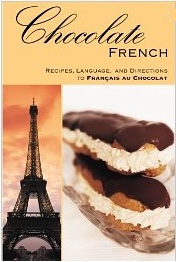 Chocolate French is an intriguing book. Similar to eating good chocolate, reading this book about French chocolate tends to leave you feeling "more-ish." Why, because this carte to all things chocolate tends to the general rather than to depth. It offers up an intriguing smorgasbord more than a focused dégustation. Chocolate French has a definite place in the bookshelves of Francophiles who adore cookbooks and topical books on subjects like chocolate or pâtisserie. You have to love a book that celebrates both utterly luxe chocolate in all its guises and the tradition of lucky French kids eating bread and chocolate for breakfast and for after-school snacks (and, largely, staying slim to boot).
The third paperback edition of Chocolate French retains the popular black and white format. Open the covers and peek into chapters that discuss the history of chocolate in France, chocolate in literature and in film, notable French chocolatiers, "Young Turks" in the fine chocolate world in the US, culinary opinion leaders in France, and, perhaps best of all, loads of recipes for incorporating chocolate into entrées, plats and desserts, as well as for drinking chocolate chaud à la ancienne.  There are even intriguing chocolate "beauty secrets."
The 50 recipes cover classics like mousse au chocolat or melting chocolate cake with raspberries and cream, chocolate tartes, pâtisserie and much more. There are interesting spins on classics such as a chocolate and vanilla madeleine. Interesting recipes for plats include a couscous sucré with honey, raisins and cacao. Or, a dipped camembert and chocolate sandwich. How about roast lamb with dark chocolate? Try that one for Easter dinner! The recipes are from French sources and notable chocolatiers or French-styled bistros and cafés from selected sources in the USA.
The book can serve as a guide, of sorts, to finding great chocolatiers in Paris and around France, in Belgium, Switzerland, Japan and the USA, though this area of the book is less than comprehensive. While I thoroughly agree with French chocolatiers like Jacques Genin, Pierre Hermé, Robert Linxe and Jean Paul Hévin being given star billing, part of the joy of finding extraordinary French chocolate in Paris (and France) is the sheer abundance of notable artisans who have attained master chocolatier status and those who are simply very, very good. For example, master chocolatier Christian Constant, arguably a very serious student of chocolate and an author of several comprehensive books on chocolate, is given just a quick mention as are Bernachon and Michel Chaudun, other outstanding French chocolatiers. And in the USA the increase in top-quality artisanal chocolate makers far outpaces the few mentioned, though who would quibble with Vosges Haut Chocolate, Marie Belle, Scharfenberger and Fran's chocolates being duly noted. Chocolate and discussion of things chocolate does tend to arouse individual passions.
Chocolate French is published by tcb publishing, San Francisco, CA. It is available in major bookstores and online.
Sally Peabody is a Paris Specialist and writer who is endlessly fascinated with French chocolate. She advises travelers on getting their best from visits to Paris, leads small group culinary tours in Paris, Lyon, the Pays Basque and in Turkey.  Her Tea.Chocolate.Paris tour is all about fine tea and decadent chocolate.
Please spread the word about Bonjour Paris and send an invitation to your friends to receive the newsletter.  In advance, thank you.
Leave a reply
Your email address will not be published. Required fields are marked *