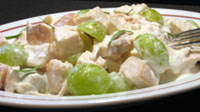 Once a star on the menu of Le Grand Véfour, filets de sole véronique has become hard to find in France. In Escoffier's recipe, the sole is gently poached in a fumet of white wine that has been flavored with fish trimmings, onions, parsley and a bit of lemon juice. After poaching, the fumet is reduced, swirled with a bit of butter and then glazed over the fish. The fish is served with a pyramid of peeled Muscatel grapes.
According to some accounts I've read, the dish at the Grand Véfour's recipe was made with cream. I've adapted the recipe quite a bit by substituting chicken and adding cream as well. In addition, I've added a chicken salad recipe made with the same ingredients. Et voilà, let recettes:
Suprême de Volaille Véronique ~
Chicken Cutlets Véronique: boneless, skinless chicken breasts and grapes in a white wine and cream sauce
Pronounced: su prehm / duh / voh lay yuh / veh roh neek
INGREDIENTS:
•    2 whole skinless, boneless breasts, cut in half (4 halves); pounded to about 1/2″ thickness
•    1-1/2 Tablespoons chopped fresh tarragon
•    3 Tablespoons butter
•    2 shallots, very finely chopped
•    1 cup small green grapes (for a change you could use a combination of red and green grapes)
•    1 cup dry white wine
•    1 cup heavy cream
PREPARATION:
1. Sprinkle 1/2 teaspoon of tarragon on each chicken breast, then season with salt and pepper.
2. Over med-high heat, melt the butter in a heavy skillet.
3. Add the chicken breasts and sauté until brown and cooked through, about 4 minutes on each side.
4. Transfer the breasts to a plate and keep warm.
5. Add the shallots and remaining tarragon to the pan and sauté until the shallot begins to soften, 2-3 minutes.
6. Add the grapes, wine and cream and boil until the sauce is thick enough to coat a spoon, about 4-5 minutes. Season sauce with salt and pepper.
To Serve: Pour the sauce over the chicken breasts and serve.
Chicken Salad With Green Grapes and Crème Fraîche
This chicken salad recipe is made from leftover chicken that is marinated in vinegar, lemon juice and garlic. Green grapes are added to the chicken and then tossed with crème fraîche.
INGREDIENTS:
•    1 rotisserie chicken: remove the meat from the bones; discard skin and bones and chop the meat
FOR THE MARINADE:
•    1 garlic clove, pressed
•    2 Tablespoons white wine vinegar
•    1 lemon, juiced
•    1 to 1-1/2 Tablespoons super-fine sugar
•    some small fresh tarragon leaves
FOR THE CHICKEN SALAD:
•    green grapes
•    3 Tablespoons crème fraîche
PREPARATION:
1. Mix the garlic, vinegar, lemon juice, tarragon and sugar together in a large bowl.
2. Add the chopped chicken and toss to coat. Cover with plastic wrap and place in the fridge for at least 2 hours to marinate. It may be left overnight.
3. Remove the chicken from the marinade.
4. Whisk the crème fraîche into the marinade. Season with salt and pepper.
5. Cut the green grapes in half. Add the grapes and the chicken to the crème fraîche dressing and toss to coat.
To serve: Place on a plate, garnish with a few more tarragon leaves and serve.
Debra Fioritto contributes delicious French recipes to BonjourParis—follow her at: @DebraFioritto on Twitter,Fabulous French Food, Julia's Paris & Provence and Tour de Forks Uncommon Epicurean Adventures.
Subscribe & be first to receive 50 original France travel & French lifestyle stories every month: free subscription. Search the BonjourParis library of over 6000+ stories & find your most complete online France travel resource since 1995. RSS feed available.
Check out our Amazon.com Boutique for the very latest stock in anything & everything for travelers & Francophiles. Books, fashion, electronics, accessories, home décor & more. New items added weekly. Same competitive prices & speedy delivery & your purchases support costs of keeping BonjourParis the most complete France travel resource.
Search hint: start at the back pages for the most recent stock.
Short-cut to our 100 TOP SELLING ITEMS

(please wait for widget to load)
We recommend hotels we know & which are rated highly by recent past guests:

Be smart! Reserve your hotel at Booking.com…then keep shopping online & if you find a better rate for the same deal, contact Booking.com for your BEST PRICE MATCH GUARANTEE.
Bookmark this link & use it everytime you shop so your preferences are stored & deals are updated when you return: Booking.com.