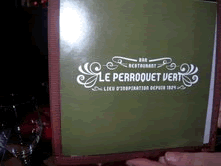 The Perroquet Vert, was once the favourite canteen of Romanian Princess Marthe Bibesco. Not only a gourmet but also a writer, PM would eat and write at the same time (obviously no manners darling!) and one of her winners was a series called "Le Perroquet Vert" (The Green Parrot), which the then owner, well impressed, transformed from Chez Tonton to Le Perroquet Vert. PM was friends with Proust, Cocteau, Edith Wharton, even dined with de Gaulle at The Elysée Palace. The General told her, "Marthe, you personify Europe for me". Small wonder they called the joint after her books, and, when Laurent Teboul bought the Parrot, with Didier Guy as chef (ex-Chamarré) they saw no reason to change the logo. 
Located in a tiny street off Place Clichy, Le Perroquet buzzes with a hip French crowd (leather jackets, tight jeans) who come not only for the excellent quality/price food, but for the wacky art and sculpture on display, and to pay homage to The Green Parrot, stuffed, in a cage off the main dining room. The new Spring/Summer menu includes 6 starters + the blackboard, say, Rillettes de sardines moutardées et caramel de tomate.  From 6 mains: Thick cut of beef and thick chips. Yum! Spicy sauté of veal, risotto cooked in coconut milk. To finish Poire Poché with spicy syrup and chocolate crumble. Drink Cotes de Rhone, Domaine Saint Cosmos Red 2004 (18€) Macon Villages, Dom Guillot Broux 2004 (21€) or by the glass.
The new Japanese chef Chez Les Anges means it's certainly worth a visit. In bright grey and white décor, Jacques and Catherine Lacipière (also of Au Bon Accueil)  create a chic contemporary brasserie where lovers linger late into the afternoon, finish lunch at the bar nursing excellent Burgundy. It's worth noting the menus feature game, mushrooms and truffles in cooler months. At present, focus on the lunch menu (34€) with a sparkling lime marinated tartare of salmon, Tomato gaspacho, with olive oil, or Escabeche of rouget barbet, pistou and tapenade, which taps nicely into the moment. Cool. From three mains go for the Fricassée of ris d'agneau (you don't often see that) with crunchy green asparagus. No! OK. Line caught mullet, lightly fried with courgette spaghetti, carrots and celeriac. Eight desserts include Nougat glacé au Grand Marnier and Baba au Rhum, crème chantilly. Find Les Anges in "Michelin Paris 2007 Restaurants & Hotels" in English (14.50€). Don't leave home without it.
Where's the Beef? Go straight to Le Galvacher, do not pass go, do not collect……Not a lot of people know Galvacher is the traditional name given to cattle breeders in the Morvan region. The owner's uncle has a farm in Burgundy, so products come "from our pastures to your plate".
"Women are like tea-bags you don't know how strong they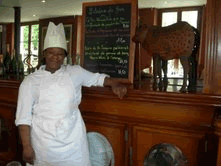 are you put them in hot water", says chef Fatou Daffé, in charge of the all male kitchens at Le Galvacher since 2006. A cool young talent, Fatou's family come from Senegal, but "I grew up in France from the age of 6, and I always watched my mother and grandmother cooking and am influenced by them". Yes, so you'd expect spicy dishes, wrong. Fatou, self taught, has a natural born talent for adding right-on flavours and savours so you don't need a fire extinguisher at the table. "A touch of spice is rather nice", she giggles.
Terrine de boeuf en gelée with citronelle, foie gras maison, confiture de champignons, or Burgundy snails, with pink lentilles to start. Excellent fresh beef or salmon, how about the rarely found marrow bone, for your main? Or, the very Burgundian "crapiaux de treuffes",  (potato galette) to accompany eight tartares such as "tartare au chevre frais: tartare Fatou aus epices, aux herbes. Desserts include a tall glass with mascarpone, strawberries and pecan nuts, or the signature Baba Prince Stanislas Leszcynski, Duke of Lorraine ("my friends call me Stan"). Story goes, one time "Stan" found his favourite Kouglof dessert too dry, so splashed it with rum…..the rest is history.
Fatou changes the menu frequently, there's always a starter, main and dessert of the day. Wines are interesting, served by the glass if you want. Sit with a glass on the terrace and watch the world go by on Avenue des Ternes. "Our menu is a showcase for the products of our region", says owner Patrice du Jeu.
At Le Cercle du 17eme young chef Sadaki Kajiwara is a Kendo expert, so don't mess with him. You won't want to anyway, you'll be bowled over by his simple delicious cuisine. He came to Cercle via Jacques Lacipiere (see above) and cheffed at Kong, Bon Acceuil and The Hilton, Osaka. He does a terrific cochon de lait à la Japonais with croquette potatoes and black sesame. Raviolis of black sausage with an emulsion of celery, a hint of Madagascaer curry. Light vegetable tart with olives, mozzarella, avocado or rosemary roasted chicken with creamy parmesan risotto. His sweet and sour pigeon could become addictive. Try Carpaccio of red tuna with ginger. Feuilleté of Saint Jacquesd with asparagus, cider and chive oil. Fish of the Day. Then honey Cheesecake, Tiramisu Kajiwara. Cold iced green tea soufflé with a dash of Cognac. Excellent. "There's more to life than sushi", says Kajiwara, but all the same he's learning the art in his spare time. There's energy at Le Cercle, owned by Jean-Baptiste and Catherine Santoni, this is their first restaurant venture. With a chef like Kajiwara they're bound for glory. 
Le Perroquet Vert,
7 rue Cavallotti, 18th (Metro: Place de Clichy)
T: 01 45 22 49 16 www.leperroquet-vert.com
Lunch Monday-Friday from 15€ + A La Carte 35€ + wine
Chez Les Anges 
54, Boulevard de LaTour-Maubourg, Paris 7. (Metro: La Tour Maubourg) 
T: 01 47 05 89 86. www.chezlesanges.com 
Closed Saturday and Sunday. 
Average spend 50 € –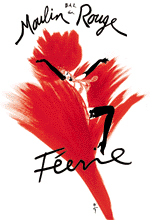 Lunch 34€ + wine
Le Galvacher
64 avenue des Ternes, 17th (Metro: Ternes)
T: 01 45 74 16 66
Lunch from 21€ Dinner from 27€ + wine
Open 7/7
Le Cercle du 17th,
5 rue Labie, 17th (Metro: Porte Maillot),
T: 01 45 74 22 98
Lunch from 23€ 50 Dinner 29€ + wine