Chez Gladines: Delicious Basque Budget, Casual Dining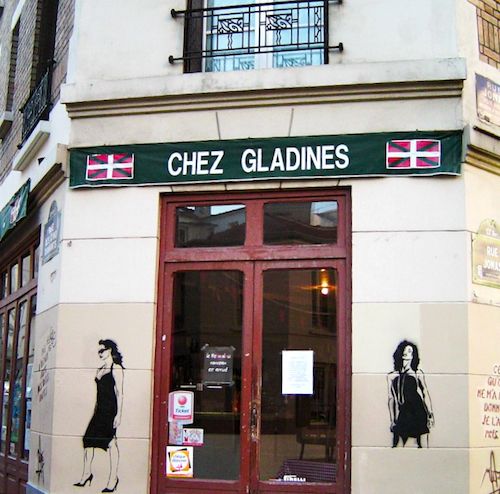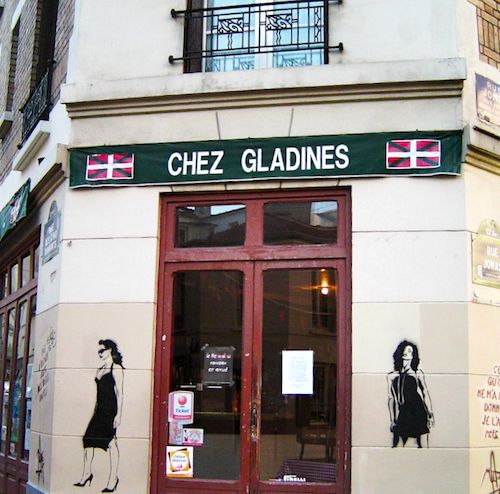 We are in the Butte aux Cailles section of Paris's 13th arrondissement, a village-like neighborhood with compact three- and four-story housing interspersed with artisan boutiques, plus restaurants enough to keep a foodie busy for weeks. The corner lot on which Chez Gladines restaurant stands cannot be more than 500 square feet. Inside, a center bar displays the Basque flag and differing sizes of chalkboards with multi-colored descriptions of tonight's à la carte, prix fixe menus, desserts, wines and beers. Wobbly tables stand in tight alignment one after the other, inches separating breadth from width so as to accommodate the maximum number of diners.
The place is near empty save a foursome near the window and a group in the back near the toilets. The t-shirted waiter brings the menu. He know my friend and they chat about a Cattie who works in the kitchen, while I peruse a menu largely of Basque orientation, numerous selections of peppers for spicing, grilled and slowly roasted meats and chicken, plus salads—the most popular for their price and quantity—of sliced hams, sweetbreads, or calamari.
There seems so little activity that I wonder–is this Thursday an off night? Where are the crowds of which my friend spoke before our arrival? The tables and chairs are worn, wall paint chipped, window curtains nonexistent, utensils and serviettes utilitarian at best. Still, an appealing expectation exudes as the two waiters wipe down dozens of wine glasses and the smells of cooking—butter, garlic, aromatics—rise from a back place.

I am handed a glass of Côtes du Rhône and we also share a pitcher of water. The salad my friend orders comes in an oversized stainless steel bowl, full of lettuce, tomatoes, fried flat potatoes, plus a generous portion of sweetbreads. My chicken leg is doused in its own juices and smothered in three types of peppers, none too overwhelming yet each with degrees of heat.
In the fifteen minutes it has taken us to order and be served, the entire place is overrun with patrons seated and standing three rows thick at the bar. Some sort of magical French transformation has occurred. It is time to eat, time to drink, time to be out. I cannot hear my companion over the noise, and instead watch the upright crowd mount a jolly campaign to at once imbibe something to keep them occupied while they eye us diners as if to gauge who they can first pounce on for a table.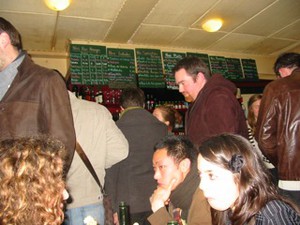 On the other hand, the two waiters maintain the casual respect one grows used to in France, that laissez-faire that refuses to budge until the meal has been completely enjoyed and the diners are ready for l'addition. We stay put for the "Riz O'leh!" dessert which I choose for the name alone but for which my companion always saves room—a light rice tapioca served with cinnamon in a tin shaker on the side. Yum doesn't do this simple dish justice. It's yet another example of why the close proximity, the near deafening roar, the odd bumps and angles seem meager arguments for foregoing a place such as this. All that for under 30 euros total—cash only of course!
We exit in a flurry of hats, gloves, scarves, creaking chairs, shoving and pushing—with jokes and laughter flying—to an outside where more diners wait their turn while sipping beers and appreciating that, on this February night, the temps hover around a pleasant 50 degrees.
You have to experience such a quirky place. At least once. How else can you then become part of the bouche à oreille chain?
PRACTICAL INFORMATION: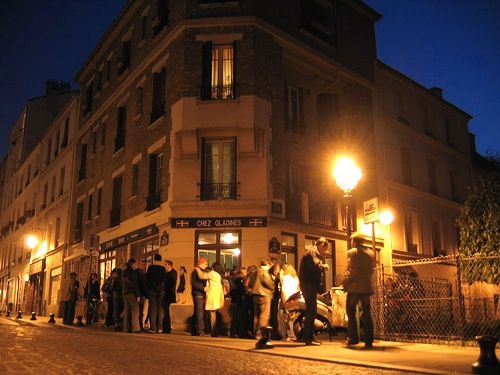 Chez Gladines (no website)
Tél: 04. 4580 7010
30, rue des Cinq Diamants, Paris 13th
Open every day 12-15H and 19H-23H30
Cash only, no credit cards.
PHOTO CREDITS:
Restaurant exterior ©BeatChick
Kathleen Burke is a writer and lover of France who lives in Paris and Massachusetts. She has written several stories for BonjourParis.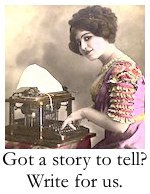 Subscribe for free
weekly newsletters with subscriber-only content.
BonjourParis has been a leading online France travel and French lifestyle site since 1995.
Top 100 France-themed books & more: Readers' Favorites.
Discover more Paris cafés, bars, patisseries and restaurants….click on image for details.
Thank you for using our link to Amazon.com…your purchases support our free site.
Leave a reply
Your email address will not be published. Required fields are marked *