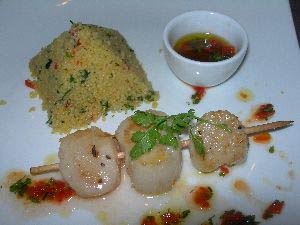 Cecile Desimpel loves her restaurant Chez Cecile, recently Cecile's had a facelift, the restaurant darling not Cecile, she's far too young. It looks pretty with sexy red banquettes and still the wonderful original photos of voluptuous women on the walls to make you feel really thin and not guilty for eating chef Regis Mongin's (ex-Bristol with Frechon) beautifully constructed dishes.
Lunch is three courses for 35€ and changes with the seasons. To-day 5 starters included nems and gambas with tiny vegetables, ginger, romaine, soja sesame sauce. A crunchy parmesan sablé is topped with aubergine caviar (no garlic!) red pepper confit and tempura of anchovy filets. Divine! See what I mean about working well with good ingredients. 6 mains including a tasty one for veggies: Penne cooked in perfumed broth, and for Ms Veggie's carnivore squeeze, Aberdeen Angus beef. She drinks flowery Domaine Laurent Coignard 2005 (9€ glass: 29€ bottle). He goes for Côte de Beaune 2005 chez Joseph Drouhin 39€. They both take cheese from Mme Dubois and the dessert du jour, cream of pink Kerala rice in a Martini glass and crack for ze craquant au praline with Guanaja chocolate and caramel vanilla chantilly.
Before they leave they decide it's wise to book for Thursday nights' Jazz Dinner, featuring Regis Mongin's 5-course degustation (45€ + wine) and the gorgeous Matthieu Boré and his band (www.matthieubore.com) interpreting the best of, say Hoagy Carmichael, Irving Berlin, Gershwin and Gainsbourg (Cecile sings too). By the end of the evening they'll be dancing Cheek to Cheek, she's discovered Monsieur Carnivore's just a gigolo but does she care?
Chez Cecile,
17 rue Vignon, 8th
Metro: Madeleine,
T: 01 42 66 46 39
Shut Sunday.
L'Escargot Montorgueil, circa 1832, located in a  buzzing market street in the centre of Paris, has been restored to its' former glory by new owner Antonio Lampreia, chef Christophe Sense and Jonathan Ferrando Director head sommelier, who worked in LA and speaks perfect English. Open daily with an Entre Deux menu for afternoon snacks such as Chien chaud a la Francaise (Hot Dog) Cheeseburgers: Caesar salads. Tres bon idee and also a kid's menu at 7€.
Once owned by the late Andre Terrail (La Tour d'Argent) who hired Francois Lespinas, ex- chef to King Farouk of Egypt. The second-empire decor's been discreetly re-touched, well you wouldn't mess with ceiling paintings by Georges Jules Victor Clairin would you?  Sarah Bernhardt had her favourite table here, as did Proust, Sacha Guitry, Charlie Chaplin, Mistinguett, Cocteau, Picasso, Salvador Dali and Jackie O.
Eat in the handsome main restaurant, on the terrace, or book Yves Saint Laurent's former dining room, with its' own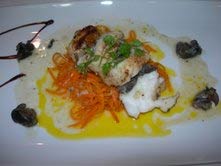 loos and servers dressed by young French designers. Accent on Ile-de-France organic snails: natural, with saffron, garlic and persil or roquefort cheese. House signature dishes are revised and corrected by Chef Sense for a calories conscious crowd. La Gueusaille de Kouikette (baked snail stuffed potatoes). Challans Duck a l'Orange. "Le tout Paris" loves Sense's perfectly seasoned grenadine of monkfish, stuffed with plump juicy snails, poised on spaghetti of cumin spiked carrots. Desserts include Souffle Grand Marnier and excellent tarte fine aux pommes or crème brulée with bourbon vanilla. Savvy sommelier Jonathan Ferrando, recommends white Burgundy, Chateau de Chamirey, 2006 (48€ bottle – 8€ glass).
L'Escargot Montorgueil,
38 rue Montorgueil, 1st
Metro: Etienne Marcel
T: 01 42 36 83 51
Open 7/7 – Average Spend 40€  + wine
Following the success of Les Enfants Terribles the legendary restaurant in the Hotel Mont-Blanc, Megeve, style mavens Jocelyn and Jean-Louis Sibuet launch a Paris branch, located off the Champs Elysees, in the 18th century townhouse that was formerly "rue Balzac" singer Johnny Halliday's brasserie.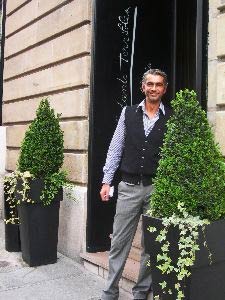 The hip restaurant and bar, totally transformed, has  "Haussman" style décor by Hervé Thibault and you can eat either in the bar (Club sandwich (18€) Tuscan pasta, fresh tomatoes, parmesan (16€) Giant rum-baba (10€) etc. or the restaurant.
The walls are punctuated with dramatic urban murals and paintings; colours are harmonies of taupe, mauve, brushed gold and brown. "Leather" cookie cutter style curtains frame the inside windows, outside herbs and plants tumble in profusion. The well spaced tables are dressed with crisp white cloths, no. 24 on the sofa has the best view of "ze bootiful pipole". The state-of-the-art giant rotisserie is the same as in Megeve; from it order organic golden chicken served with cooking juices and tiny roast potatoes (26€) Rack of thyme roasted lamb (28€)  or "rotisserie of the day" (29€) with pomme purée, hand cut chips, green salad (6€ each)
Heading the kitchens is chef Francois Martin, very keen on organic fresh farm products. His starters include, alone or to share: Thick slice of bio-marinated salmon (10€/17€) Salade Honoré "Thai" style (16€) Giant crispy prawns (10€/18€) Tin of sardines "Ramon Pena" (23€) and seasonal vegetables cooked in broth (11€) For mains, Sea-Bass with tomato tartare (24€) or beef filet cooked "Enfants Terrible" style (36€). There's also a selection of pastas (16€) dishes A La Plancha (32€) and "As In Megeve" beef tartare, chips, green salad (36€) or rib of veal with girolles.
.
The room is directed by Jean-Francois Martinez, a gorgeous George Clooney lookalike, who suggests you drink Domaine de Marie, "Cotes du Luberon", white, red or rosé wines (7€ by the glass 45€ bottle). To finish cheese from Monsieur Boujon (11€) and do try the magnificent Riz Au Lait caramélisé, nothing like we had at school!
Les Enfants Terribles,
8 rue Lord Byron, 75008, Paris, France
00 33 1 53 89 90 94