Are they pleased to see you at Cantine des Tontons?
Considering they're Parisian, beyond pleased. Owner Jean-Guillaume Dufour who also launched Tontons 1 and 2 is always ready for a chat. "The client here is chez lui", he insists.
Is the restaurant attractive?
Décor's by local designers Clémence et Clement. The walls are punctuated with tchotchkes , deer antlers, family photos and memorabilia. Choose excellent wines from floor-to-ceiling wooden wine racks.
Are the tables widely spaced?
Not really, you'll make new best friends at long oak refectory tables. There are two tables for two in the window, but nobody seems to want to sit there and miss out on the gossip.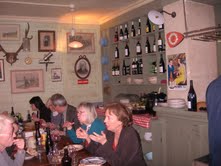 Did you like the cooking?
It's your French grandmother's traditional country cooking, prepared with love by the genial Rudy Sciot. His dishes change daily, help yourself to starters such soup of the day,  country paté, herrings in oil, celery remoulade, potato, red cabbage and carrot salads; all served on antique flea-market china. Drink red Domaine Berenas, Collines d'Oc (14€50); any left can be taken home, or left at Tontons with your name on. For mains serve yourself to dishes on top of the "AGA", say, blanquette de veau, chicken in cream sauce, or boeuf bourguignon; there's always fish on Friday, bien sûr. Desserts are a buffet of France's finest classics: crème caramel, rice pudding, red-wine poached pear clafoutis, fruit tarts and floating island.
Would a vegetarian starve?
No, because there are plenty of vegetables, raw and cooked. Warm fresh bread and fruit desserts. Coffee served all day at 1€ and you can sit at the table as long as you like. Nice attitude, n'est-ce pas?
Who else goes there?
It's a neighbourhood scene, young mothers with tiny babies (are they nursing?) and OAPs blend happily with the likes of TV presenters, local artists, writers, anoraks and businessmen.
Are the loos a bit primitive?
In the basement, clean and functional.
Would you come again?
Yes, not many places where you'll get change from 20€ if you hold back on the wine.
And if I want to go for dinner? 21€ buys 3 courses + cheese. I can't afford not to.
Happy Hour? Around 17hrs
It's all chez Grandmère/Grandpère retro attitude: Dubonnet, l'Ambassadeur, La Suze or le Muscat du Chateau d'Espigne. Choice of excellent wines, so order a bottle (from 22€) and a plate of terrine maison du jour et cornichons (7€). Assiette de charcuterie (9€) or le pot de foie gras mi-cuit maison 110g (12€).
Where:
36 rue de Dantzig, 75015, Paris,
(00 33 (1) 48 28 23 66
Metro: Convention
No internet site
Lunchtime deal: 12.15 – 15.30pm
The market menu comprises three generous courses for 16€.
Open 7/7
BUZZ-BUZZ Diary Date:

Last year's Alain Ducasse Farmer's Market was so successful he's planning it again. On April 13 the Courtyard Garden at Hotel Plaza Athénée will be transformed into a sustainable country-style market garden. Chef Ducasse has arranged for fifteen of his fave food suppliers to gather together their organic and bio fruits and veg to introduce them to "le tout Paris". Nothing will be for sale, expect tantalising tastes, cooking hints, forgotten fruit and veg to re-discover and guests (entry is free) will be given addresses of all the market gardeners, cheese and butter makers. Being the Plaza Athénée there will be a magnificent bucolic setting created by Pascale Benhamou, who re-designed the Galerie des Gobelins for those who prefer to take their leisure inside.
Alain Ducasse Market,
Courtyard of Hotel Plaza Athénée, 8th
25 avenue Montaigne,
From 10 am-5 pm.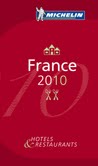 The 101st edition of Michelin France (Monaco, Andorre) 2010, published 1st March docks a star from Hélène Darroze and gives 3 stars to the appropriately named Gilles Goujon (as in Sole Goujon), a passionate chef with a country inn in the picture-postcard village of Vieux Puits, Fontjoncouse, a remote village in Les Corbières www.aubergeduvieuxpuits.fr. It's a nice salute to a talented and passionate chef and his long-suffering Ms Goujon.
In Paris, there's one star for Adeline Grattard's Yam'Tcha and one for Shinichi Sato's Passage 53. Don't leave home without this year's Michelin, it's a good read, you'll easily recuperate your 24€ using "Le Printemps du Guide Michelin", the all-inclusive Pass Privilège, inserted in the guide, that will give discounts at over 1,000 addresses from 21 March-21 June.
The Guide awards stars to a total of 558 restaurants: 455 one-stars (of which 47 have just received their first star), 77 two-star restaurants (ten new promotions) and 26-three stars.  www.printempsduguidemichelin.fr
Please post your comments or questions and let them flow. Register HERE to do so if you need a free Bonjour Paris user name and password.
Book your Airport Transfer with Paris-Shuttle.com and save up to 30%.