Camargue Restaurant: "Abrivado!"

      I love mussels, but I like them cooked in a cream sauce rather than à la marinière, and a couple of days after my arrival by boat in Les-Saintes-Maries-de-la-Mer, I saw a tiny restaurant called "Le Tournesol" (The Sunflower) that advertised "Moules à la Crème" (with chips/fries). The owners, Pat and Maryse, were from Normandy, where you add cholesterol-rich cream or butter to everything, and they were fascinated with their new seafaring customer with a dreadful English accent. Pat and I got on famously, and we chatted long into the afternoon over several cognacs. (I'm afraid to say that I was by no means tee-total in those days, as I am now, far from it! In fact I used to be one of the "great" drinkers, perhaps even in a class with Dino.) If I could only remember all of the anecdotes from those days when I was under the influence, then there would be more laughable bytes going into this laptop than there is in RAM. Anyway, Maryse wasn't very amused, because she wanted to shut up shop, but I was very touched later when only one week after our first meeting, at her suggestion they offered to lend me their car to go and collect a lady friend from the Marseille airport. She was coming to see where I had ended up and to join me for the pilgrim festival on the feast day of Saint Mary Salome, which was due in a few days.   Pat and Maryse had also told me that their daughter, Aurelie, was the girlfriend of Christophe Valette, the captain of the tourist boat "Les Quatres Maries" that I had passed a few days earlier in Le Petit Rhône and for which I would later translate the tourist commentary into English (free of charge!). Some days Christophe, some days his father, would take the boat out of harbour, across the short sea passage to Le Petit Rhône. Once there, they would take the tourists several kilometres upriver into the wilderness, pointing out the flora and fauna, birdlife, white horses, and black bulls. It's fascinating for the tourists to see the horses in complete harmony with the bulls; the horses are the dominant species, even though the bulls can be extremely aggressive towards humans, as I found out one day when I stupidly strayed into a pasture where perhaps 20 bulls were grazing. I never knew I could run so fast! (I'll tell you about it sometime.) Today, the Valette family has two boats as a result of their increasing popularity with tourists, both boats moored in Port Guardian. This small port comprises moorings for tourist and fishing boats, but there is also a marina with all mod cons for pleasure craft. My mooring was not far from Christophe's berth where Aurelie sold tickets to visitors, and one day, just as I was re-entering the port after aborting a horrific month's trip to Marseille, Christophe spotted me from his boat, and called Aurelie on his portable telephone:   "Hey, guess who's back?" (in French of course.) The next thing I know is that Aurelie is running down the quay, she throws her arms around me and covers me with kisses.   "Christopherrr, we missed you!" They are like that, the French.  So, this was my abrivado at Saintes-Maries-de-la-Mer.   Abrivado is an old Provençal word meaning "opening" or "arrival" and usually refers to the guardians on their white horses running black bulls through the streets of a village or town to the bullring (les arènes).     The abrivado precedes what is known as the Course Camarguaise, which is not a bull-fight to the death (corrida mis à mort) as practised in nearby Spain, but a chance for the afeciounados or "fans" to watch and applaud their local team of raseteurs trying to pluck a tiny cockade from between the very horns, very sharp horns, of a furious black Camargue bull. They use a type of comb (crochet), while running before the bull, to rip off their prize, each run being known as a raset – hence their name.                                               And sometimes things get very hairy!      Good old Pat often tells pretty exaggerated stories about his English friend "Christopherrr the 'Viking' sailor", including the day when I went out along the east beach for miles on my little folding bicycle to experience the special annual abrivado along the sands to Les-Saintes. About five miles from the village, I came upon scores of animal trucks surrounded by literally hundreds of guardians on their white horses. One by one, the bulls were let loose. A group of guardians would then encircle it and race it off at a gallop along the beach. Well, I took off
to return at a fast pace, because I wanted to watch at least one pack arrive in the village. I got there! And Pat still laughs when he describes this long white-haired 51-year-old apparition on a tiny bicycle being applauded by the crowds as he pedalled furiously down the main avenue towards the bullring, passing Le Tournesol like a whirlwind. The crowd behind the barriers must have thought that I was part of the spectacle.   "Bandido", …
SUBSCRIBE
ALREADY SUBSCRIBED?
BECOME A BONJOUR PARIS MEMBER

Gain full access to our collection of over 5,000 articles and bring the City of Light into your life. Just 60 USD per year.

Find out why you should become a member here.

Sign in

Fill in your credentials below.
I love mussels, but I like them cooked in a cream sauce rather than à la marinière, and a couple of days after my arrival by boat in Les-Saintes-Maries-de-la-Mer, I saw a tiny restaurant called "Le Tournesol" (The Sunflower) that advertised "Moules à la Crème" (with chips/fries). The owners, Pat and Maryse, were from Normandy, where you add cholesterol-rich cream or butter to everything, and they were fascinated with their new seafaring customer with a dreadful English accent. Pat and I got on famously, and we chatted long into the afternoon over several cognacs. (I'm afraid to say that I was by no means tee-total in those days, as I am now, far from it! In fact I used to be one of the "great" drinkers, perhaps even in a class with Dino.) If I could only remember all of the anecdotes from those days when I was under the influence, then there would be more laughable bytes going into this laptop than there is in RAM. Anyway, Maryse wasn't very amused, because she wanted to shut up shop, but I was very touched later when only one week after our first meeting, at her suggestion they offered to lend me their car to go and collect a lady friend from the Marseille airport. She was coming to see where I had ended up and to join me for the pilgrim festival on the feast day of Saint Mary Salome, which was due in a few days.

Pat and Maryse had also told me that their daughter, Aurelie, was the girlfriend of Christophe Valette, the captain of the tourist boat "Les Quatres Maries" that I had passed a few days earlier in Le Petit Rhône and for which I would later translate the tourist commentary into English (free of charge!). Some days Christophe, some days his father, would take the boat out of harbour, across the short sea passage to Le Petit Rhône. Once there, they would take the tourists several kilometres upriver into the wilderness, pointing out the flora and fauna, birdlife, white horses, and black bulls. It's fascinating for the tourists to see the horses in complete harmony with the bulls; the horses are the dominant species, even though the bulls can be extremely aggressive towards humans, as I found out one day when I stupidly strayed into a pasture where perhaps 20 bulls were grazing. I never knew I could run so fast! (I'll tell you about it sometime.) Today, the Valette family has two boats as a result of their increasing popularity with tourists, both boats moored in Port Guardian. This small port comprises moorings for tourist and fishing boats, but there is also a marina with all mod cons for pleasure craft. My mooring was not far from Christophe's berth where Aurelie sold tickets to visitors, and one day, just as I was re-entering the port after aborting a horrific month's trip to Marseille, Christophe spotted me from his boat, and called Aurelie on his portable telephone:

"Hey, guess who's back?" (in French of course.)
 
The next thing I know is that Aurelie is running down the quay, she throws her arms around me and covers me with kisses.

"Christopherrr, we missed you!" They are like that, the French.  So, this was my abrivado at Saintes-Maries-de-la-Mer.

Abrivado is an old Provençal word meaning "opening" or "arrival" and usually refers to the guardians on their white horses running black bulls through the streets of a village or town to the bullring (les arènes).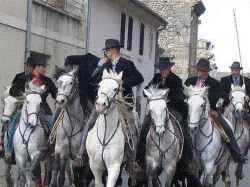 The abrivado precedes what is known as the Course Camarguaise, which is not a bull-fight to the death (corrida mis à mort) as practised in nearby Spain, but a chance for the afeciounados or "fans" to watch and applaud their local team of raseteurs trying to pluck a tiny cockade from between the very horns, very sharp horns, of a furious black Camargue bull. They use a type of comb (crochet), while running before the bull, to rip off their prize, each run being known as a raset – hence their name.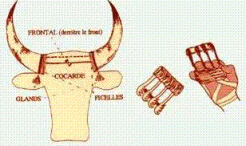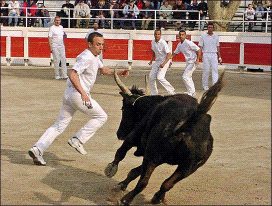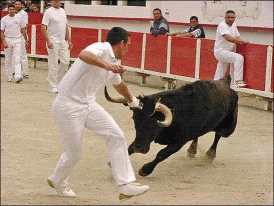 And sometimes things get very hairy!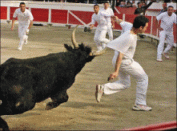 Good old Pat often tells pretty exaggerated stories about his English friend "Christopherrr the 'Viking' sailor", including the day when I went out along the east beach for miles on my little folding bicycle to experience the special annual abrivado along the sands to Les-Saintes. About five miles from the village, I came upon scores of animal trucks surrounded by literally hundreds of guardians on their white horses.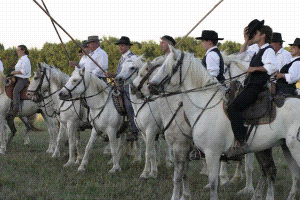 One by one, the bulls were let loose. A group of guardians would then encircle it and race it off at a gallop along the beach. Well, I took off
to return at a fast pace, because I wanted to watch at least one pack arrive in the village. I got there! And Pat still laughs when he describes this long white-haired 51-year-old apparition on a tiny bicycle being applauded by the crowds as he pedalled furiously down the main avenue towards the bullring, passing Le Tournesol like a whirlwind. The crowd behind the barriers must have thought that I was part of the spectacle.

"Bandido", which takes place after the Course Camarguaise, is when the bulls are returned to pasture in reverse fashion. My bandido found me back in Le Tournesol with Pat and Maryse and a large brandy, my bike leaning against the white-washed wall outside.

P.S. for those readers who would like to see a comprehensive list of Provençal terms relating to the courses and their meaning (in French) I would recommend the following page:

---
---