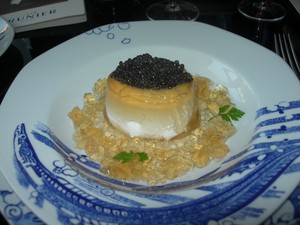 You're enjoying the Thursday night paella at Prunier, Victor Hugo, and alert readers are asking, "what's with Cafe Prunier, place Madeleine?"
It's a hip contemporary space created by Pierre Bergé, décor by Jacques Grange; a seafood resto for the 21st century. The ground floor is a slick boutique dedicated to mouthwatering products to take away, give as gifts and where tastings of caviar, salmon and vodka are available. On the first floor the ladies who do are booking well ahead for the Formula Tartare, a protein packed healthy dish of Balik salmon tartares: Plain, with herbs and basil, black pepper, balik pearls or pimento and garlic. Served with a salad of mesclun, sliced, cooked rattes potatoes, blinis, Smetana cream and a flute of champagne it's a perfect prelude to an afternoon's shopping on the faubourg, a night at the Opera.
Chef Renata Dominick, from Poland via Hotel School, Pithiviers, Café Russe, Neuilly, is bringing a new look to the menus with fresh vitamin-packed juices to match dishes. Melon and Tarragon. Courgette, Granny Smith and lime, Tomato and celery, Fennel, Granny Smith and Basil (the most popular) and with dessert try Strawberry and Peppermint or Pear and Ginger. For testosterone Thierry, who despises juices, there's a variety of vodkas to go with every dish on the menu as well as an excellent wine list.
As for the caviar, for which the house is famous, Prunier are the only restaurants in the world to receive their caviar just 24 hours after processing. They're prepared with a very low salt content, so you're tasting caviar at its freshest. "Oh how lovely it is to be here", agree the table close by. "We come here every time we're in Paris for the seafood menu, the classic Prunier dishes and sometimes pre-order a "Menu Russe".  We try to come for the fêtes de fin d'année when they have a fantastic menu, but don't tell too many people", they plead. Shhhh…..
15, place Madeleine, 8th
Metro: Madeleine
T: 01 47 42 98 91
Shut Sunday
Formula Tartare – 30€
Formulas from 21€ – 95€ + wine

Reblochon the delicious round flat cheese, with notes of hay and herbs, dates back to the 13th century. The name means "to pinch a cow's udder again" as the cheese is made with the thicker, richer milk from the second milking of Abondance, Montbèliard and Tarine cows. Fermier, identified by a green label, with AOC status since 1976, is produced only on farms in the Thônes Valley area. Fruitère, with a red tag, is produced in farmers' co-operatives or cheese factories within a larger area of Savoie and Haute Savoie.
"It begins with the herbs, then we add the cows, flavour changes with the seasons", explains Michel Berthet a third generation milk producer (600-800 liters per day) with a farm 15kms from Geneva. "Cheese is like wine, it's looking at it, touching, smelling to know if it's ripe".  Berthet says the best time to taste Reblochon is June, July, August, as the cows have been chomping on fresh young grass and flowers, rather than the winter hay, giving the milk a stronger flavour.  Also it's a cheese that adapts to summer recipes, say, Asperges vertes sur craquants de poitrine et sa chantilly de Reblochon or Terrine de Reblochon, tomates caramélisées, tapenade d'olives vertes et noisettes.
At 22% MG (fat) it's light compared to, say, Gruyère at 30% or Emmental at 28.8%. The cheeses are washed in local Arbois wine before ripening, so eat the rind unless you're using it for a recipe that specifically tells you to remove it. And drink a white Savoie wine or a well-structured rosé.
General de Gaulle was absolutely right when he declared it impossible to govern a country with so many cheeses. We all have our favourites. Cheese-loving Americans coming to France usually rush straight to the nearest cheese shop to get a fix of fromage fermier made with unpasteurised milk.
A valuable book with everything you want to know about French Cheeses, in English:
(Foreward by Joel Robuchon)
by Kasuko Masui
Eyewitness Companions
For a free recipe book contact:
Syndicat Interprofessional du Reblochon
Rue St Blaise – BP 55,
74230 Thônes

Yves-Marie Le Bourdonnec is butcher to the stars – Michelin stars that is. Alert readers remember his extraordinary beef, lamb and allied products were well noted at Alain Ducasse's Spring Market at the Plaza Athenée. Le Bourdonnac loves his cows, ages his joints and cuts with the finest whisky. From his shop Le Coteau d'Argent, Asnières, Le Boucher Bohème supplies the great, the good and the true carnivores. Now who wants to schlep out to Asnières? Don't get me wrong—I've got nothing against this little town, where a young talent called Michel Guérard had his first resto, it's just I know what you're thinking. So, let Asnières come to you with your Boeuf Wagyu, pata negra, de l'agneau de pré salé, volailles, guinea fowls, etc. Not only where's the beef but your full shopping list of fruit, veg, coffee, tea, etc.  Because you're worth it, same price as you'd pay at Asnières.

No fromagerie near you? Try igourmet's French Cheese Assortment, imported from France, or their 8-Cheese Sampler, both delivered directly to your home.