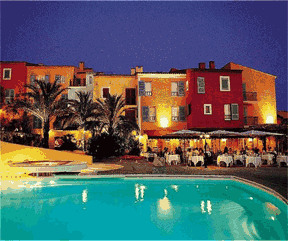 On May 28th, 1967 there was a buzz in the tiny fishing village of Saint Tropez, in the Var region. Partying began big time when a pack of journalists, fashionistas, film stars and "people" arrived to discover Le Byblos a new concept in luxury hotels, set high above the bustling narrow streets. And when Brigitte Bardot honeymooned there with her 3rd husband, Gunter Sachs, it really took off, everyone wanted a piece of the action. 
"Byblos was designed to resemble a typical Provencal village, in the heart of Saint Tropez", explains owner Antoine Chevanne. His great-grandfather, Sylvian Floirat, whose kingdom included Matra and Europe 1 Radio, bought and planned "brand" Byblos, from the original owner Gay-Prosper Para. "Since the first day it became a legend", admits Chevanne, mastermind behind the 40th anniversary celebrations.  
In 1971 when Mick Jagger married Bianca in Saint Tropez, the bride wore a white YSL trouser suit (topless underneath, which confirmed the trend) and the wild party took place at the Byblos. More recently Beyoncé, Giorgio Armani, P. Diddy, Diane Kruger, Johnny and Laetitia, Liz Hurley and Arun Nayar, Kate Moss and Pete Doherty have chilled at the Byblos.  
Telephone the Caves du Roy's DJ Jack-E, note it's Bruce Willis who gives the voice-mail message! Les Caves is the nocturnal ritual for summer Saint Tropez afficionadoes, entry to the "Holy of Holies" is by selection, unless you're one of the above mentioned stars, or staying at the hotel. Between 300-400 punters turn up nightly, but there's only room for 150 in the tiny 25 square meter space where Jack Nicholson and Jean-Pierre Castaldi once did a "Chippendales". Les Caves gets through 2,500 bottles of vodka, 10,000 – 15,000 bottles of champagne, and two changes of carpet per season. "Why pretend to be modest about it: what would Saint-Tropez be without Les Caves du Roy?" asks DJ Jack-E.  
Alert readers know that Saint Tropez is jet-set universe central, forget American debates, freeing hostages, and get down to serious partying. Millions have been spent on new décor and construction of the magnificent Byblos Sisley Spa, launched in May. There are at least 26 treatments to choose from, including "Ultimate Byblos" three hours of blissful face and body treatments created around the famous Sisleya Global Anti-Age Range. There's a suite for couples with side-by-side massages, steam bath and private awning opening onto the fragrant gardens. 
Rooms and suites in a part of the hotel dubbed "La Bastide" have been transformed by Marie-Paule Sergent and Antoine's mother, Mireille Chevanne, each re-designed bathroom boasts a balneotherapy bath and shower. 
Partying gives you an appetite so there's Alain Ducasse's concept Spoon, Byblos, the gourmet address for a culinary voyage, not only to the Riviera, but also via Italy, Andalucia, Maghreb and Asia. Chef Christophe Fiorino, who oversees both Spoon and Byblos' poolside "evening" Bayader restaurant, knows exactly what his international calorie conscious, wine loving, clients want. So does Maitre d'hotel Fausto, who makes sure children eat early in the evening, before he looks after the parents, after all they're our future clients, he chuckles.  
"I want this summer to be the most outrageous yet", says Chevanne. A dinner/concert is planned the first week in August, names of artists are top secret. Elton John, George Michael, Lily Allen? Whatever, they'll all finish the night at Les Caves du Roy.  

But, when the likes of Willis, Naomi Campbell, the Monaco Royals and Sarah Ferguson & Family leave, details of their visits are never revealed. "The number one priority of our staff, some at Byblos for over 20 years, is to serve welcome and pamper guests, but always keep the memories to themselves", promises Chavanne.
Birthday celebrations will not stop when the 2007 season ends, Chavanne sees an adventure with new chapters written daily, read Brand Byblos. "We'll continue to develop and expand with exciting new projects, it's what my great-grandfather would want. Byblos is not a hotel like the others, it still has that original buzz".   
Byblos,
Avenue Paul Signac,
St. Tropez
T: 04 94 56 68 00
52 rooms & 44 suites from 300-700€