"Christian Constant creates a cuisine 'truculent d'invention et de bonheur'. For me, a chef is as mysterious as a musician," says Pierre Arditti, actor, storyteller and fin gourmand. Arditti and Constant have been friends for years. "It was in 1988 in the kitchens of The Crillon," recalls Constant who has formed more brilliant chefs than you've had hot dinners (Yves Camdeborde, Eric Frechon, Alain Pegouret, Thierry Breton…). "He came into the kitchens and said, 'Hello, I'm sorry, I must be going.' I took his coat, unwound the cashmere scarf from his neck, gave him a glass of wine, canapés and some oysters I'd just opened. He relaxed and, spotting a plate of Saint Jacques, decided to stay!" Arditti puts it this way: "From the start, it must be sixteen years ago, I had the feeling of visiting a kindly uncle who was also a brilliant chef. His cuisine is a real cuisine de plaisir, elegant and tasty. I like my food to look like it's original product, none of this chi-chi fusion food. A lobster must look like a lobster, n'est pas? I don't want to eat a Picasso; for this I can go to a museum! With Christian's cooking I relive the tastes of my childhood. With the roast chicken and his sensational Saint-Jacques I remember the textures of my mother and my grandmother. And zoot, zat perfect Paris-Brest! You know I think I spend more time at Violon d'Ingres than I do chez moi." And Arditti is not the only one to appreciate the evolution of a Maison that's always packed with interesting vibrant guests, discussing with the chef and his equipe the merits of, say, his dish Le Bouche à Oreille du Directeur, featuring seasonal delights. At the moment, it turns round artichokes, foie gras, oysters and the first chestnuts. The signature Saint Jacques, en direct du côtes d'Armor, fragrant with truffle oil, sit on a tangle of salad leaves. Like crab? Try it in the shell with a cream of herring eggs and fennel, a mind-blowing starter. Mains include Arditti's passion: Lobster d'Erquy with a purée of Ratte potatoes and salmon caviar. Mmmmm… Prefer beefy? Get the Côte de Boeuf pure race Charolais à la plancha, with a gratin of macaroni drizzled with truffle juice. Or the first gibier, marcassin, lapin, partridge. Palombe, à la plancha with foie gras, cépes and potatoes, is the most delicious you'll taste. And that's a challenge. Finish with a few well-chosen cheeses, fruit tarts offered on a plateau (fig's the best) or, for something really different, soufflés of potatoes with hot chocolate sauce. OK. OK. You can get the Paris-Brest next door at Les Fables de la Fontaine, Constant's tiny blue and white tiled space dedicated to fish, oysters and seafood. "And now, to celebrate the oyster season we're open on Sunday and Monday," says Catherine Constant, Christian's wife, who speaks perfect English, even though she hails from bonny Scotland! In the tiny kitchen is Jimmy Tsaramamama, another Constant disciple. Remember the name; you'll be hearing a lot more about this talented boy from Madagascar. Think of Fables as the ready-to-wear, Violon as the couture, and the atmospheric corner Café Constant as just another bonus where good products, excellent but not expensive wines, and good company can be enjoyed without moderation. Le Violon d'Ingres,135 rue Saint-Dominique, 7th.T: 01 45 55 15 05Lunch – 50€ Dinner from about 70€ + wineShut Sunday, Monday
www.leviolondingres.com
Les Fables de la Fontaine,131 rue Saint Dominique, 7th T: 01 44 18 37 55Starters – 9€ Mains 18.50€ Pudds & cheese 8.50 & 8€ Open 7/7 Café Constant139 rue Saint-Dominique, 7thT: 01 47 53 73 34 From 7€Shut Sunday, Monday Metro for all three: Ecole Militaire Born in Britain and now based in Paris, Margaret Kemp graduated from The Cordon Bleu and spent a year working and watching in the kitchens of top chefs from Sydney, Australia via Bangkok, Hong Kong, California, New York and France. Realising she would never win the coveted 3-Michelin stars, she decided to write about the people who do, the "disciples of Escoffier."
SUBSCRIBE
ALREADY SUBSCRIBED?
BECOME A BONJOUR PARIS MEMBER

Gain full access to our collection of over 5,000 articles and bring the City of Light into your life. Just $60 a year.

Find out why you should become a member here.

Sign in

Fill in your credentials below.
"Christian Constant creates a cuisine 'truculent d'invention et de bonheur'. For me, a chef is as mysterious as a musician," says Pierre Arditti, actor, storyteller and fin gourmand.

Arditti and Constant have been friends for years. "It was in 1988 in the kitchens of The Crillon," recalls Constant who has formed more brilliant chefs than you've had hot dinners (Yves Camdeborde, Eric Frechon, Alain Pegouret, Thierry Breton…). "He came into the kitchens and said, 'Hello, I'm sorry, I must be going.' I took his coat, unwound the cashmere scarf from his neck, gave him a glass of wine, canapés and some oysters I'd just opened. He relaxed and, spotting a plate of Saint Jacques, decided to stay!"

Arditti puts it this way: "From the start, it must be sixteen years ago, I had the feeling of visiting a kindly uncle who was also a brilliant chef. His cuisine is a real cuisine de plaisir, elegant and tasty. I like my food to look like it's original product, none of this chi-chi fusion food. A lobster must look like a lobster, n'est pas? I don't want to eat a Picasso; for this I can go to a museum! With Christian's cooking I relive the tastes of my childhood. With the roast chicken and his sensational Saint-Jacques I remember the textures of my mother and my grandmother. And zoot, zat perfect Paris-Brest! You know I think I spend more time at Violon d'Ingres than I do chez moi."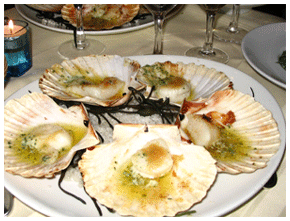 And Arditti is not the only one to appreciate the evolution of a Maison that's always packed with interesting vibrant guests, discussing with the chef and his equipe the merits of, say, his dish Le Bouche à Oreille du Directeur, featuring seasonal delights. At the moment, it turns round artichokes, foie gras, oysters and the first chestnuts. The signature Saint Jacques, en direct du côtes d'Armor, fragrant with truffle oil, sit on a tangle of salad leaves.
Like crab? Try it in the shell with a cream of herring eggs and fennel, a mind-blowing starter. Mains include Arditti's passion: Lobster d'Erquy with a purée of Ratte potatoes and salmon caviar. Mmmmm… Prefer beefy? Get the Côte de Boeuf pure race Charolais à la plancha, with a gratin of macaroni drizzled with truffle juice. Or the first gibier, marcassin, lapin, partridge. Palombe, à la plancha with foie gras, cépes and potatoes, is the most delicious you'll taste. And that's a challenge. Finish with a few well-chosen cheeses, fruit tarts offered on a plateau (fig's the best) or, for something really different, soufflés of potatoes with hot chocolate sauce.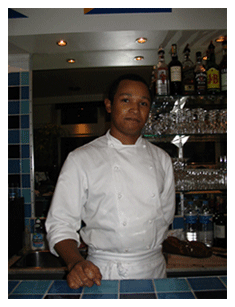 OK. OK. You can get the Paris-Brest next door at Les Fables de la Fontaine, Constant's tiny blue and white tiled space dedicated to fish, oysters and seafood. "And now, to celebrate the oyster season we're open on Sunday and Monday," says Catherine Constant, Christian's wife, who speaks perfect English, even though she hails from bonny Scotland! In the tiny kitchen is Jimmy Tsaramamama, another Constant disciple. Remember the name; you'll be hearing a lot more about this talented boy from Madagascar.

Think of Fables as the ready-to-wear, Violon as the couture, and the atmospheric corner Café Constant as just another bonus where good products, excellent but not expensive wines, and good company can be enjoyed without moderation.

Le Violon d'Ingres,
135 rue Saint-Dominique, 7th.
T: 01 45 55 15 05
Lunch – 50€ Dinner from about 70€ + wine
Shut Sunday, Monday

www.leviolondingres.com
Les Fables de la Fontaine,
131 rue Saint Dominique, 7th
T: 01 44 18 37 55
Starters – 9€ Mains 18.50€ Pudds & cheese 8.50 & 8€
Open 7/7

Café Constant
139 rue Saint-Dominique, 7th
T: 01 47 53 73 34
From 7€
Shut Sunday, Monday
Metro for all three: Ecole Militaire
---

Born in Britain and now based in Paris, Margaret Kemp graduated from The Cordon Bleu and spent a year working and watching in the kitchens of top chefs from Sydney, Australia via Bangkok, Hong Kong, California, New York and France. Realising she would never win the coveted 3-Michelin stars, she decided to write about the people who do, the "disciples of Escoffier."
---
---