OK you've had it up to your eyeballs with chapon, marron, foie gras, caviar, buches and galettes. Your buds are tingling for new taste sensations, but where to find them? Not difficult with Buzz's Top ten (+ two) guide des Restaurants Etrangers de Paris. No visa required, no need to have your shoes checked, flight cancelled; just tell them we sent you.
Funky fusion:
Café des Delices, 87 rue d'Assas, 6th (Metro: Rennes) T: 01 43 54 70 00
The delightful laid-back Gilles Choukroun's informal room has become a favourite with le tout Paris. So much so he's opening a right-bank annexe Angl' Opera in the Hotel Edward V11. (01 42 61 56 90). Crème brûlée of foie gras with peanuts; vegetable milk shake with caviar; butter tartines of sea-bass; crumble of Saint-Felicien cheese; marshmallow bûche.
North African:
Andy Wahloo, 69 rue des Gravilliers, 3rd (Metro: Bastille) T: 01 42 71 20 38
Mourad and Karim Mazouz's new achingly chic canteen (Sketch, London, its' them avec Pierre Gagnaire). Not a Swarovski design palace–think pop-art meets Arabia in a transformed fashion wholesale store! Food's a celebration of Moroccan culture, couscous galore.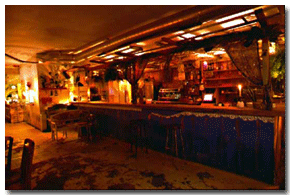 Brazilian:
Favela Chic, 18 rue du Faubourg-du-Temple, 11th (Metro: Republique) T: 01 40 21 38 14
Eat, drink and be merry. As soon as one of the cocktails takes effect you'll be samba-ing and making new BF's. This is an address Parisians whisper, started off as a tiny bar (by Rosanna) now a temple to Brazilian nights. DJ's, live music, authentic Brazilian cuisine, you'll think you've died and gone to Rio (But you're alive, you still have your wallet, les bijoux and you're safe in Paris!)
Spanish:
Bellota-Bellota, 18 rue Jean Nicot, 7th (Metro: Latour Maubourg) T: 01 53 59 96 96.
Spanish hams, "Jabugo Iberico" and tapas. From Tuesday through Saturday taste the tapas, argue with the locals as you sit at the table d'hote. It's a club atmosphere, take home what you don't eat. Wonderful wines, foie gras, smoked salmon, caviar and olive oils.
Thai:
Le Petit Thiou, 3 rue Surcouf, 7th (Metro: Invalides) T: 01 40 62 96 70
Less expensive than La Marine de Thiou next door. Mark 2 of Thiou has the same equipe, same delightful chef (Thiou herself is too too lovely). In a bamboo forest, lunch is served daily (23€), maybe a little salad of liserons (baby mackerel) with crevettes and a poulet sauté with basil and mango, sticky rice and coconut milk. Try the signature "tigre qui pleure" which everyone has copied (marinated spicy grilled beef).
Japanese:
Stella Maris, 4 rue Arsene Houssaye, 8th (Metro: Charles de Gaulle-Etoile) T: 01 42 89 16 22
Chef Tateru Yoshino is mostly ignored by the guides. Michelin should do something for him, poor old Tati only got 2 knives & forks in 2003. Lucky for us he's not bothered, and goes on chopping, slicing and creating marvels using organic products.
Lebanese:
Pavillon Noura, 21 avenue Marceau, 16th (Metro: Alma Marceau) T: 01 47 20 33 53
Get your mezze, hummus, lemon chicken and wicked desserts here. Count the designer handbags, it's fun and it's open 7/7.
Franco-English:
Rose Bakery, 46 rue des Martyrs, 9th (Metro: Pigalle) T: 01 42 82 12 80.
He's French (former chef at Villandry, London), Rose is an English one. Weekend brunch has become an institution, and there's a cookery school now. Organic beers and products, juices, even Marmite is available, Neal's Yard English cheeses. Hot breads, scones and excellent carrot and fruit cakes (and I don't mean the customers).
Russian:
Pravda, 49 rue Jean-Pierre-Timbaud 11th (Metro: Parmentier) T: 01 48 06 19 76
20 varieties of vodka to start (honey, spice, wild herbs etc) try a White Carambar cocktail and then Marinated herrings with a touch of curry. Filet de Bismarck herring, caviar of aubergines, tarama, in fact a Russian/Baltic/Mediterranean feeling. Sunday brunch 15€ and there's sometimes Igor at the ivories.
Pakistan:
Le New Jawad, 12, avenue Rapp, 7th (Metro: Alma-Marceau) T: 01 47 05 91 37
Chiken Tikka anyone? Beef and vegetable samosas, they say the spice is adapted to the delicate left-bank BCBG's they welcome daily.
Chinese:
Chinatown Belleville, 27-29 rue du Buisson-Saint-Louis 10th (Metro: Belleville) T: 01 42 39 34 18
For whole crispy roasted pork, served on a platter with sculpted fruits. Think Crouching Tiger, as you witness and are probably invited to a wedding taking place right next to you. Peking kitsch with karaoke at the table! Lunch Cantonese style daily 8€50.
Le Tigre Impérial, Centre Commercial Italie 2, 30 avenue d'Italie, 13th (Metro: Place d'Italie) T: 01 45 80 16 10
Combining the best of Thai, Chinese and Vietnamese. Semi-self service, so it's not The Ritz, but it's a very exciting experience as beautifully hostesses schlep out the day's specials, dozens of them from bo-bun, shrimp, pork, beef nems, fried chicken wings, fluffy rice, stuffed crab, spring rolls, soups, raviolis, gorgeous omelette type omelettes, sweet desserts.
—
Born in Britain and now based in Paris, Margaret Kemp graduated from The Cordon Bleu and spent a year working and watching in the kitchens of top chefs from Sydney, Australia via Bangkok, Hong Kong, California, New York and France. Realising she would never win the coveted 3-Michelin stars, she decided to write about the people who do, the "disciples of Escoffier."