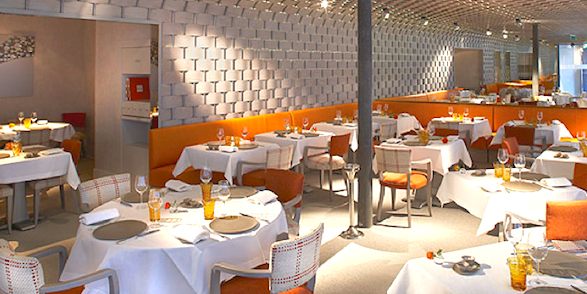 Les Tablettes de Jean-Louis Nomicos dining room. Photo courtesy of Les Tablettes de Jean-Louis Nomicos.
Les Tablettes de Jean-Louis Nomicos, Paris 16th
Jean-Louis Nomicos, born near Marseilles, apprenticed at age 18 with Alain Ducasse at Hôtel Le Juana, Juan-les-Pins.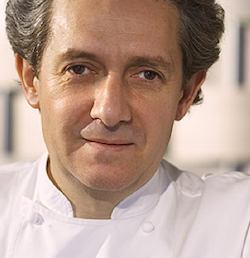 "I followed him everywhere, he taught me to listen to the sound of the pots on the stove, discipline and love of the finest products," Nomicos recalls.
From working worldwide with Ducasse (including Monaco) he went on to the La Grande Cascade, to Lasserre, and now he's chez lui in the chic 16th arrondissement at Joël Robuchon's former "Table."
Les Tablettes de Nomicos, with stunning golden, fantasy décor by architect Anne-Cécile Comar is "what every chef dreams about, his name over the door," he sighs.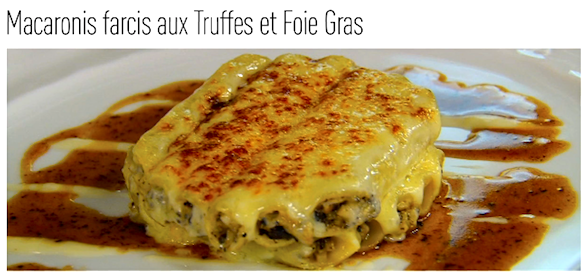 Macaronis farcis aux Truffes et Foie Gras, Les Tablettes de Jean-Louis Nomicos.
Nomicos' cooking is technically perfect: each dish presented is perfect or it doesn't leave the basement kitchen. If it's your first time, begin with his signature Macaronis farcis aux Truffes et Foie Gras with parmesan and jus de veau [watch video of preparation]. Sommelier Massimo Raugi may suggest Maison Deux Montille white Burgundy (40€). Use Massimo's iPad to choose your region and wine.
Continue with Le Sot l'y Laisse (tender nuggets just inside the chicken's rump—nothing to do with the Colonel, darling). Apparently it translates as "only a nutter would leave these bits." It's truly a rare dish, so grab it and with the salsifis/crème de cèpes/Côtes de romaines added—a delight.
Cheese of the moment comes from Claire Donnadieu and Chèvre frais du père Fabre. Red Saint Joseph from Stéphane Montez 2009 (45€) a perfect match.
Desserts are pictures from an exhibition, as in: Chocolat Grand Cru au Praliné et noisettes caramélisées, sorbet cacao. Bon geek, bon genre: Nomicos' neo-modern cuisine hip tech-ideas such as the iPads will be much copied, but never forget where you tasted it first.
Les Tablettes de Jean-Louis Nomicos
Tél: 01 56 28 16 16
16, avenue Bugeaud, Paris 16th
Métro: Victor Hugo
Open: 7/7
Lunch Menu Club: 3 courses cheese, dessert, coffee and wine 58€
Menu Découverte: 2 glasses of wine, 3 courses and dessert 80€
Menu de Saison: 120€
Tasting Menu:  145€
Christmas Menu on December 25: 8 courses 160€ or 280€ with wine
New Years Menu on January 1: 8 courses 215€ or 370€ with drinks
Valet parking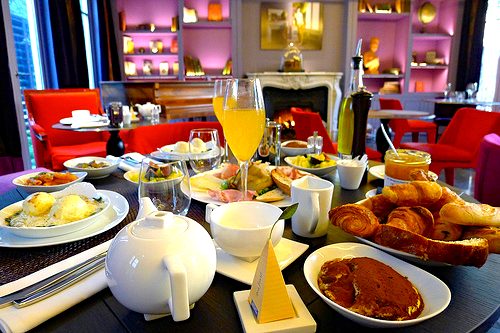 Lavish brunch at Hôtel La Belle Juliette by Chefs Flora Mikula and Agnès Buffet. Photo courtesy of Hôtel La Belle Juliette.

Chef Flora Mikula News
Remember Les Saveurs de Flora? Yes, you do, opposite the George V, Chef Flora Mikula (ex-Passard and Vigato) set up a rose bonbon resto, showcasing mouth-watering cooking with flavors from her native Provence. But Flora was never comfortable in the Golden Triangle, too much of a free spirit. So, one day Flora shut up shop and nobody knew where Flora was.
But after a recent chance encounter in the Richerenches truffle market, I at least tracked her down.
"I'm so happy, I feel free," she said.  "But, if you hear of anything in the Bastille area let me know, I'm looking for my own house, rooms, restaurant, loads of atmosphere, fantastic design, you know what I mean."
And sure enough, since then Flora's found her 3-story dream auberge and Auberge Flora is going to be huge when it opens in the Spring 2012.
In the meantime, Flora's created brunch Italian style with her friend Chef Agnès Buffet at the charming Left Bank boutique Hôtel La Belle Juliette.
Tél: 01 42 22 97 40
92, rue du Cherche-Midi, Paris 6th
Métro: Varenne
Sunday Brunch 11-4pm 28€ instead of 35€
MICHELIN Red Guide España & Portugal 2012: Hotels & Restaurants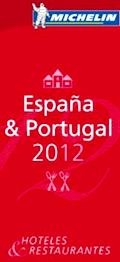 MICHELIN Guide España & Portugal 2012: Hotels & Restaurants (Michelin Red Guide, Spanish and Portuguese only) features 4,448 establishments, 2,246 hotels, 295 country guesthouses, 1,783 restaurants and—in Spain—124 tapas bars. It also lists a selection of 229 Bib Gourmand restaurants that offer high-quality meals at a reasonable price (€35 or less) and 51 hotels displaying the Bib Hotel label, meaning affordable, quality accommodations, with double rooms available for €65 or less in major cities and tourist destinations and for €55 euros or less in other locations. The 2012 edition also includes 311 especially pleasant establishments, highlighted in red.
This year, five Spanish restaurants were awarded three stars: Akelarre and Arzak, San Sebastian, Martín Berasategui in Lasarte-Oria (Guipúzcoa), Restaurant Sant Pau in Sant Pol de Mar (Barcelona) and El Celler de Can Roca in Gerona. Nineteen restaurants get two stars and 127 one star.
Whoops! Torijos, Valencia, shut after the closing date for the MICHELIN Guide España & Portugal 2012.
iPhone app: MICHELIN Barcelona Guide 2012
Looking for a quiet Barcelona bistro or a gastronomic restaurant? A coming app for iPhone or iPod Touch includes a complete presentation of each restaurant including contact details, awards and amenities, opening periods, prices and comments. Use your iPhone to locate it on a map and book a table directly. The iPhone or iPod Touch app will be available in March 2012 for €7.99. MICHELIN Guide Barcelona 2012 for iPhone will be €3.99.
À la semaine prochaine!

Margaret Kemp is a Cordon Bleu graduate who spent a year traveling the world, working and watching in the kitchens of top chefs from Sydney, Australia via Bangkok, Hong Kong, California, New York and France. She reports for BonjourParis on the latest European trends, restaurants and hot spots. Please click on her name to see her weekly stories dating back to 2003 . . . et merci, Margaret.
Merci

, les abonnés

premium

,

nous vous apprécions

.
Would you like to submit a story or share a tip with our readers? Send us your stories & ideas.
Check out the brand new Kindle Fire, Patricia Wells' latest "Simply Truffles" and a classic by Zola
Premium members: have you claimed your 15% OpenSkies discount code?

Save 15% on business-class international flights between Paris and New York on OpenSkies, the airline for Smart Flyers.
To request your discount code valid for up to 4 in your travel party, please click here for promotion details.
Hurry! Offer ends soon!

Must book before December 31
, 2011 for travel that ends by March 31, 2012.
Thank you for using our link to Amazon.com…your purchases support our site.