You decide to splurge having read so much about, say, L'Astrance, Cristal Room at Baccarat, Violon d'Ingres, La Table de Joel Robuchon. You call, the line is busy. "I called L'Astrance 10 times to get a reservation," said Jean-Claude Petit of Bonne Table et Tourisme, the well-respected foodie magazine. "I don't mind, it's only a small restaurant, and what they're doing is superb. It's a charming room, and when you do finally arrive the welcome from Christophe Rohat and chef Pascal Barbot is so perfect." And it is. Barbot's now distinctive and much-copied style—as in his crab and avocado signature starter—is to use only the best seasonal products, listed on his menu like a shopping list: Le Saint Jacques, La Sole, L'Agneau, Le Pigeon and if you see Le Canard, don't hesitate. The Menu du Saison (100€) gives tasters of more or less everything in the miniscule kitchen, except the sink. Light and inventive dishes from a chef, bien in his baskets. "Six weeks," admits Christophe, "but you can try calling on the same day for a cancellation. We don't have a waiting list, but people do cancel." It's six weeks wait, and the telephonist gives the reservation like she's giving blood, at the Cristal Room, located in the sumptuous Philippe-Starck renovated townhouse that showcases everything Baccarat. A recent visit, after the required six-week wait, was a disaster. The room is perfect for the ladies who (don't) lunch. Starck's chairs are very uncomfortable, whatever the size of your bum, and the sofas are so low that you feel like something from the mad-hatter's tea-party trying to negotiate your knife and fork upwards. "We are getting cushions made, Monsieur Starck is very tall," explained the Maitre d'hotel. What about the food, then? The menu reads well and the service is good, but chef Thierry Burlot just doesn't deliver. My advice: pop in on Saturday afternoon, when tea is served, and go elsewhere for dinner. Like where? Le Violon d'Ingres just gets better and better. Christian Constant now has three canteens on rue Saint Dominique: Le Violon, Les Fables de la Fontaine & Café Constant. They're all packed, but you should get a reservation at Violon within two days. "Friday and Saturday can be difficult," admits Constant. "But today (a Saturday) people booked and didn't show up, so if somebody had phoned at the last minute they could have eaten here." That is so disgusting; shame that nobody in France dares follows the NYC "can we have your credit card number?" policy. I was talking to the above-mentioned journo Monsieur Petit one bright spring day as we sipped Chateau Calissane wines from Coteaux d'Aix-en-Provence: Clos Victoire Millésime 2001 red, 2002 white, 2003 rosé and Cuvée Presitge Millésime 2001 red, 2003 rosé. The proprietor of Chateau Calissane, Philippe Kessler was in Paris with his Maitre de Chai Jean Bonnet. "Known for its red wine, Château Calissanne also shines for the two styles of oil it produces. L'Olivaie is a green fruity, intense, refined oil, exuding aromas of cut straw. Slightly peppery. Les Merveilles is a ripe fruity oil, with a buttery flavour." explains the press release. The tasting took place at a bijou of a bistro on rue Saint Dominique, L'Auvergne Gourmande, annexe to the Fontaine de Mars. The charming Christiane Boudon recently opened this tiny table d'hotel, with only one big scrubbed wooden table in the centre, so everyone makes new BF's. It's delightful, there's a plat du jour at 11.50€ that changes daily—say, Saucisse Truffade, or a huge planche of charcuterie from the Auvergne region, cheese, traditional desserts. La bonne bouffe, a picnic atmosphere, and not expensive. No credit cards, no booking, but it is worth it, and only you know the address. Midi & Soir from Mon-Sat. Trust Joel Robuchon to come up with the strangest booking formula in town. "You can book for the lunch service at 11.30, when you must arrive (and the door only opens from the inside, go figure!) and for dinner at 6.30 when you must arrive," explains Mehmet Eski. "Otherwise there's the waiting list, or you line up outside." Once inside it's like being in an exclusive club. All the diners seated on the high-chairs look smug, and so they should, with a plate of Sorrel soup with caramelised foie gras and baby asparagus (12€); Pigeon breast with cabbage and foie gras (25€); thyme-flavoured Lozere baby lamb chops (34€); a succulent entrecote of Normandy beef (31€); Chartreuse soufflé with pistachio ice cream (9€); warm tarts etc. Wash it down with a glass of wine/champagne or a selection from the extensive wine list. Speak to Mehmet and tell him BP sent you…..good luck. So where can I go that's chic without the chi-chi? Georges and Bertrand Menut, the brilliant brothers (La Grande Casade, Garnier, Ballon des Ternes, Bellagio etc), have the ideal solution. The bijou Ballon & Coquillages is just what you're looking for. A tiny bar; think of being stranded in a cabane de pecheur in the middle of Paris—very exciting, darling. Following the table d'hote trend, it has 15 places around a shiny bar. Start off with a glass of white and a dozen oysters. Continue with a fresh crab salad, assiettes de la mer, salmon, eel, but save room for sumptuous desserts—generous rum babas, millefeuilles, crème caramel. Take the "t" out of Menut and you see they are in the right job! Open 7/7 Lunch & Dinner. Address Book: L'Astrance,4 rue Beethoven, 16th (Metro: Passy)T: 01 40 70 03 30 Cristal Room, Baccarat,11 place des Etats Unis, 16th (Metro: Boissiere)T: 01 40 22 11 10 Violon d'Ingres,135 rue Saint Dominique, 7th (Metro:Ecole-Militaire)T: 01 45 55 15 05Fables de la Fontaine T:01 44 18 37 55Café Constant T:01 47 53 73 34 L'Auvergne Gourmande, Maison Boudon,127 rue Saint Dominique, 7th (Metro: Ecole Militaire)T: 01 47 05 60 79
www.chateau-calissanne.com
L'Atelier de Joel Robuchon,5 rue de…
SUBSCRIBE
ALREADY SUBSCRIBED?
BECOME A BONJOUR PARIS MEMBER

Gain full access to our collection of over 5,000 articles and bring the City of Light into your life. Just 60 USD per year.

Find out why you should become a member here.

Sign in

Fill in your credentials below.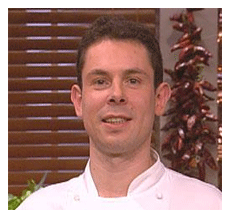 You decide to splurge having read so much about, say, L'Astrance, Cristal Room at Baccarat, Violon d'Ingres, La Table de Joel Robuchon. You call, the line is busy. "I called L'Astrance 10 times to get a reservation," said Jean-Claude Petit of Bonne Table et Tourisme, the well-respected foodie magazine. "I don't mind, it's only a small restaurant, and what they're doing is superb. It's a charming room, and when you do finally arrive the welcome from Christophe Rohat and chef Pascal Barbot is so perfect."
And it is. Barbot's now distinctive and much-copied style—as in his crab and avocado signature starter—is to use only the best seasonal products, listed on his menu like a shopping list: Le Saint Jacques, La Sole, L'Agneau, Le Pigeon and if you see Le Canard, don't hesitate. The Menu du Saison (100€) gives tasters of more or less everything in the miniscule kitchen, except the sink. Light and inventive dishes from a chef, bien in his baskets.
"Six weeks," admits Christophe, "but you can try calling on the same day for a cancellation. We don't have a waiting list, but people do cancel."
It's six weeks wait, and the telephonist gives the reservation like she's giving blood, at the Cristal Room, located in the sumptuous Philippe-Starck renovated townhouse that showcases everything Baccarat. A recent visit, after the required six-week wait, was a disaster. The room is perfect for the ladies who (don't) lunch. Starck's chairs are very uncomfortable, whatever the size of your bum, and the sofas are so low that you feel like something from the mad-hatter's tea-party trying to negotiate your knife and fork upwards. "We are getting cushions made, Monsieur Starck is very tall," explained the Maitre d'hotel. What about the food, then? The menu reads well and the service is good, but chef Thierry Burlot just doesn't deliver. My advice: pop in on Saturday afternoon, when tea is served, and go elsewhere for dinner. Like where?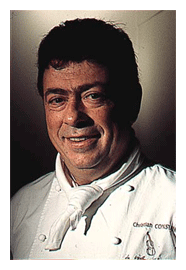 Le Violon d'Ingres just gets better and better. Christian Constant now has three canteens on rue Saint Dominique: Le Violon, Les Fables de la Fontaine & Café Constant. They're all packed, but you should get a reservation at Violon within two days.
"Friday and Saturday can be difficult," admits Constant. "But today (a Saturday) people booked and didn't show up, so if somebody had phoned at the last minute they could have eaten here." That is so disgusting; shame that nobody in France dares follows the NYC "can we have your credit card number?" policy.
I was talking to the above-mentioned journo Monsieur Petit one bright spring day as we sipped Chateau Calissane wines from Coteaux d'Aix-en-Provence: Clos Victoire Millésime 2001 red, 2002 white, 2003 rosé and Cuvée Presitge Millésime 2001 red, 2003 rosé. The proprietor of Chateau Calissane, Philippe Kessler was in Paris with his Maitre de Chai Jean Bonnet. "Known for its red wine, Château Calissanne also shines for the two styles of oil it produces. L'Olivaie is a green fruity, intense, refined oil, exuding aromas of cut straw. Slightly peppery. Les Merveilles is a ripe fruity oil, with a buttery flavour." explains the press release.
The tasting took place at a bijou of a bistro on rue Saint Dominique, L'Auvergne Gourmande, annexe to the Fontaine de Mars. The charming Christiane Boudon recently opened this tiny table d'hotel, with only one big scrubbed wooden table in the centre, so everyone makes new BF's. It's delightful, there's a plat du jour at 11.50€ that changes daily—say, Saucisse Truffade, or a huge planche of charcuterie from the Auvergne region, cheese, traditional desserts. La bonne bouffe, a picnic atmosphere, and not expensive. No credit cards, no booking, but it is worth it, and only you know the address. Midi & Soir from Mon-Sat.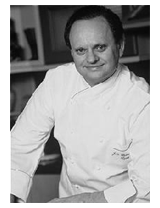 Trust Joel Robuchon to come up with the strangest booking formula in town. "You can book for the lunch service at 11.30, when you must arrive (and the door only opens from the inside, go figure!) and for dinner at 6.30 when you must arrive," explains Mehmet Eski. "Otherwise there's the waiting list, or you line up outside." Once inside it's like being in an exclusive club. All the diners seated on the high-chairs look smug, and so they should, with a plate of Sorrel soup with caramelised foie gras and baby asparagus (12€); Pigeon breast with cabbage and foie gras (25€); thyme-flavoured Lozere baby lamb chops (34€); a succulent entrecote of Normandy beef (31€); Chartreuse soufflé with pistachio ice cream (9€); warm tarts etc. Wash it down with a glass of wine/champagne or a selection from the extensive wine list. Speak to Mehmet and tell him BP sent you…..good luck.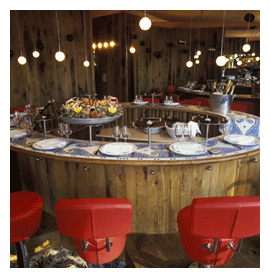 So where can I go that's chic without the chi-chi? Georges and Bertrand Menut, the brilliant brothers (La Grande Casade, Garnier, Ballon des Ternes, Bellagio etc), have the ideal solution. The bijou Ballon & Coquillages is just what you're looking for. A tiny bar; think of being stranded in a cabane de pecheur in the middle of Paris—very exciting, darling. Following the table d'hote trend, it has 15 places around a shiny bar. Start off with a glass of white and a dozen oysters. Continue with a fresh crab salad, assiettes de la mer, salmon, eel, but save room for sumptuous desserts—generous rum babas, millefeuilles, crème caramel. Take the "t" out of Menut and you see they are in the right job! Open 7/7 Lunch & Dinner.
L'Astrance,
4 rue Beethoven, 16th (Metro: Passy)
T: 01 40 70 03 30
Cristal Room, Baccarat,
11 place des Etats Unis, 16th (Metro: Boissiere)
T: 01 40 22 11 10
Violon d'Ingres,
135 rue Saint Dominique, 7th (Metro:Ecole-Militaire)
T: 01 45 55 15 05
Fables de la Fontaine T:01 44 18 37 55
Café Constant T:01 47 53 73 34
L'Auvergne Gourmande, Maison Boudon,
127 rue Saint Dominique, 7th (Metro: Ecole Militaire)
T: 01 47 05 60 79

www.chateau-calissanne.com
L'Atelier de Joel Robuchon,
5 rue de Montalambert, 7th (Metro: Pont Royal)
T: 01 42 22 56 56
Ballon & Coquillages
71 Boulevard St. Cyr. 17th (Metro Porte Maillot)
T: 01 45 74 17 98
---

Born in Britain and now based in Paris, Margaret Kemp graduated from The Cordon Bleu and spent a year working and watching in the kitchens of top chefs from Sydney, Australia via Bangkok, Hong Kong, California, New York and France. Realising she would never win the coveted 3-Michelin stars, she decided to write about the people who do, the "disciples of Escoffier."
---
---