Buzz: Shang Palace, Toast at Le Balzac, Alain Passard, Musee Nissim de Camondo and Michelin NYC
  Shang Palace at Shangri-La Hotel, Paris 16th When Cantonese chef Frank Xu arrived as head chef of Shang Palace at the Shangri-La Hotel, Paris, he declared his restaurant would introduce diners in Paris to one of the most refined cuisines in the world. He ignored Prince Philip Duke of Edinburgh's comments on Chinese eating habits: "If it has four legs and is not a chair, if it has two wings and it flies but is not an aeroplane, if it swims and is not a submarine, the Cantonese will eat it." Leaving aside the Prince's comments, the restaurant has been fully booked since its recent launch. Shang Palace, and its three private dining rooms are located in a majestic, contemporary, space, in the heart of what was once Prince Roland Bonaparte's mansion, now transformed into the Shangri-La Hotel. Décor for Shang Palace is by Hong Kong-based LRF Design. Using exceptional artwork, mahogany screens, chandeliers radiating soft light and backlit jade columns, you'll feel as if you're in China without leaving Paris. The menu features at least 80 dishes to try. Where do you begin if you're not an expert? Bear in mind, Prince Phil, that Cantonese cuisine does not need elaborate treatment or  masked flavors. Many of the dishes are fish based because of Canton's proximity to the sea. Chef Xu says the French products he's using are the most exciting he's used in his 30 years of culinary passion. If you want the signature lotus leaf wrapped, clay-baked Beggar's Chicken, you'll need to order it twenty-four hours ahead. Legend has it the dish is named for a beggar who stole a chicken in old Canton. He was chased by the butcher, so he swiftly buried his bounty in warm moist soil. Returning, in the dead of night, he discovered it had developed a hard clay shell, which he smashed with a hammer, releasing incredible aromas. Enter the Emperor, attracted by the fragrance. Intrigued he invited the poor beggar  dine with him. Awarding the Beggar's Chicken the equivalent of 3 stars, Emperor added it to the Imperial Court's menus, naming it Fu Gui ji: "rich and noble chicken." Shang Palace will present you with a symbolic limited-edition hammer to commemorate your Beggar's Chicken dining experience (145€). Or, as an introduction, why not go for a Shang Palace menu composed by Chef Xu. "Jade" is a six-course tasting menu that includes dim sum basket with dishes of your choice brought to table for all to share, such as Ha Kao, Siu Mai, and scallop dumpling. Or creamy tofu soup made with shredded curd and green vegetables. Then a thick cut of perfect flash-fried cod in soya sauce. Next, steamed chicken with black mushrooms and red lotus wrapped dates. Fried rice, diced scallops and egg white follow and, to finish, chilled mixed fruit pancake rolls with whipped cream and fresh seasonal fruits. Drink Oolong tea throughout, although there's an extensive world wine list, with, hopefully, some Chinese vintages coming soon. It's all good, and there are many Chinese diners, always a good sign. And, as for Prince Philip's comments, Chef Xu points out, with elegant diplomacy, that he paraphrased a modern saying, used by Chinese from other regions, in reference to Cantonese culinary habits. HRH get yourself, and Her Maj over there ASAP, Shang Palace translates to "aromatic scent" and "place for royalty."
Restaurant Shang Palace
Shangri-La Hotel Tél: 01 53 67 19 98 10, avenue d'Iéna, Paris 16th Métro: Iéna Open Thurs-Monday lunch and dinner Shut Tues-Wednesday Lunch average spend 70-98€ + wine Dinner 98-128€ + wine Valet Parking Tél: 01 53 67 19 98 Qui Plume La Lune & Le Cinema Balzac Alert readers will recall I flagged up Le Cinema Balzac a couple of weeks ago. I don't have dementia (yet), it's just that as I wrote about Jacky Ribault's plans for a unique dinner at Le Balzac, his bistro, Qui Plume La Lune, was flooded. Most unpleasant; and Ribault closed Qui Plume, but that didn't stop this past week's Balzac bash. Arriving guests were handed flutes of Champagne and mise en bouche, created by Chef Sébastien Bauer of Angelina, rue de Rivoli. Then they watched a pre-release screening of Toast, the nostalgic  1960s film based on British chef Nigel Slater's life. It's Billy Elliot meets Charlie and the Chocolate Factory, and for some reason background music is all by the late great Dusty Springfield. Lots of food–nice and nasty–in the film, so everyone was starving by the time it ended. On cue, enter a team carrying trays of Ribault's signature Soupe de lait coco parfum d'Asie, Crevettes vermicelles, cacahuètes. Followed by Tataki de saumon, Shiitaké, pleurotes, sauce gingembre wasabi. 250 excited cinemagoers washed dinner down with a crisp, Les Auréliens, 2010 Domaine de Triennes à Nans les Pins (Var). "Certainly beats the hell out of popcorn, n'est-ce pas," joked Jean-Claude Schpoliansky, charismatic owner and creator of all things magic at Le Balzac. Dessert by Angelina was Paris—New-York, a Paris-Brest revised and corrected with pecan nuts. Departing, guests (who'd paid 62€ for the evening) received a box of chocolates by
Hugo & Victor
and a precious advance copy of tomorrow's Figaroscope was thrown in for good measure. Log on to the Balzac site for details of future…
SUBSCRIBE
ALREADY SUBSCRIBED?
BECOME A BONJOUR PARIS MEMBER

Gain full access to our collection of over 5,000 articles and bring the City of Light into your life. Just 60 USD per year.

Find out why you should become a member here.

Sign in

Fill in your credentials below.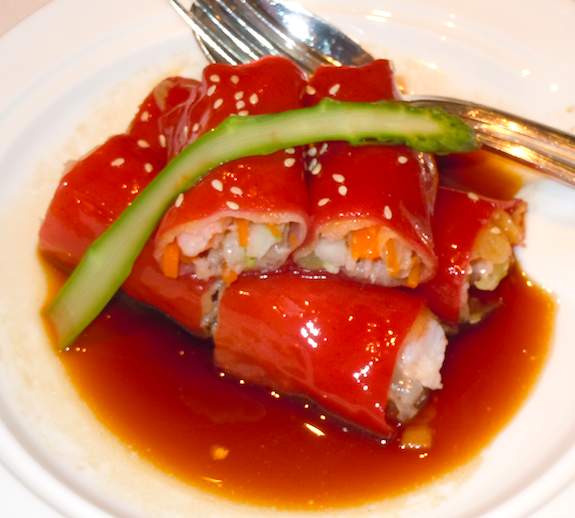 Shang Palace at Shangri-La Hotel, Paris 16th
When Cantonese chef Frank Xu arrived as head chef of Shang Palace at the Shangri-La Hotel, Paris, he declared his restaurant would introduce diners in Paris to one of the most refined cuisines in the world. He ignored Prince Philip Duke of Edinburgh's comments on Chinese eating habits: "If it has four legs and is not a chair, if it has two wings and it flies but is not an aeroplane, if it swims and is not a submarine, the Cantonese will eat it."
Leaving aside the Prince's comments, the restaurant has been fully booked since its recent launch. Shang Palace, and its three private dining rooms are located in a majestic, contemporary, space, in the heart of what was once Prince Roland Bonaparte's mansion, now transformed into the Shangri-La Hotel. Décor for Shang Palace is by Hong Kong-based LRF Design. Using exceptional artwork, mahogany screens, chandeliers radiating soft light and backlit jade columns, you'll feel as if you're in China without leaving Paris.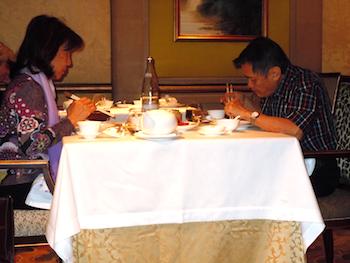 The menu features at least 80 dishes to try. Where do you begin if you're not an expert?
Bear in mind, Prince Phil, that Cantonese cuisine does not need elaborate treatment or  masked flavors. Many of the dishes are fish based because of Canton's proximity to the sea. Chef Xu says the French products he's using are the most exciting he's used in his 30 years of culinary passion. If you want the signature lotus leaf wrapped, clay-baked Beggar's Chicken, you'll need to order it twenty-four hours ahead.
Legend has it the dish is named for a beggar who stole a chicken in old Canton. He was chased by the butcher, so he swiftly buried his bounty in warm moist soil. Returning, in the dead of night, he discovered it had developed a hard clay shell, which he smashed with a hammer, releasing incredible aromas. Enter the Emperor, attracted by the fragrance. Intrigued he invited the poor beggar  dine with him. Awarding the Beggar's Chicken the equivalent of 3 stars, Emperor added it to the Imperial Court's menus, naming it Fu Gui ji: "rich and noble chicken." Shang Palace will present you with a symbolic limited-edition hammer to commemorate your Beggar's Chicken dining experience (145€).
Or, as an introduction, why not go for a Shang Palace menu composed by Chef Xu. "Jade" is a six-course tasting menu that includes dim sum basket with dishes of your choice brought to table for all to share, such as Ha Kao, Siu Mai, and scallop dumpling. Or creamy tofu soup made with shredded curd and green vegetables. Then a thick cut of perfect flash-fried cod in soya sauce. Next, steamed chicken with black mushrooms and red lotus wrapped dates. Fried rice, diced scallops and egg white follow and, to finish, chilled mixed fruit pancake rolls with whipped cream and fresh seasonal fruits. Drink Oolong tea throughout, although there's an extensive world wine list, with, hopefully, some Chinese vintages coming soon. It's all good, and there are many Chinese diners, always a good sign.
And, as for Prince Philip's comments, Chef Xu points out, with elegant diplomacy, that he paraphrased a modern saying, used by Chinese from other regions, in reference to Cantonese culinary habits. HRH get yourself, and Her Maj over there ASAP, Shang Palace translates to "aromatic scent" and "place for royalty."
Shangri-La Hotel
Tél: 01 53 67 19 98
10, avenue d'Iéna, Paris 16th
Métro: Iéna
Open Thurs-Monday lunch and dinner
Shut Tues-Wednesday
Lunch average spend 70-98€ + wine
Dinner 98-128€ + wine
Valet Parking
Tél: 01 53 67 19 98
Qui Plume La Lune & Le Cinema Balzac
Alert readers will recall I flagged up Le Cinema Balzac a couple of weeks ago. I don't have dementia (yet), it's just that as I wrote about Jacky Ribault's plans for a unique dinner at Le Balzac, his bistro, Qui Plume La Lune, was flooded. Most unpleasant; and Ribault closed Qui Plume, but that didn't stop this past week's Balzac bash.
Arriving guests were handed flutes of Champagne and mise en bouche, created by Chef Sébastien Bauer of Angelina, rue de Rivoli. Then they watched a pre-release screening of Toast, the nostalgic  1960s film based on British chef Nigel Slater's life. It's Billy Elliot meets Charlie and the Chocolate Factory, and for some reason background music is all by the late great Dusty Springfield. Lots of food–nice and nasty–in the film, so everyone was starving by the time it ended.
On cue, enter a team carrying trays of Ribault's signature Soupe de lait coco parfum d'Asie, Crevettes vermicelles, cacahuètes. Followed by Tataki de saumon, Shiitaké, pleurotes, sauce gingembre wasabi. 250 excited cinemagoers washed dinner down with a crisp, Les Auréliens, 2010 Domaine de Triennes à Nans les Pins (Var).
"Certainly beats the hell out of popcorn, n'est-ce pas," joked Jean-Claude Schpoliansky, charismatic owner and creator of all things magic at Le Balzac. Dessert by Angelina was Paris—New-York, a Paris-Brest revised and corrected with pecan nuts. Departing, guests (who'd paid 62€ for the evening) received a box of chocolates by Hugo & Victor and a precious advance copy of tomorrow's Figaroscope was thrown in for good measure. Log on to the Balzac site for details of future events, to become a member, and to book Toast (shown in version originale). The cinema is unique.
And, there's more good news: Jacky Ribault reopens Qui Plume La Lune on November 10th, see you there.
Tél: 01 48 07 45 48
50, rue Amelot, Paris 11th
Métro: St-Sébastien-Froissart
1, rue Balzac, Paris 8th
Métro: George V
Diary Date:
Exhibition: "Le Beau Geste," collages d'Alain Passard (Arpège, Michelin 3-star restaurant)
Where?
Musée Nissim de Camondo
63, rue de Monceau, Paris 8th
Métro: Monceau
Dates:  Oct. 19-Nov 13
Shut Mon-Tues-
Entry 5-9€
What Else?
Two conferences:
October 19 at 5:30pm "Beau Geste et Creativity"
November 2 at 5:30pm "Toutes les couleurs du jardin. With chef Passard and Sylvain Picard, head gardener at Passard's potagers.
Reservations:
Tél: 01 45 55 59 75
Info: Lesartsdecoratifs.fr
Michelin Red Guide New York City, 2012
So good they named it twice—who doesn't want a taste of NYC?
New York has two new Michelin 3-star restaurants: Chef's Table, Brooklyn, and Eleven Madison Park. Daniel, Le Bernadin, Masa, Per Se and Jean Georges join the 3-star galaxy of the greats.
"But that's not in my budget." Plenty of choices, darling, "Under $25" and beaucoup de "Brunch" ideas. In all, 806 restaurants and 69 hotels included. For we princesses who only make reservations, not soufflés, this little red book is heaven sent.
Just released October 5, click to order your copy of Michelin Red Guide New York City, 2012
Margaret Kemp is a Cordon Bleu graduate who spent a year traveling the world, working and watching in the kitchens of top chefs from Sydney, Australia via Bangkok, Hong Kong, California, New York and France. She reports for BonjourParis on the latest European trends, restaurants and hot spots. Please click on her name to see her weekly stories dating back to 2003 . . . et merci, Margaret.
Merci

, les abonnés

premium

,

nous vous apprécions

.
Do you have a story to share with our readers or a story suggestion? Please send us your story ideas & suggestions: contact us.

Save 15% on business-class international flights between Paris and New York on OpenSkies, the airline for Smart Flyers.
Subscribe today, save 15% for up to 4 travelers … click here.
Shop direct at Amazon.com (and merci for using our direct link—your support allows us to publish BonjourParis)
and check our Francophiles Favorites loaded with French-themed items for travelers and Francophiles. Choose your category at the right edge, then click the category's last page number to browse the latest listings.
Short-cut to our 100 TOP SELLING ITEMS

(please wait for widget to load—updated daily)

 

 

 

 

 

 

 

 

 

 
3 Central Paris hotels:
Photos left to right:
Hôtel Mansart, 3-star, Paris 1st—Place Vendôme, Right Bank, rated 8.2 of 10
Le Pavillon de la Reine, 4-star, Paris 4th—Place des Vosges in Le Marais, Right Bank, rated 8.9 of 10
Hôtel Saint-Paul Rive-Gauche, 3-star, Paris 6th—Luxembourg Gardens, Left Bank, rated 8.8 of 10

for your Best Price Guarantee.

Paris Shuttle is a leading provider of Paris airport transfers…save up to 30% by booking your airport transfers in advance online.
---
---