Pret A Manger launching in France
Two million sandwiches are sold annually in France, and in spite of what you may think, the average French office worker only spends thirty-one minutes at lunch!
With the French launch of Pret A Manger it could be Club Sandwich versus Jambon Beurre. Not really, because Pret will be making both, and I guarantee they'll be the best you've ever tasted!
The first Pret A Manger launched in Victoria Street, London, in 1986 with the mission statement "Made Today: Gone Today" and the concept has evolved. All leftover food is distributed to the needy, transported in neat little Pret vans bearing the signature red "Tiffany" star. Over two million sandwiches and other unsold goodies were distributed last year.
Today there are 238 boutiques (some with sophisticated designer interiors) in the UK, 40 in the USA and 11 in Hong Kong.
CEO Clive Schlee explains: "Pret was the idea of Julian Metcalfe and Sinclair Beecham when they were students at London City University. They began with a very successful rock n' roll style wine store and a deli in Fulham. Then, because they liked the name, they bought Pret A Manger for about £100 and opened a tiny shop, making their sandwiches in the basement kitchen." That has become the signature of all their outlets now. Chefs are trained using a Pret manual, the products are mostly locavore and "below stairs" it's all teambuilding, teamwork, new ideas and warm family atmosphere.
But, it's not just about the sandwiches, juices, soups, toasties, etc. Pret has continued to give food and financial support to the homeless in the UK and they were looking for a new, innovative way to break the cycle of homelessness once and for all. So, in an effort to help break that cycle, Pret Foundation has set up an apprenticeship scheme named for Simon Hargreaves, a colleague who passed away. There are now up to 30 places a year available for ex-offenders or homeless people to get a three-month work placement at Pret.
Like young Jay Terran, who was featured in a Pret video. He was homeless, living on the streets, and had fallen through the cracks of society when a chance meeting led him to Pret. He's still there today after being offered a life-changing experience he grabbed with both hands.
Jay was trained and paid the same as any other Pret team member. "We believe this makes them feel valued, a key part of the scheme," explains Schlee. "Before they begin, apprentices are given £100 in clothes vouchers to ensure they look the part for their job, and their travel costs are covered for the entire apprenticeship period. We really want to give them the best possible chance of success," he adds.
"After the three months, if a permanent job is available and the apprentice has done well, they are offered full-time, permanent employment. If not, they at least leave Pret with work experience to put on their CV and a reference."
Today Metcalfe (who received an MBE award from Her Majesty The Queen) and Beecham, still majority owners of Pret, have gone on to other projects such as itsu health and happiness restaurants.
What's on the Pret menu?
Clive Schlee has been Pret CEO since 2003, and he's also a partner in itsu. He also has a solid background in the retail food business, and explains: "We keep our menus short, fresh and constantly changing. Over the years Pret's menu has become much lighter, with more salads, Slim Pret sandwiches, hot food and light soups. The Food Team spends hours agonizing over recipes: some are classic, some a bit weird and wacky. We change our menu with the seasons."
Begin with the Breakfast Baguette, Carrot Cake, Love Bar, Cookies, Crimble Crumble, Sushi, Salads, and soups. Chicken and Bacon toasties. Pole and line caught tuna and rocket bloomer. Kid's Tuna Mayo. No alcohol, but fresh juices and, of course, hot and cold drinks, and smoothies to blow your mind.
"We're coming to France with a lot of pride and humility. Let us know what you think, we're not perfect, and we're all on a learning curve," he admits.
Can't wait. See you there.
Pret A Manger in Paris
Two stores to start: La Défense & 19, rue Marbeuf, Paris 8th
Openings from January 9-15
Average spend for lunch from 8€
Sens Uniques, Paris 18th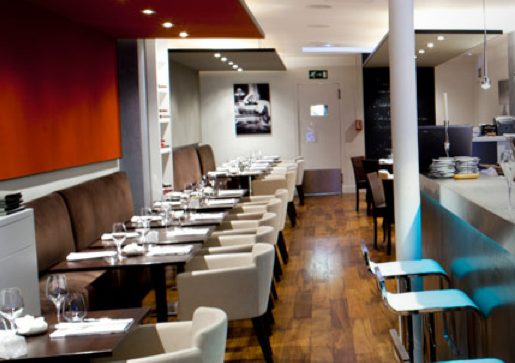 Sens Uniques is the concept of Loĩc Evrard. He's not a chef or a maître d'hôtel, although he can cook, wait tables, meet and greet, and, with the recent launch of Sens Uniques, Evrard has realized his dream of owning a restaurant.
"This world fascinates me," he admits. "I looked at lots of places, but this space did it for me."
"I live just up the road," he says, pointing toward Montmartre, "So I suppose you can say I'm a local boy made good!"
Evrard is concerned by the lack of welcome in some Paris restaurants.
"After spending three weeks in California last summer, where everyone is so welcoming, I realized a restaurant is not just about the food."
So the former fish bistro Le Winch has had a facelift. Some of the former équipe remains, the new kid in the toque is Yohann Gerbout (ex-Le Fin Gourmet) and there will be wine tastings and a VIP corner for the likes of his friends, chefs Antoine Heerah and Guy Savoy.
"We'll discover new world wines and talk about rugby and food. Genial, eh?"
"The accent's on fresh fish from Brittany and we're also using some good French beef and lamb," explains Evrard.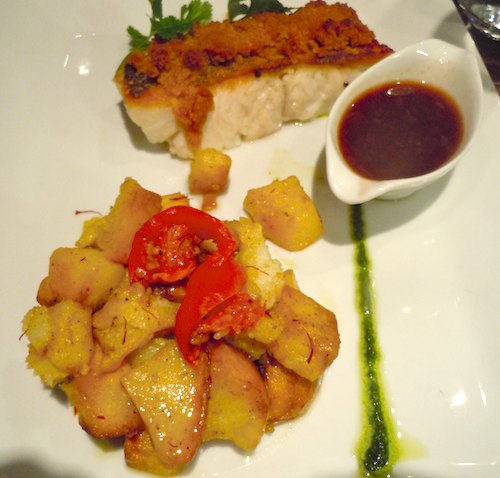 Begin with tender Saint-Jacques en carpaccio aux truffes. Wines are by the glass from 4€ or Côte de Beaune Joseph Drouhin 2009 is 31€. Huîtres chaudes au cidre, Plateau de Fruits de Mer or Les Huîtres Creuses "Prat At Coum" No. 3. Millefeuille de légumes rôtis au chèvre for the ladies who do. Les sardines bretonnes à l'escabèche. Then, over a bottle of, say, red Côtes du Rhône from Monsieur Guigal 2007 28€, choose Côte de boeuf moutarde à l'ancienne/frites maison or catch of the day, Saint-Pierre, Rouget, Turbot and Skate wings grilled crispy with fresh vegetables.
Leave room for cheese, it's from the amazing Chez Virginie cheese shop at #54 on the same street. "From father to daughter since 1946." Seasonal, of course, today it was truffled Brie: sensational. (Why do French fromagers shut from 1-4pm? Just when you want to buy a slice of cendré de Champagne the blind comes down. Bet they're behind there having a right old tasting!)
Desserts are classic: Paris-Brest, Tatin, Crème Brûlée, Mousse au chocolat, Sablé breton aux fruits de saison.
Sens Uniques is open every day, perfect when you're in the 'hood visiting Espace Dalí Montmartre, discovering the Montmartre vineyards or getting lost in the windy rues where Van Gogh once lived. It does give you such an appetite, darling.
Tél: 01 42 23 04 63
44, rue Damrémont, Paris 18th
Métro: Lamarck-Caulaincourt,
Open 7/7 Lunch formula 15€-
3-courses 35€  + A La Carte 47€
Children's Menu: 22€ (up to 12 years)
Happy Hour with snacks 6-8pm daily & weekly Wine tastings
New Year's Eve Gala Dinner 100€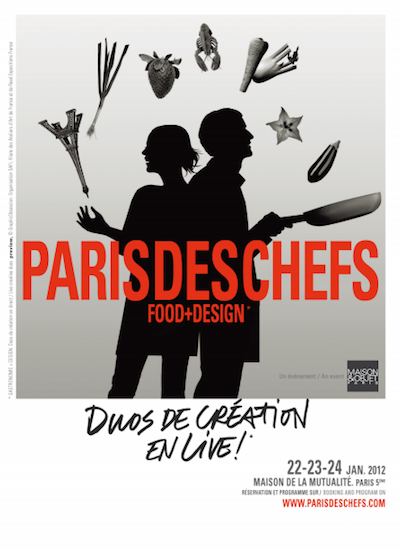 Diary Date: 4th Edition of Paris des Chefs
Alain Ducasse heads up the 4th Edition of Paris des Chefs. On the program: more than 20 chefs and creators combining their skills to showcase table art, pop-up stores, cookbooks, conferences, and tastings. Participating chefs choose a partner and Alain Ducasse has chosen sexy Brazilian chef Alex Atala, who will come to Paris with fruits, vegetables and fish from the Amazon to tickle your taste buds.
When: January 22-24, 2012
Where: Maison de la Mutualité, Paris 5th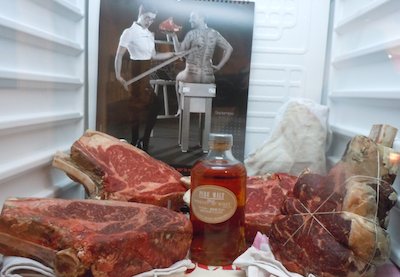 Artcurial haute gastronomie auction
Bruno Verjus of blog Food Intelligence is never short of brilliant ideas.
"How about an auction sale of haute gastronomie," he thought. "Just in time for Christmas."
And there, one night last week, at Artcurial, Hôtel Marcel Dassault, Champs-Elysées, were Ducasse, Passard, Pierre Hermé, Armen Petrossian and sexy butcher Yves-Marie Le Bourdonnec and more.
Under François Tajan's silver hammer to benefit Les Restos du Coeur, Passard's vegetables from Le Domaine du Gros Chesnay. Ducasse offered cooking courses at his École de Cuisine for 15 Femmes en Avenir (15 Women with a Future). And Pierre Hermé? A "How to Make Infiniment Vanille" macarons course. See Artcurial to learn the prices they fetched and read all about it.

Margaret Kemp is a Cordon Bleu graduate who spent a year traveling the world, working and watching in the kitchens of top chefs from Sydney, Australia via Bangkok, Hong Kong, California, New York and France. She reports for BonjourParis on the latest European trends, restaurants and hot spots. Please click on her name to see her weekly stories dating back to 2003 . . . et merci, Margaret.
Merci

, les abonnés

premium

,

nous vous apprécions

.
Subscribe for free
weekly newsletters with subscriber-only content.
BonjourParis has been a leading online France travel and French lifestyle site since 1995.
Top 100 France-themed books & more: Readers' Favorites.
Update your library with these selections….click on image for details.
Check out the brand new Kindle Fire and these selections:
Premium members: have you claimed your 15% OpenSkies discount code?

Save 15% on business-class international flights between Paris and New York on OpenSkies, the airline for Smart Flyers.
To request your discount code valid for up to 4 in your travel party, please click here for promotion details.
Hurry! Offer ends soon!

Must book before December 31
, 2011 for travel that ends by March 31, 2012.
Thank you for using our link to Amazon.com…your purchases support our site.