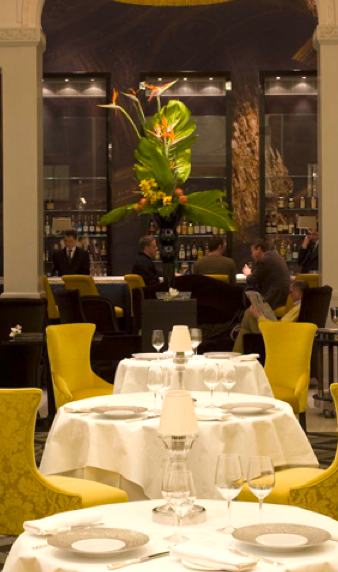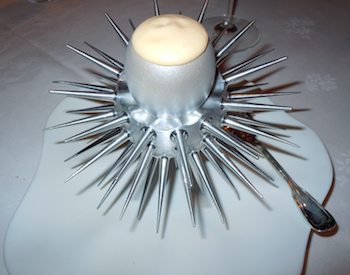 Gordon Ramsay au Trianon, Versailles
Gordon Ramsay au Trianon is 25 minutes from Paris and makes a relaxing bucolic diversion for lunch or dinner. The hotel is now owned by Waldorf Astoria, the decor's slick and modern, you might even consider staying the night: there's plenty to do in the City of Versailles, as Marie-Antoinette & Co. discovered at Château de Versailles. Don't ignore the luxurious Guerlain Spa and beautiful pool.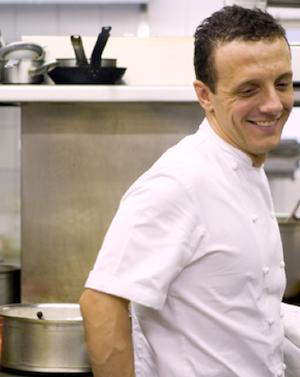 The shouty Gordon Ramsay, OBE (Order of the British Empire) is rarely in Trianon's kitchen, it's in the hands of the very gentle non-shouty Italian Simone Zanoni, who arrived in London in 1996 unable to speak a word of English, so he obviously ignored Gordon's antics! After six months Simone spoke enough English to understand, shrugged and got on with being commis chef at Aubergine, which was Ramsay's first London restaurant. Simone stayed at Aubergine until 1998, and then moved with the rest of Gordon's brigade to open the eponymous Restaurant Gordon Ramsay on Royal Hospital Road.
By 2002, Zanoni was sous chef at Gordon Ramsay at Claridge's. There followed a stint as senior sous chef at the Michelin 3-star Restaurant Gordon Ramsay. Then, in August 2003, he was promoted to head chef, where he stayed until moving to Versailles in 2007, preparing for the opening of Gordon Ramsay au Trianon.
He's also fathered a child and launched, with his partner, Simone e Nicola Epicerie Fine Bistro Italienne in the Paris 11th.
"I want to introduce the finest Italian products to my customers," he says with a grin.
So from Tuesday to Sunday, pop in to 92, rue de la Roquette, Paris 11th and 36, Passage Charles Dallery, Paris 11th. Tél: 01 4371 7746.
Ramsay has 10 Michelin stars and 26 restaurants worldwide, so he needs great chefs that continue his concept of excellence. Even if he does have a big mouth, this guy's got more talent than you've had hot dinners, dear.
Trianon's gastronomic restaurant overlooks the park, where the gardens have just been redesigned by Louis Benech. In the daytime, watch the sheep grazing, joggers jogging, and lovers hand-in-hand. At night the salle's so romantic and large, high-backed white sofas give the impression of a decadent boudoir.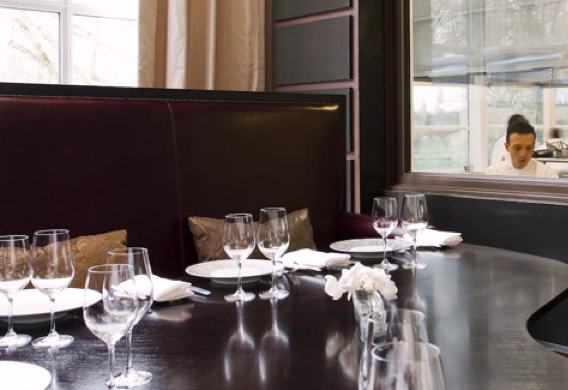 Zanoni's not a Gordon clone and dishes have his signature. If you book the Chef's Table [photo above] you can watch him creating, say: Raviolo of langoustine and lobster with Petrossian caviar and lime consommé. Zanoni adds a sweet note to most of his dishes, as in filet of line-caught turbot, warm guacamole, mango chutney.
Mains include tender Allaiton d'Aveyron lamb, roasted with the belly smoked with cedar leaves, lamb jus or Wild Bresse Pigeon roasted with potato and artichoke millefeuille, pear and cinnamon purée. Cheeses are impressive from Alléosse and Fabré.
Desserts tend to arrive in amazing glass and edible cones, astringent, just to hit the right spot. Wines to match include the aromatic Chablis, Domaine Grossot 2006 (39€) and the bold red Borgueil "Haut de la Butte," J Blot 2007 (45€).
Gordon Ramsay au Trianon, Simone Zanoni
Tél: 01 3084 5555 reservations
Email: [email protected]
1, boulevard de la Reine, Versailles
Lunch noon to 2:30pm on Fridays and Saturdays
Dinner 7-10:30pm Tuesdays through Saturdays
Lunch menu 75€
À La Carte Lunch & Dinner 100-180€ + wine
Closed: January 1st through 9th and February 19th through 26th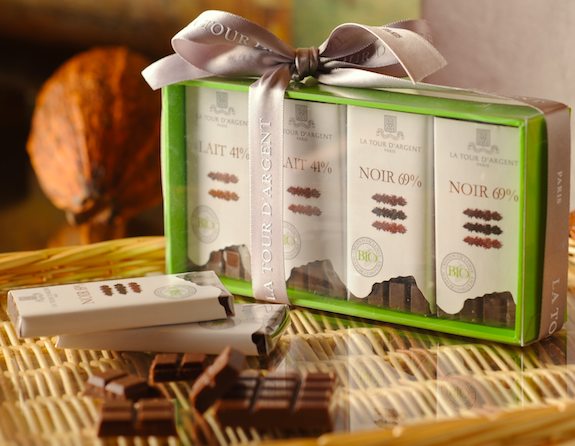 La Tour d'Argent chocolates, Paris 5th
La Tour d'Argent has a certain cachet; give a gift from the boutique and you know it'll be appreciated. And the beautifully packaged products are not expensive.
You already know about the honey from the Tour's roof. Now there's Organic tablets 69% dark and 41% milk, created by talented Tour d'Argent chef Laurent Delarbre and Chef Pâtissier Guillaume Caron.
€13 a box.
Comptoirs de la Tour d'Argent
2, rue du Cardinal Lemoine, Paris 5th
Also available until December 31st at La Boutique Noire du Printemps Haussmann.
Order at La Tour d'Argent online boutique
Michelin Chicago 2012 Red Guide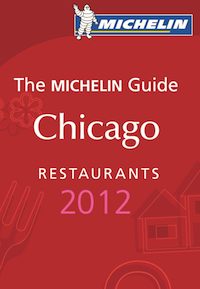 Michelin's just published the second edition of The MICHELIN Guide Chicago RESTAURANTS 2012, showcasing their top-rated dining destinations and hotels in the Windy City. The guide lists 432 restaurants—21 earning stars—representing 45 types of cuisine and 40 hotels.
In this edition, Alinea with Chef Grant Achatz keep their three stars, a global recognition of tip-top dining; only 101 restaurants worldwide currently hold three Michelin stars.
Two restaurants earned two stars: Charlie Trotter's and Ria. Eighteen restaurants each earned a single star, such as the minimal Takashi and BOKA, "under a tent of billowing white fabric, like a Frank Gehry building."
There are also 56 Bib Gourmand restaurants in the Chicago selection, restaurants serving two courses and a glass of wine or dessert for $40 or less (excluding tax and tip). Identify Bib Gourmand in the guide by the red symbol depicting the head of Bibendum, Michelin Man, licking his lips!
Follow Michelin Chicago tips on Twitter: @MichelinGuideCH
Margaret Kemp is a Cordon Bleu graduate who spent a year traveling the world, working and watching in the kitchens of top chefs from Sydney, Australia via Bangkok, Hong Kong, California, New York and France. She reports for BonjourParis on the latest European trends, restaurants and hot spots. Please click on her name to see her weekly stories dating back to 2003 . . . et merci, Margaret.
Merci

, les abonnés

premium

,

nous vous apprécions

.

Thank you for using our direct link to Amazon.com every time you shop the world's largest online retailer.
Want more? View our recommended France-themed books & items. Most recent listings at last pages.
Need chocolate? Try zChocolat, delicious handmade chocolate from France.