BUZZ Extra: Chez Rech, Jacques Maximin and Alain Ducasse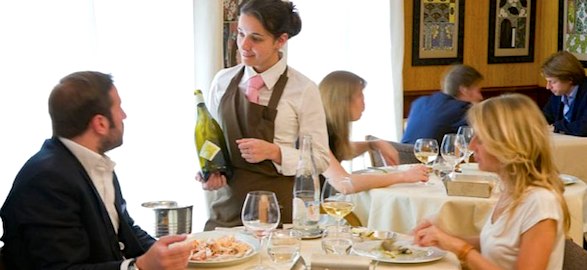 Rech dining room photo courtesy of Alain Ducasse.
Jacques Maximin Chez Rech, Paris 17th
"We'd known each other for thirty years but had never worked together," said chef Jacques Maximin of Alain Ducasse at Rech, where he heads the kitchens.
Alert readers will recall that Alain Ducasse added the Art Deco jewel, Rech, to his portfolio of classic bistrots (Benoit, Aux Lyonnais) and gave it a bit of a facelift without spoiling the "between two wars" style. The écaillère Malec composes his plateaux de fruits de mer outside, to eat chez Rech or take away.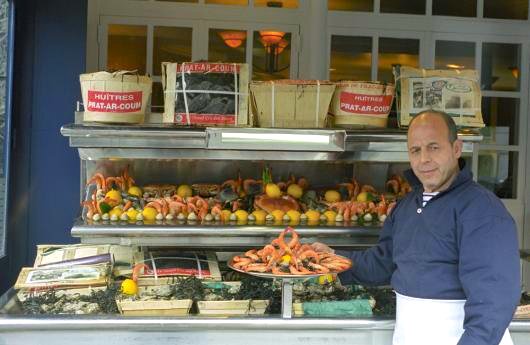 Malec of Rech. Photo courtesy of Alain Ducasse.
There's still a lot of buzz about the place, mostly about Maximin, a chef who influences French cuisine and international chefs with "his instinct for products, which he interprets just before he cooks them," according to Alain Ducasse.
Yannick Alleno (3-stars, Le Meurice) remembers a significant photo of Max returning from market clutching a bunch of courgettes as he jumped out of his Porsche.
"I had that picture on my wall, it inspired me, I wanted to be a top chef, I wanted that Porsche," he admits.
In 2007, GaultMillau put Maximin on their list of "icones de la cuisine francaise." Although the car-crazy chef swears he wanted to be a racing driver, his life has been spent in legendary kitchens: Le Pré Catalan, Prunier Restaurants, Le Moulin de Mougins with Roger Vergé, La Bonne Auberge with Jo Rostaing, and Le Chantecler at Le Negresco, Nice, where he won two stars. A short passage, with an open kitchen, on the stage of a Belle Époque theatre, Nice. A stint at Le Diamant Rose, St. Paul de Vence.
Then he decided to open Table d'Amis, his Ralph-Lauren-meets-Provence-country-house restaurant in the hills above Nice. Each day at the crack of dawn he gathered the fishermen's catch at Cros de Cagnes and vegetables at Cours Saleya market. He went to local farms for his goat cheese, herbs, chickens, poultry, cheese, honey, and organic vegetables. But, being Max, he decided he needed a change and suddenly Table d'Amis was shut.
"That was my 'Nice attitude' time; and that's what I'm bringing to Rech," explains Max.
"Alain said to me one day, 'Come to Paris, I've got something that might interest you.' I pushed open the door of Rech and really liked the vibes, the history. Within three weeks, I'd created forty new recipes that our great young talent Julien Dumas interprets. We're after at least one Michelin star," Maximin confirms.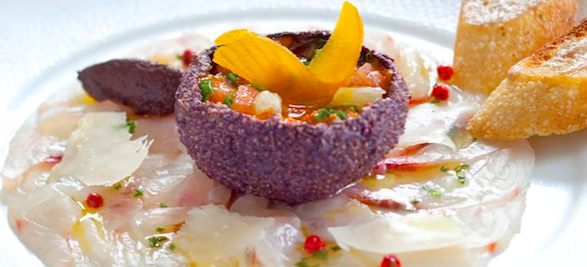 There are plump Sardines en filets marinés, citrons confits, ficelle toastée, Pain Bagant de Tartare de Coquilles Saint-Jacques, comme a Nice: Oeuf cocotte aux truffes et crevettes grises: poëlée de pistes et artichauts violets, sauté minute de homard à l'huile d'olive et ragout de petits cocos blancs à la catalane, a menu homard bleu (65€).
"It's all signed Brand Maximin, and I'm delighted with the team here," he grins.
"They call me 'roi de l'impromptu.' I often change recipes at the last minute, even while the customer's waiting. I just created a carpaccio de mulet à l'oursin, un curry de haddock aux moules, un filet de rouget avec sauce au foie au vinaigre de Banyuls."
Max still stops by Rech to check up, plan the menus, and "keep us on our toes," say the team. He's the Serge Gainsbourg of the kitchens—the same passion, the same chain-smoked ciggies. See him on the avenue disappearing in a cloud of Gitanes. And find him chez lui back on the Riviera at Bistrot de la Marine, Cagnes sur mer.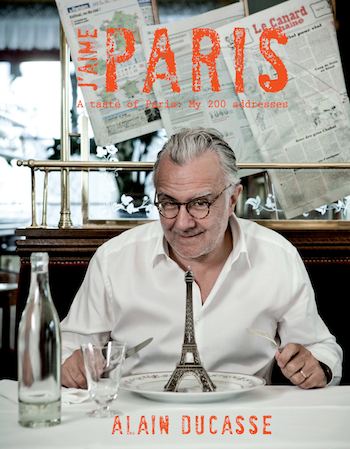 And it was at Rech last week that Alain Ducasse announced the publication of J'Aime Paris in English, beginning of February. Now you no longer have to rely on anybody for restaurant, market, and other important addresses. You have Ducasse's 200 culinary destinations.
"Paris is a mecca for cuisine, where history meets French gastronomy in all its grandeur and tradition. It's also a hotbed for experimentation and innovation. It's the cultural diversity and unexpected treasures within Paris I love," he said.
Chapters include:
Legendary gourmet palaces.
Paris, home to the regions: All regional specialties, shops, markets and restaurants.
And so it goes on, the Formula 1 creator of courgette-fleur farcie and tian de legumes vows his total adoration for all things Ducasse.
"He knows he can count on me."
And so can you, dear reader.
Tél: 01 45 72 29 47
62, avenue des Ternes, Paris 17th
Métro: Ternes
Lunch: noon to 2pm
Dinner: 7:30-10pm
Shut Sun-Mon
Lunch 30€, Dinner 53€, a la carte about 70€ + wine
Closed December 24 until January 2, 2012

Margaret Kemp is a Cordon Bleu graduate who spent a year traveling the world, working and watching in the kitchens of top chefs from Sydney, Australia via Bangkok, Hong Kong, California, New York and France. She reports for BonjourParis on the latest European trends, restaurants and hot spots. Please click on her name to see her weekly stories dating back to 2003 . . . et merci, Margaret.
You are reading an excerpt from PREMIUM CONTENT sent first to Premium Members who read our Sunday BUZZ column for the latest top chef news, restaurant openings, trends and happenings in Paris, London, Nice, Cannes, New York and other international destinations. If you're a culinary traveler, please consider an annual Premium Membership with exclusive content and members-only benefits.
NEW:
Subscribe for free
to our weekly newsletters with subscriber-only content.
Update your travel library, DVDs & French imported goods: current recommendations.
Thank you for using our link to Amazon.com…your purchases support our free site.
Click on image for more info about these Paris restaurant guides and the French Brasserie Cookbook.
Leave a reply
Your email address will not be published. Required fields are marked *