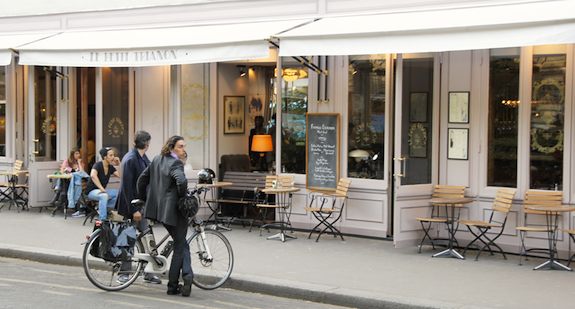 Vuitton, Dior, Gaultier, YSL and various must-have brands recently showed collections in the amazing space that is Le Trianon Theatre, Montmartre. The multi-story building, by architects Joseph Cassien-Bernard and Gaston Cousin, dates back to 1896, when it was one of the Bo-Ho hot spots of Montmartre where the likes of Toulouse Lautrec, Scott Fitzgerald, Salvador Dali, Coco Chanel and Mistinguett were regulars.
Today the handsome building has been reborn after vast renovations. No expense has been spared to make it look as if there's been no expense at all, read: designer shabby chic. Kate Moss loves it.
On the ground floor Trianon Café looks set to become an "oh, darling you must go" addy. The upper floors are a vast bar with incredible original décor and the theatre where, say, DJ Shadow puts on thumping light and sound shows.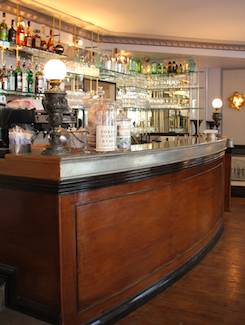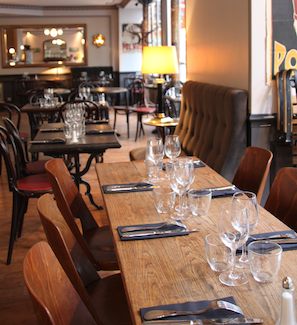 The Trianon Café concept is by Abel Nahmias, son of super-chef Olympe Versini and uber-gastronome Albert N. A successful film producer (Cinéman, Blood: The Last Vampire, etc.), the boy Abel says he always steered away from matters culinary because he was raised in restaurants, but when he saw Le Trianon, he realised the terrific potential of the location.
"Montmartre is the second most visited destination in Paris, after Notre Dame," he explains. So, with a little help from his friend Julien Labrousse of Hôtel du Nord, mum's recipes and Linda, a talented chef, trained by mum, they've been packing them in since May 2011.
What Shall We Eat?
Just pop in for Sex on the Beach (a cocktail, darling), beer, glass of wine, Martini Moment, Tartines and Clubs made with delicious bread by award-winning baker Arnaud Delmontel or go for the full monty. Artichoke Vinaigrette, L'Oeuf Mayo, Salade Trianon (for the ladies who do), Assiette de légumes verts, sauce verte. Drink a brave little Argentinian Chardonnay, Bodega Fontelli (19€), or a Côtes du Rhône Quatre Filles 2010 (25€). Nice with a hamburger or tartare, purée. Cabillaud grillé, naked, sauce virgin olive oil, vinegar and capers served on the side, as we like it. Classic desserts include Oeuf à la Neige, Crème Brûlée citronnée, riz au lait and outsize red fruit tarts. Read: delicious address your bank manager/husband/lover will adore. Don't hesitate.
PRACTICAL INFORMATION
Tél: 01 4492 7808
80, boulevard Rochechouart, Paris 18th
Métro: Anvers
Open 7/7  9am-2am Service nonstop for snack menu.
Lunch: 11:45am-2:30pm  Average spend: 13.50€
Dinner: 7pm-12midnight Meal Deal from 19h-21h 16€
A La Carte 25-45€
Breakfast 7.80€
Margaret Kemp is a British-born Cordon Bleu graduate who traveled the world and worked in the kitchens of the world's top chefs in Australia, Asia, the USA and France before becoming a food and restaurant writer. Her Sunday BUZZ columns feature interviews with prominent chefs plus the latest restaurant and entertainment news published exclusively for BonjourParis Premium Members.
You are reading an excerpt from PREMIUM CONTENT sent first to Premium Members who count on BUZZ for the latest celebrity chef news, restaurant openings and trends and happenings in Paris, London, Nice, Cannes, New York and other international destinations. First to know means first to go… and it can be impossible to get into top restaurants, clubs and galleries once "everyone" hears about them. If you're serious about saving time and money during your precious travel, consider an annual Premium Membership and associated benefits that help you move to the front of the queue.

Subscribe for
FREE

weekly newsletters with subscriber-only content.
BonjourParis has been a leading France travel and French lifestyle site since 1995.
Readers' Favorites: Top 100 Books, imports & more at our Amazon store
Alec Lobrano's "Hungry for Paris" (updated in 2010) & these books steer you to sites worth crossing an ocean to visit.
Thank you for using our link to Amazon.com…we appreciate your support of our site.