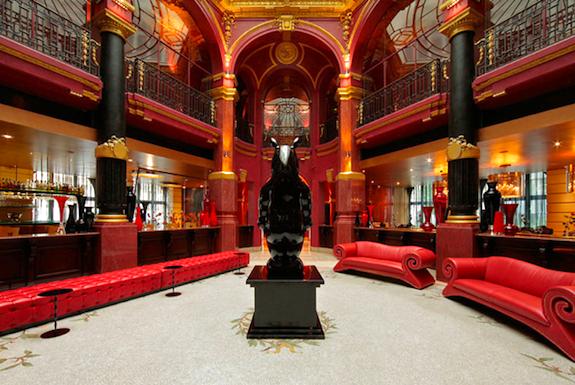 Josefin and Lolabar, Hôtel Le Banke, Paris Opera District
Lolabar
Force yourself out of Galeries Lafayette and swing by Lolabar, the circular bling bar serving cocktails and tapas, then discover Josefin, the Mediterranean-style brasserie with dishes created by chef George Pierre (ex-L'Atelier de Joël Robuchon, Maison Blanche).

Lolabar is in Hôtel Le Banke, launched in 2009 in a magnificent "Eiffel style" Belle Époque building that formerly housed the CCF bank. The exciting and eclectic interior design, avant-garde and antique, by architects Paul Fresse and Cassien Bernard is worth the detour. A mix of styles, colors and lots of space will really turn you on.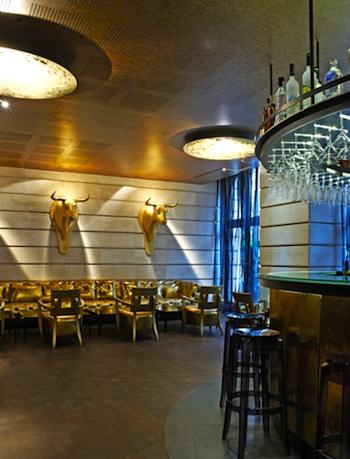 Josefin Restaurant
On the menu, starters include Carpaccio de homard + algues. Raviolis de cabillaud farcis de gambas de Palamos + vinaigrette de tomate basilic. Oeuf cassé + jambon bellota + huile de truffe blanche. There are Iberian influences in the dishes, so choose a Spanish wine Finca la Estacada 2009 (30€) or the robust red Miranda, Crianza, Rioja, 2005 (35€).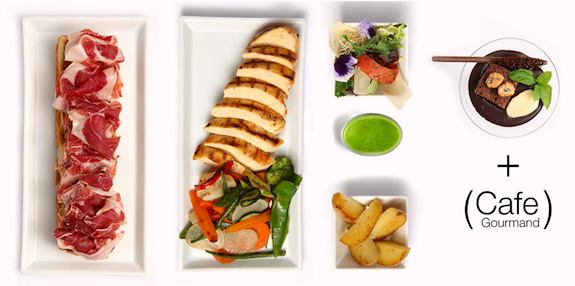 For mains: Riz crémeux aux cèpes + huile de truffe blanche. Noix de Saint-Jacques + citron vert + pak choy + émulsion au lime [see photo below] or Onglet de boeuf Wagyu aux échalotes, poêlée de légumes faҫon ratatouille gratinée. The patissier was head-hunted from the Ritz, so save space for desserts: Millefeuille tradition + glace vanille. Crème Catalane + tuile Cannelle + biscuit à l'Orange; La Pêche faҫon Melba, served in a tall glass and Tartelette aux fraises. The contemporary space buzzes with a hip young crowd and couples who don't seem in a hurry to leave.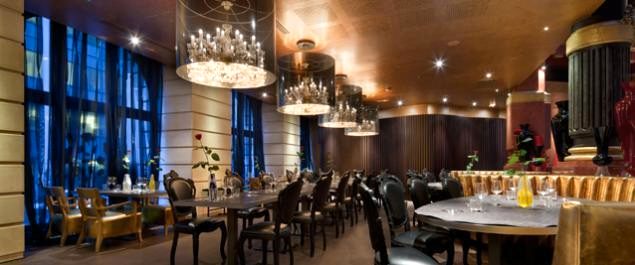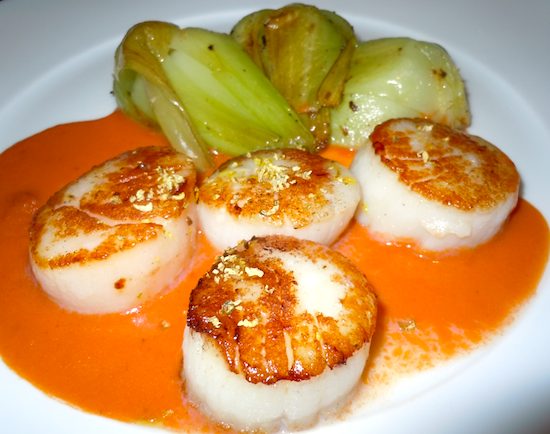 PRACTICAL INFORMATION
Hôtel Le Banke

20, rue Lafayette, Paris 9th
Métro: Chausée d'Antin
Josefin:
Tél reservations: 01 55 33 22 15
Josefin hours:
Monday through Sunday, 12-3 pm and 7:30-11.30 pm
Lunch: Banke Express 29€ + A La Carte
Dinner: about 55€ + wine
Lolabar:
Tél reservations: 01 55 33 22 22
Lolabar hours: Monday to Sunday, from 11.00 am to midnight (afternoon tea service)
Valet parking
Margaret Kemp is a British-born Cordon Bleu graduate who traveled the world and worked in the kitchens of the world's top chefs in Australia, Asia, the USA and France before becoming a food and restaurant writer. Her Sunday BUZZ columns feature interviews with prominent chefs plus the latest restaurant and entertainment news published exclusively for BonjourParis Premium Members.
You are reading an excerpt from PREMIUM CONTENT sent first to Premium Members who count on BUZZ for the latest celebrity chef news, restaurant openings and trends and happenings in Paris, London, Nice, Cannes, New York and other international destinations. First to know means first to go… and it can be impossible to get into top restaurants, clubs and galleries once "everyone" hears about them. If you're serious about saving time and money during your precious travel, consider an annual Premium Membership and associated benefits that help you move to the front of the queue.
Subscribe for free and never miss a story. Search our library with 7,200+ stories and 50 original stories published monthly. BonjourParis has been a leading online France travel and French lifestyle site since 1995.

Please use our link to the world's largest online retailer, Amazon.com.
View our Top 100 Bestselling Amazon.com Items. (Wait for Amazon.com widget to load)
Want more? View our recommended France-themed books & items. Most recent listings at last pages.

PARIS SHUTTLE is a leading Paris airport transfer service…book your airport transfers in advance online and save up to 30%.