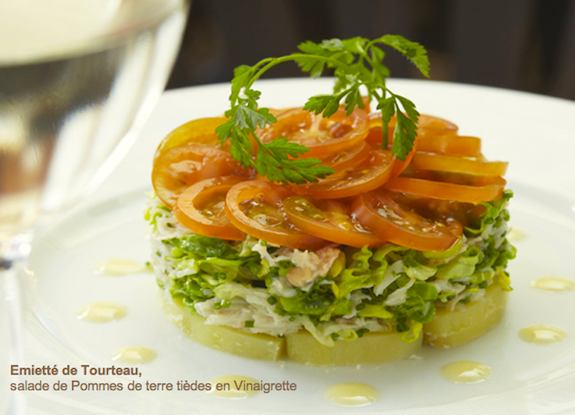 Le Chardenoux des Prés, Paris 6th
"It's all about encounter, emotion and wanting. I have this profound desire to get back to the roots and traditions of my profession." This is really "nice one" Cyril Lignac explaining the concept behind his recently launched Le Chardenoux des Prés, Restaurant de Tradition. By the way, "Nice One Cyril" comes from the song dedicated to Cyril Knowles, the '70s English football legend.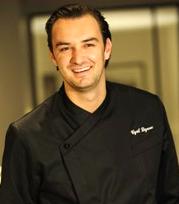 Cyril Lignac's back story begins in the Aveyron region where he was born and raised. Arriving in Paris he had a small suitcase and burning ambition to become a great chef. There followed Arpège with Passard, La Maison Blanche with the Pourcels, Korova with Pierre Hermé, La Grande Cascade and La Suite, avenue George V. With his great looks and undoubted talent he was quickly spotted by M6 TV for whom he presented Oui Chef, which became a catch-phrase, as well known as "Nice One Cyril" and "Chef La Recette." On the back of these he was able to open his own restaurant, Le Quinzième.
In 2008, after runaway success at the contempory Le Quinzième, "Nice One" took over the Belle-Epoque listed Le Chardenoux bistro in the 11th arrondissement. He gave it a nip and tuck and revised and corrected the traditional dishes, focusing on fresh market products.
In the meantime Quinzième Attitude, the definitive cookery school was launched.
One legendary address can follow another and when the opportunity arose to take over Claude Sainlouis' 1950s Left Bank bistro, Cyril did not hesitate. Delon, Mitterand, Belmondo, the Grimaldis, Gainsbourg, YSL, and Pierre Bergé all had 27, rue du Dragon on their Rolodexes.
Fascinated by the history of restaurant Sainlouis, Lignac re-named it "Le Chardenoux des Prés," his concept to be in the same neo-tradi theme as "Le Chardenoux."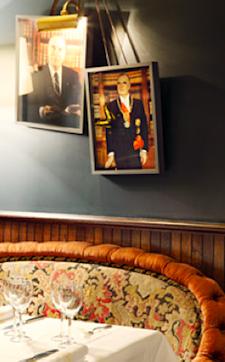 Working with Studio KO, they lengthened the marble bar, rehung the portraits of former French presidents in the lounge, and restored the beautiful floral wallpaper. It now has the feel of nothing being touched, but of course, it has. The original mustard-colored stoneware tiling blends splendidly with the rich camel-brandy color of the leather banquettes. The tables are lit with vintage '50s lamps found at the Saint-Ouen flea market.
But what about the food?
"The food I like to feature in my bistros is first and foremost authentic. All products are from the regions of France from the best artisans and farmers, who are my friends," he explains. Start with plump lobster ravioli. Or Émiettée de Tourteau, salade de Pommes de terre tièdes en Vinaigrette [see large top image]. Or Crab crumble, warm crushed potatoes, French dressing or Sea Bream carpaccio, ginger-flavoured sour cream.
Let sommelier Grégory Moreau (head sommelier at Le Quinzième) choose something from his cellar selection. White Vallée du Paradis, Domaine Val Auclair 2009 (28€) Rosé Cassis, Château de Fontblanche, 2010 (37€) Red Coteaux de Languedoc "La Croix de Bébian" 2008 (26€). Continue with mains of, say, Black Angus grilled beef, sauce Béarnaise; Beef tartare, French fries; Eggplant Moussaka; Corrèze sweetbreads, spicy sauce, carrot purée with curcuma; Monkfish curry baked casserole, Basmati rice.
Then a chunk of Jean-Yves Bordier's Saint Nectaire and classic desserts for which the restaurant is noted. Profiteroles à la Vanille, Sauce Chocolat Grand Cru. Vanilla bourbon rice pudding. Baba au Rhum. Wild strawberries, lemon sorbet. Chocolate soufflé. French toast with cherries and pistachio ice cream. Lemon meringue tart. Fresh hazelnut ice cream. Tarte Tatin and crème fraîche.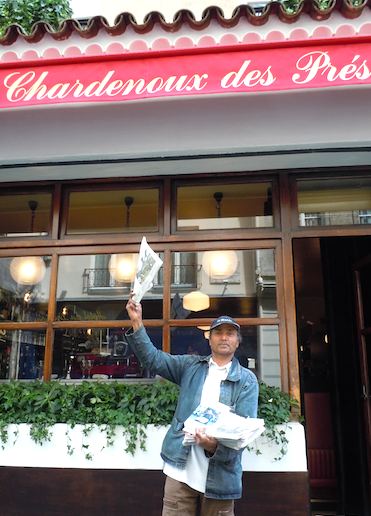 There's a great Left Bank atmosphere here, always something intriguing going on. Like celebrity newspaper seller Ali Akbar coming through with his newspapers—if you're lucky he'll tell you about the times Mitterrand bought from him. The presidential couple still do today. That's Ali in the photo. Nice One Cyril.
Bon Appétit!
Le Chardenoux des Prés, Restaurant de Tradition
27, rue du Dragon, Paris 6th
Métro: Saint Germain-des-Prés/Mabillon
Tél: 01 45 48 29 68
Open 7/7 Lunch & Dinner
Lunch formula 3 courses 25€ Mon-Friday
A La carte average spend – 40€
Valet Parking at night
Margaret Kemp is a British-born Cordon Bleu graduate who traveled the world and worked in the kitchens of the world's top chefs in Australia, Asia, the USA and France before becoming a food and restaurant writer. Her Sunday BUZZ columns feature interviews with prominent chefs plus the latest restaurant and entertainment news published exclusively for BonjourParis Premium Members.
You are reading an excerpt from PREMIUM CONTENT sent first to Premium Members who count on BUZZ for the latest celebrity chef news, restaurant openings and trends and happenings in Paris, London, Nice, Cannes, New York and other international destinations. First to know means first to go… and it can be impossible to get into top restaurants, clubs and galleries once "everyone" hears about them. If you're serious about saving time and money during your precious travel, consider an annual Premium Membership and associated benefits that help you move to the front of the queue.
Subscribe for free and never miss a story. Search our library with 7,200+ stories and 50 original stories published monthly. BonjourParis has been a leading online France travel and French lifestyle site since 1995.
View our Top 100 Bestselling Amazon.com Items. (Wait for Amazon.com widget to load)