Caffè Burlot, Paris 8th
When Thierry (Burlot) met Thierry (Costes) they got to chatting, as people do, and by the end of the evening had given a "high five" to launching a restaurant together, inspired by 1950s Italy.
Burlot & Costes are currently the Lennon and McCartney of the rue du Colisée, their trat's buzzing with the likes of Johnny and Laetitia Hallyday, Marc Lavoine, Trish Desseigne, read: le tout Paris. Burlot (worked with Chef Feval, see above, and also at Le Crillon, his own restaurant, Le Quinze, Zebra Square, and Cristal Room, Baccarat, etc.).
The space was formerly L'Appart. "We're very happy with the design by Milan architects Emiliano Salci and Britt Moran, they've created lots of spaces, so diners can be either public or very private. The basement is great for private parties and they've given us silver loos with armchairs, what more could you want?"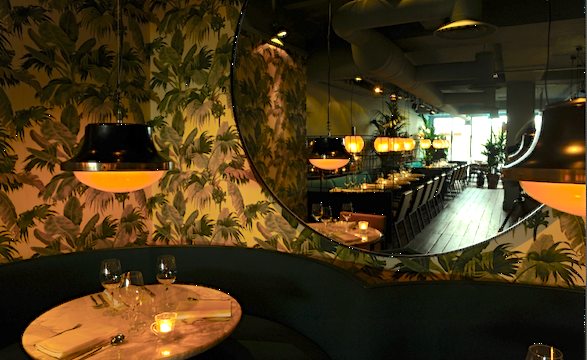 The Caffé has a couture/industrial theme, soft colors and sexy lighting—well, it is Costes, what did you expect, Ikea?
Open the menu and blink, it begins with desserts. Why, Thierry, why?
"I've studied ze ladies," he admits. He's as sexy as his restaurant. "Zay alwayz look at ze dezzerts first, so I thought, put zem out of their misery."
And Thierry, if they want to begin with dessert?
"Is not a problem," he grins.
So Monica Belluci (or you and I) could order cacao soufflé tout chocolat. Fragola millefeuille croustillant, que des fraises, absolutely spectacular. Tirame'su veneziano biscuit, espresso & crème aux oeufs. Al forno figues rôties & origan frais, etc., or, is this a dessert, starter or main? Caprese glace mozzarella, basilic feuille tomate pulpe. Wines go from a Château Lafitte Rothschild 1996 at 1,520€ to a white Pouilles IGT Tomaresca Chardonnay 2010 31€ or cocktails and glasses from 9€.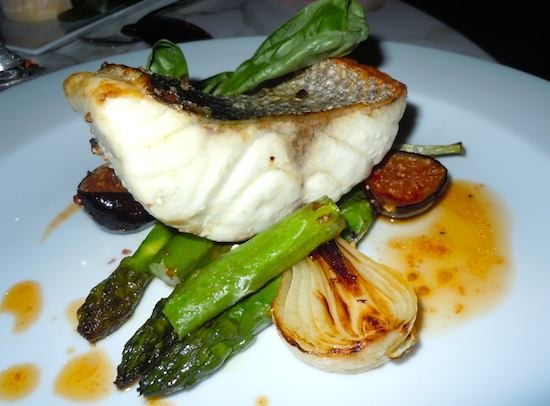 As far as mains go, "à la broche" jeune agneau rôti & nepita, an herb Thierry has sent by La Poste from Corsica. Branzino loup épais sur la plancha, figues & asperges. Lasagnette fine pâte, ragu di Bologne & épinards. Mix and match starters and mains, as in Culatello di zibello D.O.P charcuterie d'exception then Spaghetti chair de tomates artisanales, basilic.
Caffè Burlot is noisy, vibrant and interesting. The two Thierrys have created a unique addy, with no rules, make your own mind up about the composition of your lunch/dinner.
They've done all the hard work, so you don't have A Hard Day's Night.
Caffè Burlot Thierry Costes et Thierry Burlot
Tél: 01 53 75 42 00
9, rue du Colisée, Paris 8th
Métro: Franklin D Roosevelt
Average Spend: €61 for Starter, main, dessert + wine
Shut Sunday
New Year's Eve Menu de la Saint-Sylvestre au Caffè:
150 euros per person
Champagne Bollinger: la grande année
Gambero rosso sauvages: caviar de Venise pour l'iode
Tartufatta: oeuf toqué, truffe noire
Risotto nero: encre de seiche & saint-jacques
Rombo: turbot épais, nage de langoustine et truffes noires
Mandarino: création givrée mandarine
Dolce: châtaigne, citron bio & cacao

Margaret Kemp is a Cordon Bleu graduate who spent a year traveling the world, working and watching in the kitchens of top chefs from Sydney, Australia via Bangkok, Hong Kong, California, New York and France. She reports for BonjourParis on the latest European trends, restaurants and hot spots. Please click on her name to see her weekly stories dating back to 2003 . . . et merci, Margaret.
You are reading an excerpt from PREMIUM CONTENT sent first to Premium Members who read our Sunday BUZZ column for the latest top chef news, restaurant openings, trends and happenings in Paris, London, Nice, Cannes, New York and other international destinations. If you're a culinary traveler, please consider an annual Premium Membership with exclusive content and members-only benefits.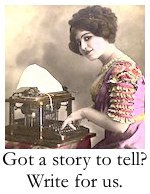 Subscribe for
FREE

weekly newsletters with subscriber-only content.
BonjourParis has been a leading France travel and French lifestyle site since 1995.
Readers' Favorites: Top 100 Books, imports & more at our Amazon store
Intensify your appreciation of wine…and Paris. Click on an image for details.
Thank you for using our link to Amazon.com…your purchases support our free site.