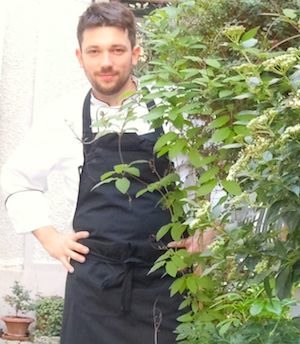 Cobéa, Paris 14th
First question: why is this hip new bistro named Cobéa? It combines, cryptically, the names of partners Philippe Bélissent and Jérôme Cobou (ex-Jamin, Maison Blanche, l'Astrance) who bonded while working together at L'Hotel, rue des Beaux Arts, Paris 6th, where Bélissent earned a Michelin star. Cobaeas (named for Father Cobo, a 17th century botanist!) like those painted by Claude Monet are planted outside in window boxes, alongside fragrant herbs and olive trees blowin' in the wind.
Why on earth would they want to leave L'Hotel? "I worked with Christian Le Squer at Ledoyen, Chez Laurent and L'Hotel, and always wanted to have the freedom to evolve as a chef at my own address," he explained.
"I'm 33, still young enough to achieve what I want."
So team Cobéa gutted the former Monsieur Lapin, wiping out all references to bunny boiling. In its place: an edgy grey and white space with spotless semi-open kitchen and, at the back of the restaurant, transparent underground wine wall where once the silent butler went up and down.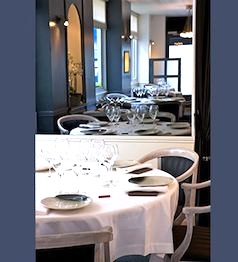 The menu's short and sweet. "Because it's market-driven, we sell out everything daily. By the time we close the fridge is empty and we start over the next day."
The simple menu/card pinpoints the products that chef interprets according to the day's market and the herbs he picks with the freedom to strut his stuff just for you.
Discuss the dishes with Rémy Suzanne, the main man, and the wine with Jérôme Cobou. A glass of Champagne, a white Bourgogne Auxey-Duresses, 2009, from Agnés Paquet (58€) or choose by the glass or half bottles from the wine card. Nice idea. The formal wine card makes fine reading, too. Surprise wine pairings can be ordered with the menu.
The freebie starter last Friday was a feather light pastry puff of goat's cheese, honey, and sarriette, one of the aromatic herbs growing outside. Decide if you want 4, 6 or 8 recettes (dishes). If it's lunch, there's a 3-course daily changing menu. Bread's still warm from the ovens of Dominique Saibron and the seaweed butter's made in the kitchen.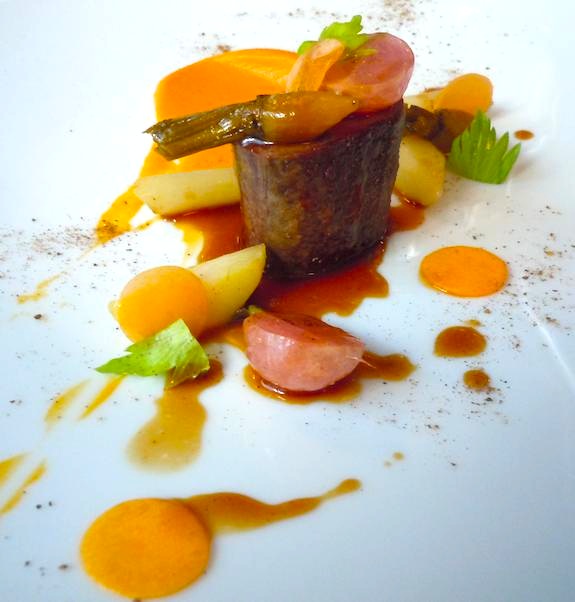 Begin with, say, flash-fried coquille Saint Jacques with purée de châtaigne et banane. Then Saint-Pierre, citron et chou-fleur, perfectly seasoned with chef's fetish fruit and lemon. Next: three types of beetroot prepared three different ways; then either moist, free-range volaille jaune, conchiglioni, figue et cèpe or venison de chasse with légumes d'automne (see photo above). Rush there to experience this "love me tender" interpretation, drizzled with pan juices . . . a royal experience, the Elvis of dishes. Comté cheese "24 months" with a few sprinkled herbs, to accompany the last of the Auxey Duresses. An astringent pear with meringue and shiny chocolate cake for an intense chocolate moment, this offset with fresh passion fruit and mini-lemon tarts revised and corrected by Bélissent.
If you're reading this, Michael Ellis (Michelin's new head honcho), award Cobéa two stars, without hesitation . . . but what do I know, I'm from Edgware.
Tél: 01 4320 2139
11, rue Raymond Losserand, Paris 14th
Métro: Gaité
Open Tuesday through Saturday Lunch 12:15-1:45pm; Dinner 7:15-9:45pm
Shut Sunday-Monday
Limited space, reservations advised at [email protected]
4 recettes 55€
6 recettes 75€
Les 8 recettes 95€
Lunch formula 38€ includes coffee but not wine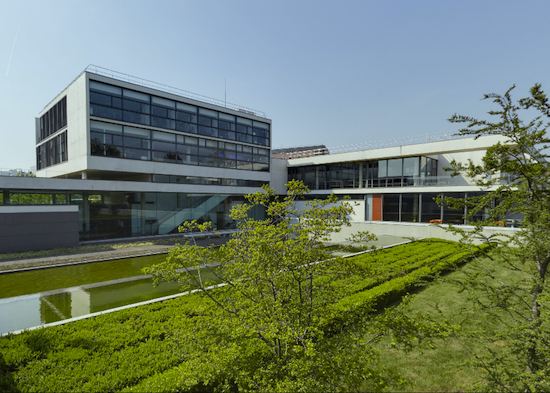 MAC/VAL (Musée d'Art Contemporain du Val-de-Marne)
Energy with a capital E, that's MAC/VAL, the concrete, wood and glass Museum of Contemporary Art opened in 2005 and located 15 minutes from Châtelet at the unlovely, graffiti-daubed Vitry-sur-Seine. Check out the Dubuffet sculpture on the roundabout in front of the space, it's awesome. Posh graffiti? Sort of.
Inside, a new exhibition will blow you away. See what you make of ""Delete, Modify and Preserve," the new installation by Carlos Amorales created as part of his MAC/VAL residency. It's composed of the French Civil Code, consultable by the public, alongside video interviews created with French lawyers. "The goal of this installation is to make us more aware of the importance and fragility of the laws that govern our world," he explained last week.
During their residency at MAC/VAL, the duo of Argentinean artists Tomas Espina and Martin Cordiano created their new installation, "Dominio," a domestic interior destroyed by a mysterious catastrophe, then entirely repaired and put back together, with appropriate sound effects. There's lots of noise, it's a hardhat situation. It's weird!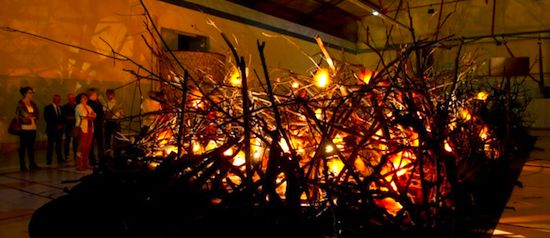 BGL, a provocative artist's collective from Quebec, made an indoor bonfire with recycled trees from the Bois de Vincennes. The display covers the basement of MAC/VAL, a statement denouncing a global economy based on overproduction with their powerful bonfire of the vanities, animated with fake flames created with coloured ribbons and fans. It's ferocious, daring, offbeat and you must see it.
Love the Parc des Buttes-Chaumont? It'll never seem the same again once you've seen "This Unknown Spectacle" by Danish artist Jesper Just. The program consists of six films, including his latest project shot in Paris suddenly last summer.
"Why do you make such disturbing installations, Mr. Just?"
"I dunno, must be the dark Danish winters!"
"Why did you put the woman in a wheelchair, with stilettos, steering her way through the Buttes-Chaumont, when she is clearly not handicapped?"
"Dunno, to illustrate life's handicaps . . . it's up to you to figure it out."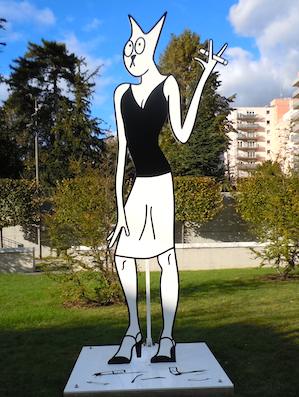 The MAC/VAL permanent collection includes works by Pierre Soulages, Daniel Buren, François Morellet, Jean-Pierre Raynaud, Christian Boltanski, Annette Messager, et al., plus the famous smoking cat statue by Alain Séchas, Les Grands Fumeurs. It actually puffs smoke.
You'll be starving by the time you've admired them all. Head straight for Le Chantier museum restaurant, overlooking the sculpture garden. Breathe, admire, enjoy!
MAC/VAL Museum
Tél: 01 4391 6420
18, avenue Eugène Pelleton, 94400 Vitry-sur-Seine
Entry 4€ – shut Monday. Free the first Sunday of each month
Free Audio Guide
Métro: Porte de Choisy, then bus 183
RER: Gare de Vitry-sur-Seine then bus 180 direction Villejuif-Louis Aragon.
Le Chantier Restaurant
Tél: 01 46 80 28 77
Open: Tuesdays through Fridays 12-3:30pm; Saturdays and Sundays 12-7pm
"Les Invités de la Collection" until December 31, 2011
Margaret Kemp is a Cordon Bleu graduate who spent a year traveling the world, working and watching in the kitchens of top chefs from Sydney, Australia via Bangkok, Hong Kong, California, New York and France. She reports for BonjourParis on the latest European trends, restaurants and hot spots. Please click on her name to see her weekly stories dating back to 2003 . . . et merci, Margaret.
Merci

, les abonnés

premium

,

nous vous apprécions

.
Would you like to write a Paris or France travel story published here? Submit an article.

Please use our link to the world's largest online retailer, Amazon.com.
View our Top 100 Bestselling Amazon.com Items. (Wait for Amazon.com widget to load)
Want more? View our recommended France-themed books & items. Most recent listings at last pages.

Premium members can save 15% on OpenSkies flights
Save 15% on business-class international flights between Paris and New York on OpenSkies, the airline for Smart Flyers. To request your discount code valid for up to 4 in your travel party, please click here for promotion details.