It's a regular "restaurant row" on rue Arsene Houssaye. There's Citrus Etoile,Chiberta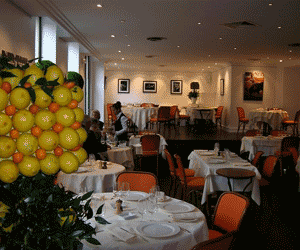 and the Franco-Japanese Stella Maris, where talented chef Tateru Yoshino (ex-Robuchon, Benoit, Troigros, Senderens) has recently given his space a complete make-over. Ignored by Michelin, you should definitely put Stella Maris on your list for the zen welcome from Michiko Yoshino & their delightful assistant Muriel Thérie.  The delicate dishes are inspired by Yoshino's Japanese roots and French training. Mille-feuille de thon rouge, Tete de Veau en cocotte avec crete de coq, superb game such as Tourte de Canard, purée de coing must be tasted. Soufflé Grand Marnier, interesting wine list (perhaps a Corbiéres Domaine Saint Eugénie "La Reserve" 2000 39€) and, if Madame Michiko has been baking, you may leave with a chestnut cake!
Henry Kissinger, Sonia Rykiel, Sting, Sir Elton, John Galliano, all love Benoit. Opened in 1912, located opposite the Hotel de Ville, Benoit, one of the last authentic Parisian bistros,   has a Michelin star, and a cult following. Alain Ducasse has just taken over from the Petit family, owners for three generations. "Lots of people wanted to buy Benoit, but I promised not to change anything", explains Ducasse. "Benoit has a warm and convivial family atmosphere, we all feel at home here, we'll just add a few modern touches", he adds. Chef de cuisine David Rathgeber (ex- Aux Lyonnais) cooks "retro-gigot" cuisine.  Frogs legs, with a velouté of watercress, Snails in the shell with garlic buter, Scallops A la Grenobloise, Turbot, sole, raie and Boeuf Charolais au Poivre, head of veal, sauce ravigote. Desserts include Baba au rhum, lemon tart, crepes Suzette desseerts. Wine-Master, Gérard Margeon has created a  list with 400 regional references, and delightful Maitre d'hotel, Ivan-Paul Cassetari recommends some excellent Corsican bottles that he has tucked away (a very fruity Domaine Gentile white and a floral red from the same winemaker (39€).  
After their new restaurant in London, Pourcel twins, Jacques and Laurent, have launched the hip bar/restaurant, Senso Compagnie des Comptoirs, located in the former Tanjia, behind the Champs Elysées. Cocktails are served at the bar, then eat sassy vegetarian, Mediterranean, exotic dishes in the restaurant, under the glass atrium roof. There's a sort of Fitness Room on the mezzanine, a superspace with a billiard table! Hire a private reception room for cosy lunches or dinners for two to eight people, or if looking for a little night-time entertainment?  The Néo Club with Alexandre Bougault  is located in the basement. (More on this in a future issue, we haven't tasted the food yet!)
That may be Rupert Everett or Madonna behind the palms, under the glass conservatory, at Le Jardin d'Hiver of the Hotel Meurice, but, the space is so discreet it's hard to tell. Whatever, the client is always the star at this oasis in the heart of Paris. There's always something happening and chef Yannick Alleno is always in evidence, dashing in and out of his kitchen, perfecting his Pot-au-Feu for the main restaurant, checking that standards are being maintained. And they are, the staff at Le Jardin are at your command from 8.30am to 10pm 7/7.  Pop in for a dish of the day, the day I was there, Preserved eggplant with sardine mousse (20€), Roast leg of lamb with carrots and baby leeks (32€). From the extensive menu choose a chic prawn cocktail with avocado and grapefruit, a classic club sandwich or a Landes style burger. The Catch of the Day is grilled, poached or steamed, as you like and the fries are very French. Hard to resist the dessert chariot with pastries by Camille Lesecq, all this is washed down nicely with a glass of Lanson Champagne Rosé – (21€). Or try a glass of Chateldon mineral water (8€ a bottle). And a jazz duo play every evening from 7pm. Meet me there!
Chez Ly, is an extraordinary address. Franco-Asiatique in the heart of the tony 17th arrondissement. Primo,there's the stunning smile of Madame Ly, probably Miss Cambodia should have been Miss World. Then there's the menu, using mostly organic products from little local suppliers a lot of the cooking is steamed, so it's ultra healthy. There's also a noteworthy and original foie gras au sake, lotus flowers and hazelnuts, served with a glass of sweet Pacherenc. The shrimp are with: spicy sauce, sweet and sour, curry, Thai style with coconut milk. Fat scallops are cooked a multitude of ways, spicy, with basil leaves. Beef, veal and lamb feature and, of course, Pekin duck. Try a salad of green papaya or seaweed to refresh the tastebuds, follow with raie à la vapeur with tangy ginger and chives. Salmon is steamed with a black bean sauce and, yes, there are wonderful Vietnamese style
vegetarian spring rolls. Desserts include magnificent caramelised apples or a plate of fresh exotic fruit. Truly, the best of everything from an enthusiastic and talented family.
Address Book:
Citrus Etoile,
6 rue Arséne Houssaye, 8th
Metro: Charles de Gaulle-Etoile
T: 01 42 89 15 51
Shut Sat lunch & Sun
About 60€ lunch & dinner
Stella Maris,
4, rue Arséne Houssaye, 8th
(Metro: Charles de Gaulle-Etoile)
T: 01 42 89 16 22
Shut Sat lunch & Sun
Lunch 39€  Dinner about 70€
Carte Blanche,
6 rue Lamartine, 9th
(Metro: Cadet)
T: 01 48 78 12 20
Shut Sunday
From 25€ Lunch & dinner
Le Jardin d'Hiver,
Hotel Meurice,
228 rue de Rivoli, 8th (Metro: Tuileries)
T: 01 44 58 10 55
Open 7/7
From 20€ Lunch, afternoon tea, dinner
Chez Ly,
95 avenue Niel, 17th (Metro: Pereire)
T: 01 40 53 88 38
Open 7/7
Lunch 14.80€ Dinner from 22.80€
Benoit,
20, rue St Martin, 4th (Metro: Hotel de Ville)
T: 01 42 72 25 76
Open 7/7
Lunch 38€ Dinner
O-Sens for Compagnie des Comptoirs,
23, rue de Ponthieu
75008 (Metro:
T: 01 42 25 95 00
www.lacompagniedescomptoirs.com