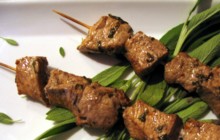 I was alone one day in Paris and wandering down a street in the 7th arrondissement. It was around 1:00 pm and I knew I needed to make a decision about either stopping in a restaurant and eating alone or ducking into a boulangerie and picking up something to eat alone in my room. I passed by a small restaurant, whose name I have unfortunately forgotten, and decided to be brave and ask for a table for one. The formule that day included brochettes de porc with couscous. I ordered it. The young waiter brought it to me and upon hearing my accent began to talk to me about his love of American music, his hope to visit New York City one day and talked to me for the longest time… little did he know that he made my day! I think of him and his kindness to me each time I make these brochettes. Brochettes de Porc, à la sauge ~ Pork Skewers with Sage Marinated in olive oil, sage, and garlic, these broiled pork skewers make a quick weekday dinner. INGREDIENTS: 1-1/2 lbs. loin of pork, cut into 1-inch cubes 3 Tablespoons olive oil 1-1/2 Tablespoons red wine vinegar 3-4 garlic cloves, pressed 2-3 Tablespoons chopped fresh sage salt and lots of freshly ground black pepper PREPARATION: If using wooden skewers, soak for at least 30 minutes before using. 1. In a large bowl, mix together the oil, vinegar, garlic, sage, salt and pepper. 2. Cut the pork into cubes and add to the bowl. Toss to completely coat the pork. 3. Cover the bowl with plastic wrap and marinate for 15 minutes. 4. Heat the broiler. 5. Thread the pork on the skewers. Cover the tips of the skewers with aluminum foil so that the tips won't burn. 6. Place under the broiler and cook for 10 minutes. Turn the skewers over and cook another 10 minutes. To serve: Remove from the broiler and serve immediately.   Looking for something sweet? Try 
zChocolat
's exclusive selection of handmade French chocolates.
SUBSCRIBE
ALREADY SUBSCRIBED?
BECOME A BONJOUR PARIS MEMBER

Gain full access to our collection of over 5,000 articles and bring the City of Light into your life. Just 60 USD per year.

Find out why you should become a member here.

Sign in

Fill in your credentials below.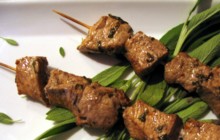 I was alone one day in Paris and wandering down a street in the 7th arrondissement. It was around 1:00 pm and I knew I needed to make a decision about either stopping in a restaurant and eating alone or ducking into a boulangerie and picking up something to eat alone in my room. I passed by a small restaurant, whose name I have unfortunately forgotten, and decided to be brave and ask for a table for one. The formule that day included brochettes de porc with couscous. I ordered it. The young waiter brought it to me and upon hearing my accent began to talk to me about his love of American music, his hope to visit New York City one day and talked to me for the longest time… little did he know that he made my day! I think of him and his kindness to me each time I make these brochettes.
Brochettes de Porc, à la sauge ~ Pork Skewers with Sage
Marinated in olive oil, sage, and garlic, these broiled pork skewers make a quick weekday dinner.
INGREDIENTS:
1-1/2 lbs. loin of pork, cut into 1-inch cubes
3 Tablespoons olive oil
1-1/2 Tablespoons red wine vinegar
3-4 garlic cloves, pressed
2-3 Tablespoons chopped fresh sage
salt and lots of freshly ground black pepper
PREPARATION:
If using wooden skewers, soak for at least 30 minutes before using.
1. In a large bowl, mix together the oil, vinegar, garlic, sage, salt and pepper.
2. Cut the pork into cubes and add to the bowl. Toss to completely coat the pork.
3. Cover the bowl with plastic wrap and marinate for 15 minutes.
4. Heat the broiler.
5. Thread the pork on the skewers. Cover the tips of the skewers with aluminum foil so that the tips won't burn.
6. Place under the broiler and cook for 10 minutes. Turn the skewers over and cook another 10 minutes.
To serve:
Remove from the broiler and serve immediately.
Looking for something sweet? Try zChocolat's exclusive selection of handmade French chocolates.
More in culinary, French recipes, Paris
---
---