Brittany Dining: La Forge d'Antan Restaurant in Bénodet near Quimper
If your travels through Brittany take you to the Finistère region, be sure to discover the restaurant and inn
La Forge d'Antan
. Located not far from the main town of Quimper and minutes from the seaside resort of Bénodet, the Sleeping Beauty-like setting, away from the main road and nestled in forested serenity, complements the building's farmhouse exterior that dates back several hundred years. Inside, the décor can only be described as a nearly perfect synthesis of ancient structure and modern taste. The stone woodwork, massive open hearth fireplaces, and exposed beams integrate exceptionally with interior appointments that, in motifs of pale yellow and maroon, create a seamless flow between entryway, cocktail lounge, and main dining areas. Whoever attended to this detail has the gift of understanding how to suggest relaxation and intimacy. Right away you are curious about what's on the menu. The husband and wife team, Jeanne and Jean-Paul Bremond, are welcoming and spare no effort to insure a memorable visit.  Indeed, from the moment of arrival until the last sip of cognac, this place has what unfortunately seems increasingly rare: old-fashioned, unhurried attention to your every need. Good things come in threes here. Three separate spaces for dining cover the bases: an outdoor café area during good weather, next a casual space with exposed stone and one of the inn's several lovely open hearths, and finally the more elegant and main dining area where high-end upholstered straight back chairs and a smooth color coordination between linens and floral arrangements make one feel simply regal, all this without detracting from a comfortable serious dine. There are three main options for your dining as well: the menu 'terroir', the menu 'océane' and the menu 'découverte'. As each implies, themes of local fare, from the sea, or whimsy enter the mix. Your decision made, three courses comprise a melt-in-your-mouth mastery of flavors. For starters, you can consider foie gras served either in lentils of Puy or with an onion and dry fruit marmalade, or a carpaccio of mullet marinated in a soy salad dressing. Since we are near the sea, fish for the main course will tempt, but meat lovers need not despair. Competing with the fresh catches of the day like wild bass, scallops, or monkfish are selections like a wonderful rack of lamb au jus with a hint of thyme or a pan-cooked beef filet with a medley of seasonal vegetables. If the preparations risk sounding basic, trust that they all contain the best and freshest of the fresh which, in the end, creates intricacy. A return to basic good cooking and service seems to be the rule and at costs not out of sight. A meal for two with wine can stay on the sane side of 100 euros, a most unanticipated and pleasant surprise, given the luscious desserts and amuse-bouches that seemed to appear in as timely a fashion as the décor is appointed—that is, without imposition. And this discretion above all is one reason to return, perhaps for a longer stay, for the inn itself looks to boast a similar ambiance and pleasantry. In any case, the Forge d'Antan is for sure a strong candidate on the 'to-do' list. Kathleen Burke Comstock is a writer and lover of France, who lives in Paris and Massachusetts. Her most recent book on France is "
Vieilles Filles and Other Tales from France
".
http://kcomstock.com
Would you like a private shopper and a driver? Lisa Buros-Hutchins of 
Your Paris Experience
can arrange one. Do you feel like taking a walking or an art tour? If so, contact 
[email protected]
of 
Context
and she'll arrange something special for you.
SUBSCRIBE
ALREADY SUBSCRIBED?
BECOME A BONJOUR PARIS MEMBER

Gain full access to our collection of over 5,000 articles and bring the City of Light into your life. Just 60 USD per year.

Find out why you should become a member here.

Sign in

Fill in your credentials below.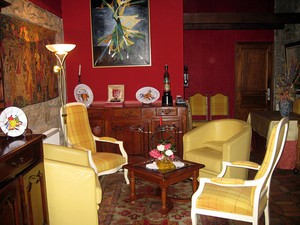 If your travels through Brittany take you to the Finistère region, be sure to discover the restaurant and inn La Forge d'Antan. Located not far from the main town of Quimper and minutes from the seaside resort of Bénodet, the Sleeping Beauty-like setting, away from the main road and nestled in forested serenity, complements the building's farmhouse exterior that dates back several hundred years.
Inside, the décor can only be described as a nearly perfect synthesis of ancient structure and modern taste. The stone woodwork, massive open hearth fireplaces, and exposed beams integrate exceptionally with interior appointments that, in motifs of pale yellow and maroon, create a seamless flow between entryway, cocktail lounge, and main dining areas. Whoever attended to this detail has the gift of understanding how to suggest relaxation and intimacy. Right away you are curious about what's on the menu.
The husband and wife team, Jeanne and Jean-Paul Bremond, are welcoming and spare no effort to insure a memorable visit.  Indeed, from the moment of arrival until the last sip of cognac, this place has what unfortunately seems increasingly rare: old-fashioned, unhurried attention to your every need. Good things come in threes here. Three separate spaces for dining cover the bases: an outdoor café area during good weather, next a casual space with exposed stone and one of the inn's several lovely open hearths, and finally the more elegant and main dining area where high-end upholstered straight back chairs and a smooth color coordination between linens and floral arrangements make one feel simply regal, all this without detracting from a comfortable serious dine.
There are three main options for your dining as well: the menu 'terroir', the menu 'océane' and the menu 'découverte'. As each implies, themes of local fare, from the sea, or whimsy enter the mix. Your decision made, three courses comprise a melt-in-your-mouth mastery of flavors. For starters, you can consider foie gras served either in lentils of Puy or with an onion and dry fruit marmalade, or a carpaccio of mullet marinated in a soy salad dressing. Since we are near the sea, fish for the main course will tempt, but meat lovers need not despair. Competing with the fresh catches of the day like wild bass, scallops, or monkfish are selections like a wonderful rack of lamb au jus with a hint of thyme or a pan-cooked beef filet with a medley of seasonal vegetables.
If the preparations risk sounding basic, trust that they all contain the best and freshest of the fresh which, in the end, creates intricacy. A return to basic good cooking and service seems to be the rule and at costs not out of sight. A meal for two with wine can stay on the sane side of 100 euros, a most unanticipated and pleasant surprise, given the luscious desserts and amuse-bouches that seemed to appear in as timely a fashion as the décor is appointed—that is, without imposition. And this discretion above all is one reason to return, perhaps for a longer stay, for the inn itself looks to boast a similar ambiance and pleasantry. In any case, the Forge d'Antan is for sure a strong candidate on the 'to-do' list.
Kathleen Burke Comstock is a writer and lover of France, who lives in Paris and Massachusetts. Her most recent book on France is "Vieilles Filles and Other Tales from France".

Would you like a private shopper and a driver? Lisa Buros-Hutchins of Your Paris Experience can arrange one. Do you feel like taking a walking or an art tour? If so, contact [email protected] of Context and she'll arrange something special for you.
More in Food Wine, France Brittany, France restaurants
---
---