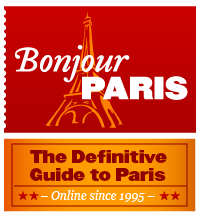 Paris adding water bus system in 2013, "Voguéo" first water transit network in France
BonjourParis France News Daily
Dali Wiederhoft
PARIS, June 05—Paris will join Venice, London and other cities with water public transit systems when its Voguéo water shuttle officially opens in 2013. Voguéo will be the first water public transit network in France.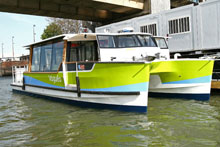 Syndicat des transports d'Île-de-France (STIF, a Paris transportation union) voted unanimously to create an expanded system after three years of testing. The next work connects the Seine and Marne rivers via Paris.
In early June officials completed a public test phase that started in June 2008 with five test boats that moved between Gare d'Austerlitz, Bibliothèque François Mitterrand and Veterinary School of Maisons-Alfort. During the test phase, the fare was 3€ one-way and the service operated from 7am-8:30pm weekdays and 10am-8pm weekdays and holidays.
Voguéo program sails in summer 2013
When the full Voguéo program starts in summer 2013, fares will be 7E one way or included with the Navigo public transit card used by locals and visitors who pay for weekly, monthly or annual service. (Editor's note: travelers should use the Navigo card even for weekly visits, it's a bargain for visitors as locals using unlimited metro, bus and RER public transit in city-center zones 1-2.)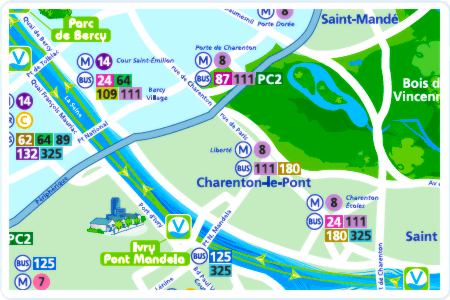 Three routes with thirty stops will be created with buses every 15-20 minutes during rush hour. Voguéo will operate daily except during instances of inclement weather or flooding. The water bus network coordinates with the extensive Paris Métro, bus and RER transit systems.
Guide to map at left
Line 1 (purple line on map) moves from Ecole vétérinaire de Maisons-Alfort to Invalides with stops at Gare d'Austerlitz and Gare de Lyon.
Line 2 (orange line on map) goes between Gare de Lyon and Tour Eiffel-Bir Hakeim.
Line 3 (green line on map) covers Invalides to western suburb Suresnes Longchamp, passing by Parc de St-Cloud and Bois de Boulogne.
Detailed route information for large map below
Line 1: Southeast Route
Route: École Vétérinaire de Maisons-Alfort / Écluse du Port à l'Anglais de Vitry-sur-Seine – Invalides
Stops include: Gare de Lyon, St-Michel-Notre-Dame, Musée d'Orsay
Hours: 7am – 9pm 
Line 2: Center City Route
Route: Tour Eiffel Bir Hakeim – Gare de Austerlitz
Stops include: Louvre, Hotel de Ville
Hours: 7am – 11pm 

Line 3: Northwest route
Route: Point de Suresnes Longchamp – Musée d'Orsay 
Stops include: Bois de Bologne, Issy Val de Seine, Tour Eiffel 
Hours: 7am – 9pm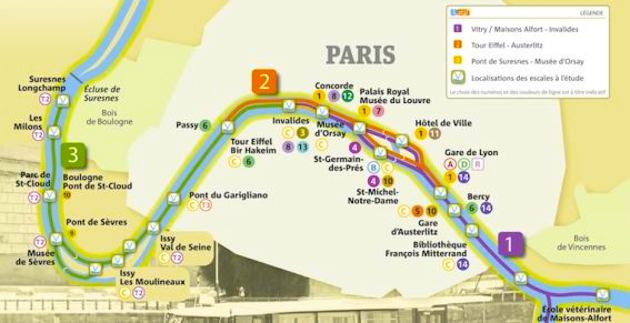 Source: Metro France, France Tourism Development Agency
Not yet subscribed to BonjourParis? Sign up for your free subscription to French travel guides, news from France, French lifestyle articles and more delivered to your in-box twice weekly.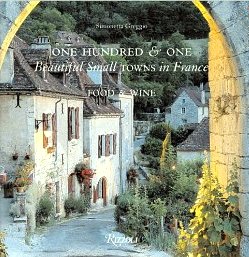 One Hundred and One Beautiful Towns in France: Food & Wine
[Sept 2010 release] Beautifully illustrated & informative, One Hundred & One Beautiful Towns in France: Food and Wine explores the local delicacies,  food and wine. Organized by region, a wonderful sampling of French food & wine & shops and markets where you can find them. Calvados apple brandy from Normandy; galettes frm Finistère, in Brittany; Burgundy boeuf bourguignon & the vendange (harvest); Alsace flammekueche, a tart of local cheeses, speck, and onions. Appendix w/useful addresses & phone numbers to plan your trip includes hotel listings, restaurants, wineries & shops plus info re: where to find local delicacies & the choicest goods.