"Black food is chic", insists writer/cook/style-maven Frederick e.Grasser Hermé (call her FEGH). Her latest book is a slim volume entitled "Le Noir, dix facons de le préparer". FEGH loathes black-forest gateaux prefers the highly technical Macaron au Caviar d'Aquitaine. "To make black macaroons is impossible unless you are an expert in molecular gastronomy or a student of Pierre Hermé," FEGH admits. "So cheat, buy them at a patisserie, eat the filling to get rid of it, cut the macaroons in two, place on a nice plate in a warm room. Now prepare the caviar jelly, so complicated, and at the risk of the wrath of FEGH, I suggest mixing  100 grms of caviar d'Aquitaine with crème fraiche, chill in the fridge for six hours, after which fill your macaroons, cover them with cling-film return to fridge until your guests arrive. Assuming you haven't gobbled them all before, serve with a cocktail FEGH "Black Night Frappé" 2/10 whisky, 2,5/10 Cointreau, 1,5/10 liqueur de café, 4/10 de liqueur de chocolat royal, or a chilled flute of Veuve Clicquot Ponsardin. Other wacky recipes include Ecrin de Moules au Riz Noir, Rouleaux de printemps noirs and Pizza à la truffe noire et pommes de terre négresses. Get the essential little black book from Les Editions de l'Epuré, www.epure-editions.com 
It's all black at Black Calavados, located just opposite the Four Seasons George V (where, by the way, Legendre is out, Piege is in, rumour has it). BC was the mythical, 50's-70's, night spot where Gainsbourg slow-danced Bardot as Delon, Deneuve & Co. looked on. "On va à la Calavados ce soir", wrote Serge. It's a place where Orson Welles chilled and Eartha Kitt sang. Now they're bringing back the good times, the new team liked the joint so much they bought it. Who? Chris Cornell of Soundgarden, Nick Blast (Artistic Director at the Plaza Athénee, co-founder of Neo) and Addy Bajhtiar (of Le Milliardaire and Regines). 
The new owners called in their friend Alexandre de Betak Artistic Director of Christian Dior runway shows, Viktor & Rolf and Victoria's Secret, to give BC a complete makeover, use any colour he wanted: as long as it was black. It's pure rock n'roll, Betak's materials flaunt surfaces, features wonderful lighting that flatters and uses lots of black stainless steel
and smoked mirrors. A dramatic ceiling painting (circa 1780) is all that's left of the original BC. Serge would love it. Cornell, now living in Paris, with his wife Vicky says it's a restaurant-slash-bar where you're going to hear rock music. And Cornell's no resto-rookie, he worked for a seafood wholesaler in his teens to earn money. ""My job was to wipe up the slime and throw away the fish guts", he recalls. Cornell rose through the ranks and became a sous-chef in Seatlle, who knows if Soundgarden had floundered, Cornell may still be cooking flounder.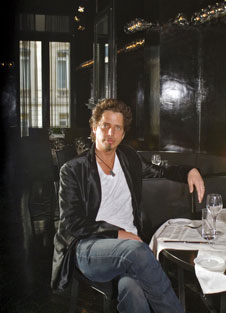 So for the restaurant Cornell asked Jerome Lorvellec (ex-Nobu and Pershing Hall) to bring a nouvelle cuisine attitude to the party, think West Coast meets Paris. On black granite is a tasting of the house signatures: Mixed seasonal greens, mini Wagyu beefburger with truffles, foie gras with popcorn and vodka jelly, and a delicious pasta. Surf n'Turf is having its' fifteen minutes in Paris, and BC's is rare beef filet paired with roast lobster. Desserts are creative caramel whisked and served in a glass. Cheese cake sitting on sweet pastry, and an excellent chocolate mousse with marshmallow lollipos. After midnight there's food of the night, according to what the chef's inspiration. 
BC, beneath the restaurant, is a black bar/disco/nighclub with DJ, cocktails and tapas. Outside, gross gorillas talk into their sleeves. How to get in? Well either schlep behind Cornell and Vicky, John Galliano, Pink, Audrey Marnay and Carine Roitfeld who have their biometric hand-prints detailed in the computer, or call ahead and tell them Serge sent you.
BC,
40 avenue Pierre 1er de Serbie 8th
Metro: George V,
T: 01 47 20 7777
Lunch from 34€ + wine
Dinner from 34€ + wine
Valet Parking