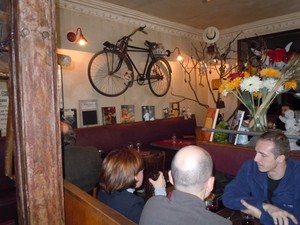 The metro stop says it all, "Fargeau"—for BUZZ, fresh from seeing True Grit, this is Wells Fargo-land. There's a dude on the corner, deffo looking for a gunfight/bunfight at le bistro; the Coen Brothers need to come here, it'll be inspiration for their next movie. And they'll eat well chez Benoit Chagny. Perhaps they'll remember him from Ledoyen, Vigato's Apicius, A&M and his own gig over Bastille way, L'Endroit. Chagny's moosied 'cross town and set up at the Saint Fargeau Corral. The look's pure homespun, a bicycle hangs on the wall, antique books line shelves behind the tables. Benoit's scoured Clignancourt and Emmaüs for tchotchkes, and baskets of fresh fruit and vegetables await editing.
"You can't make good food without proper products", he says, popping out of the kitchen.
"That's why I've no formula, it's all à la carte. I'm not sure if people want to come all this way", he sighs. Maybe he's got a point: the 20th is a gritty working class area, where Père Lachaise Cemetery is about as good as it gets. This is perfect Coen Brothers territory. Jim Morrison, the rock Legend lies there, as do Chopin, Oscar Wilde and Coco Chanel.
Nevertheless, this lunchtime, it's almost full, a mix of neighbourhood-niks and people out for a stroll who like the cut of Benoit's Cuisine Traditionnelle. Stephane's in the salle, speaks perfect English, delighted to translate the blackboard menu. The winecard's short with some interesting bottles, the 2006 Bordeaux No.2 Maucaillou (35€) or the 2010 Chile-Tunupa Chardonnay. By the glass you'll pay about 6€.
Chagny's signature starter is Rôtie de foie gras aux épices et miel. There's also cannelloni d'aubergine au chèvre—the aubergine, flash fried, wrapped around the goats cheese, sits on a bed of salad, perfectly seasoned. Or miettes de thon en verrine. The signature main is a meltingly lovely long casseroled lip-smacking dish of beef cheeks and carrots with mustard vinaigrette; worth the trip to the wild west 20th. There's also an excellent risotto de gambas and a hearty Andouillette de Troy au Plat. Finish with a chunk of Pont L'Évêque or the tradi Brioche rôti, glace caramel salé, caramel laitier. It's fun and a quality-price stunning value. With True Grit, the Coen Brothers have given the Western back its teeth. With Bistro du 20, Chagny approaches a high noon in his brilliant career and it won't cost a fistful of dollars.
Le Bistrot du 20e – Benoit Chagny
203 Avenue Gambetta, 20th
Metro: Saint Fargeau,
T: 01 40 31 86 07
Lunch – 14-18€
A La Carte 20-35€
Open 7/7
In the heart of Batignolles Village made famous by Verlaine, Wim Van Gorp just launched his dining room, a bit like his mum's in the Anvers region of Belgium. Wim was seven years at Market, avenue Matignon, has worked with Ducasse and Anton Westerman, even done a stint in Tokyo.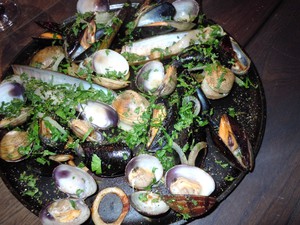 In his new space it's about delicious, homespun hearty food, brought to table in heavy oven dishes by the fragrant Veronique. Wim's concept is slowfood for two, as in the rib-sticking Pot au Feu. The Selle d'Agneau de lait, gratin dauphinois. Poulet fermier, poireaux, pomme de terres aux truffes. Wim's lunch formula today read Soupe de champignons, au gingembre; Gratin d'endives; Mousse Chocolat. Or à la carte try the herrings à l'huile with creamy chunks of moist potatoes, the hearty dishes left on the table. Egg mayo, made to order, the eggs warm like they've just been laid, the mayo home-mayo'd and garnished with crispy sucrine—do try this at home. Brûle-mains (burn your hands, see photo) are served in a cast iron pan: choose either coquillages, os à moëlle ou brochettes. There's also gorgeous Gnocchi de pomme de terre à la truffe. Saint Jacques à la plancha, the sauce Aigre-Doux has a touch of honey, banyuls and wine vinegar, tiny cubes of avocado and vegetables. Delicious.
There's generosity and a real effort to please. Dessert Tarte Tatin comes with a huge stone bowl of crème fraîche. Bananas are flambéed, and try and decide between crème de Marrons and a rich dark chocolate mousse. Drink a white Louisette Viognier, VDP (24€) or Château Haut Rian 1er Côtes de Bordeaux 2007 (26€).
Comme Chez Maman – Wim Van Gorp
5 rue des Moines, 17th
T: 01 42 28 89 53
Lunch 15€ – A La Carte 30-45€
Shut Sunday night-Monday
Diary Dates:
60 culinary kings (and queens) are preparing a dinner for 650 guests in The Gallery of Battles, at the Palace of Versailles, the one-time "it's not much, but it's home" of French Kings. The dinner marks the inclusion, last November, of the "French Gastronomic Meal" on UNESCO's World Heritage List. The bash is the idea of Jaume Tàpies, Chairman of  Relais & Châteaux, and Marc Haeberlin, President of Grandes Tables du Monde.
Taking part are Moët Hennessy and 60 Relais & Châteaux Grands Chefs from all over the world, including: Fréderic Anton, Daniel Boulud, Jean-André Charial, Hélène Darroze, Edouard Loubet, Thomas Keller, Kiyomi Mikuni and Michel Troisgros.
There'll be a pre-dinner private tour of the palace's Hall of Mirrors and a visit to the exhibition "Majestic Thrones" in the Royal Apartments (no dear not the loos, the real thing).
"Dinner will be accompanied by vintage wines and champagnes and proceeds will go to French Heritage and Gastronomy Mission, the agency behind the UNESCO bid for the creation of a Gastronomic Cultural Centre in Paris", Marc Haeberlin told BUZZ.
When? Wednesday April 6th, 2011 8pm.
Price per person (all inclusive) 890€
If you're reading this in NYC you might want to check out Burgundy, Bordeaux, Black Truffles & Blue Jeans. Daniel Boulud and Gérald Passedat (Le Petit Nice, Marseilles) are cooking a Sunday night supper for Citymeals on Wheels.
The Festival du Livre Culinaire was created by Edouard Cointreau in 1995 to honour the best food and wine books, "to reward and honour those who cook with words". It's open to the public from 5th-6th March at:
Centquatre,
5 rue Curial, 19
Metro: Riquet
Entry 5€
If you're in a shopping mood, Bonjour Paris's Amazon Store has a collection of books, movies, gourmet items, electronics and so much more.  In other words, you can buy soup to nuts and help Bonjour Paris at the same time.