New décor for Bistro Saint Ferdinand: book table 87 beneath the magnificent black Murano chandelier, by the water-wall feature. You're in Las Vegas.
Under the umbrella of www.bistrocie.fr are Willy Dorr's seven chic bistros, dotted around Paris. His all-inclusive concept is a menu at 38€. Aperitif, starter, main, dessert, bottle of wine for 2, coffee, mineral water. Wine of the month is the excellent Domaine de la Sapiniere 2007 AOC from Carcasonne, which means a pleasing taste of Grenache, Merlot, Cabernets Franc and Sauvignon. Service is hyperprofessional. Does Dorr have his own "Academy for Nice Waiters?" BUZZ wonders.
The delicious menu is created by uber-chef Jean-Jacques Jouteaux, now well settled at his excellent 153 Grenelle (T: 01 45 51 54 12). "They call me the agitator of the casseroles," he chuckles, popping in to see the guys are producing the right stuff.
They sure were last Monday: Plat du jour (no supplement) was pheasant on a bed of savoy cabbage, light mustard cream sauce. Exciting! Start with Fond d'Artichaut au saumon fumé, oeuf poché. Or starter du jour: scrambled egg and shrimp. Anyway you have at least 10 to choose from. Delicious warm breads with Normandy butter. Choose from 9 mains plus the daily special. The guys took La Sole Belle Meunière, Purée à la huile d'olive extra-vierge. "You pay 38€ just for this dish in other maisons," they chirped in unison. And they're right. Finish with cheese or a choice of 10 desserts. Millefeuille, caramel au beurre salé, La Baba "Bouchon" Tradition Au Rhum de Martinique, Crème Fouettée. "Is everything to your satisfaction," enquired Mr. Nice Waiter as I left half my café allongée. Now that's service. Don't hesitate, there's a "bistrocie" near you – because you're worth it. Willy Dorr deserves a medal.
Bistro Saint Ferdinand
275, Boulevard Pereire, 17th
Metro: Porte Maillot
Open 7/7 Lunch & Dinner
Valet Parking
T: 01 45 74 33 32
La Sidreria
Recently opened by a group of friends to showcase their native southwest France, La Sidreria bistro divides into two spaces. The macho bar with TV for important rugby matches (the Basques only know from rugby and cider, go figure) and the resto on the other side. Eat at long tables d'hôtes and make NBF's at the self-service cider barrels, more convivial than the water cooler, n'est ce pas, cherie? Hmm…. big hunky thighed rugby players who'll introduce you to the delights of planchas à tapas, Txuleta á la plancha, axoa, marmitako, zikiros, gateau Basque, Ossau Iraty? I don't know, I'm from Edgware. Décor is a reflection of all things Basque and Beautiful. Why schlep to Bayonne? After a few jars of cider you won't know where you are anyway.
La Sidreria Restaurant Basque
25 rue Moret, 11th
Metro: Menilmontant
T: 01 58 30 75 75
Brasserie Le Boudoir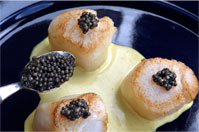 Alice Bardet's Boudoir is probably the sexiest address in Paris. This is a city where food and fun don't often happen. But since Alice launched in July 2008, Le Boudoir's got a great following. "There are two chefs in the kitchen, Ludovic Kaminski and my dear husband, Olivier," says Alice. Lunch-time starter, main or main, dessert is 19€: the full Monty at 24€ changes daily. Hamburger au foie gras, frites maison is a BUZZ fave (19€). There's tapas at 5€ a plate and an epic wine list.
Diarise the 29th October for Menu Vin et Femmes dinner and Bordeaux wine tasting with a difference. The evening begins at 20 hrs with an oenologist to help you find your inner wine sign. Four-course dinner and excellent wines plus Armagnac with dessert, but you'll have to bring your own Cohiba to smoke in the fumoir, darling. Also note Menu d'Halloween 31 October: 45€ for four courses, a choice on each dish. Tito the DJ aux platines. See you there. I'll be the one dressed up as a pumpkin.
Le Boudoir
25 rue du Colisee, 8th
Metro: Franklin D Roosevelt
Shut Sunday
Michelin Guide SF Bay 2010
The Michelin Guide San Francisco Bay Area & Wine Country Restaurants 2010 is published in the USA this week—in Europe December. But go to www.FamouslyAnonymous.com where Michelin inspectors also share insider secrets via Twitter, and there's an e-booklet on "The Secret History of the Michelin Guides" and a rather odd interview with a "real Inspector." It's kind of like going back to school and you're six – rocket science it ain't. Anyway SF's The French Laundry keeps the three stars and there's a slew of new one-stars. The guide is well presented, especially the section on Napa Valley and Sonoma. "Bib" Gourmand's a great idea featuring restaurants serving a meal (two dishes, a glass of wine & dessert) from between $25 to $40 or less.
La Master Class Chocolat Pierre Herme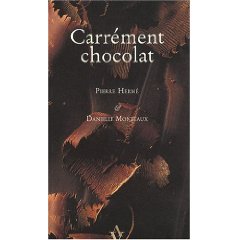 When:
18 November 2009 from 8.30-16hrs
Where:
Ecole Gregoire Ferrandi
28 rue de l'Abbe Gregoire, 6th
Metro: Saint Placide
How Much?
280€ including lunch and as much chocolate as you can eat.
Sign up on line: www.pierreherme.com