Best Travel Companion—"Portraits of France"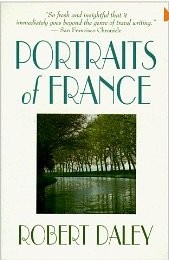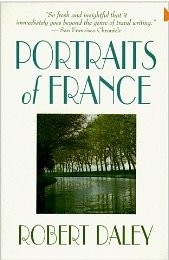 Daley, an American married to a French woman, divides time between the U. S. and Nice.   In "Portraits", this well-established writer of fiction and non-fiction, takes the reader on a journey throughout France, creating a sense of awe and appreciation for that which may or may not be categorized as 'sight-seeing' worthy.  Bypassing Paris for the most part, he ventures instead to country-wide locales that are not typically headliners on must-see lists.  In Champagne country, he foregoes bubbly tastings in favor of a closer look at the World War I killing fields.  Here the plenitude of reminders force confrontation with one's sense of justice, with wonder and sorrow, with the graveyard silence of deep reflection.  Mine fields reveal secrets and farmers recall seminal events that forever changed them.  Daley moves on to the heart of Auvergne, often referred to as "La France Profonde" (deep in the heart of France), where he climbs to the peak of a volcanic thrust, 'un puy', to visit a cathedral housing a Black Virgin.  The story of the Virgin, part of crusade lore, tends to claim a back stage in favor of other historical happenings of that era.  Here, the author revels in her majesty.  He also remarks on the happenstance moment.
These are vivid paintings, vivid colors, and now above the cathedral the sun must have just come out for suddenly it pours through the stained glass onto the paintings, changing all the colors….The ironwork in such light becomes dazzling, as intricate and delicate as any of the lacework for which the women of le Puy used to be so famous.
A French concentration camp in south-central France becomes source of renewed interest to the intricacies of World War 2, and the Holocaust devastation that took place right on French soil. Winding down to Paris he sneaks a peak at a hidden enclave at the Cimetière de Picpus where the Marquis de Lafayette is buried.  Apparently, the more frequent visitors are Americans, and American Revolution adherents, rather than the French.
While themes tend to revolve around human tragedy and renewal, Daley also dips here and there into personal anecdote.  These are passages when you feel as though you are side by side with this monsieur, like when he reveals his nearly classically romantic tale of the traveling man who stopped for a while and lingered in the beautiful town of Nice.  As a post-war journalist, Daley fell in love with the daughter of a certain Harry, the man who owned and operated Harry's Bar in Nice.  That woman would be Daley's wife today.
James Salter, author of another great French dreamscape "A Sport and a Pastime" sums "Portraits of France" up best:
You can read it as a guide book, as a kind of conversational history, as a memoir, or as a journey with a best selling writer.  There are lines in this book I've copied out to keep and I only can say that I'm taking it with me to France the next time.
Kathleen Burke is a writer and lover of France, who lives in Massachusetts and Paris.
Leave a reply
Your email address will not be published. Required fields are marked *