Jacques Chirac, Charles Bronson, Edith Piaf, The Monaco Royals, The Mitterrands, a sprinkling of Rothschilds, Liza Minelli, Elton John and the late great Frank Sinatra are just a few punters whose eyes light up when you mention restaurant Beauvilliers. The definitive canteen to the rich and famous (complete with bullet proof windows) from 1974, until recently, when legendary larger than life founder Edouard Carlier left Montmartre for that great restaurant in the sky.

"Carlier was a grumpy perfectionist, who lived for his restaurant and his celebrity clients", explained new chef/owner Yohann Paran one damp Spring day last week. Alert readers will remember Paran from his charming Delagarde restaurant. He came to us highly recommended by his mentor Alain Passard, but this young man, passionate about cuisine, also earned his stripes at The Ecole Ferrandi, La Table d'Anvers, Tante Louise, La Camelia, Bougival, La Braisiere. "Without a proper traditional base it's impossible to create a modern cuisine", he insists.

You've got to hand it to Paran for chutzpah. Like a prize boxer, he springs out of a 5-square meter kitchen to 240-square meters of culinary history. "It was shut for six months, there were so many rumours", he sighs. We stand on the leafy terrace which clings to the side of Montmartre. "Restaurants don't work on their own, they have to be part of a culture, the new style Beauvilliers must not be intimidated by the grandeur and history, it's time to turn the page, to be part of today, not yesterday", he reflects.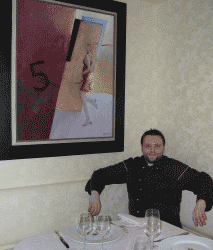 "Carlier named Beauvilliers (a former brothel) after Antoine Beauvilliers, not only Marie Antoinette's chef, but also creator of the first restaurant in Paris, at Palais Royale, circa 1782", explains Paran. "He was the first chef to have an elegant dining room, handsome trained waiters, a fine cellar and superb kitchen. Interesting to note Beauvilliers left for England when the restaurant shut, due to the French Revolution!"

So out goes the "royal-blue floral chintz second empire décor, lightened up, with tasteful new white china. The 3 dining rooms are punctuated with contemporary paintings and sculptures by local artist Yvette Cathiard. There's a nod and a wink to history in handsome glass cabinets, original

china, glass and silver. The menu is impressive, and not expensive, which was the general grouch when Carlier was in command. Spring flowers are in the restaurant, also featured in dishes. "I'm using flowers in a subtle, pungent way at present". As in "fine tarte aux légumes croquants tomate et thon rouge, émulsion de fleurs de capucine (nasturtiums). Perhaps later on he'll feature some of the signature Beauvilliers cuisine bourgeoisie dishes, so beloved of Mitterrand & Co. "But, revised and corrected", he warns.

The lunch menu is generous, "I have so many dishes I want people to taste, I could make it ten pages long!" Choose from four starters, five mains, and four desserts. Add the hot fresh bread, the aroma of which wafts upstairs; someone please make an aerosol like this!  Or, take just a plat du jour, "Cabillaud Rôti Beauvilliers" a glass of wine and a refreshing "Craquant d'agrumes à l'orange, crème à la vanille bourbon. Paran has a light inventive touch, as in the adventurous "Canard croisé rôti sur son coffer au café, crème de céleri a l'huile de noisettes" or a "Salade de Petit-Gris legerment crème, vitelotte au jus de volaille".
What is so obvious is that Paran, with his formal training, will take this wonderful restaurant into its next life. Just taste the Ananas rôti aux truffes; you'll get it. Paran is on a mission, he knows what he wants to do and his prices are correct. Go there, discover a brilliant young talent realising a dream on the romantic hillside of Montmartre.

Beauvilliers (Officier de Bouche),
52 rue Lamarck, 18th (Metro: Lamarck Caulaincourt),
T: 01 42 55 05 42
Closed Monday
Menu de Saisons – 35€
Menus at 80€-63€ + A La Carte.
Leave a reply
Your email address will not be published. Required fields are marked *