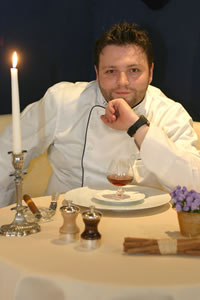 Beauvilliers, now there's a piece of history for you. As you know from BUZZ (4th November 2005) this maison has now been revised and corrected by the talented young (28) Yohann Paran (ex-Ecole Ferrandi, Passard, Tante Louise, Table d'Anvers, Le Cuisinier Francois, La Braisiere. And De La Garde, named for the village in Cantal, where he was born, the first restaurant Paran owned: so many kitchens, so little time. "It's the diversity and influence of all the great chefs and restaurants I've worked in that makes each dish I cook a new adventure", he explained one sunny day last week.
The original A. Beauvilliers (1754-1817) created La Grande Taverne de Londres at 26 rue de Richelieu, which, they say, was the first real restaurant in Paris. AB was famous for greeting clients wearing a sword, probably came in handy if they were a bit strapped when it came to paying, Amex Platinum Cards having not yet been invented. In 1974, the late Edouard Carlier created his restaurant, dubbed it Beauvilliers, in homage to the main man. It attracted a stunning eclectic clientele: in it's time as difficult to get a table as chez Camdeborde.
Paran has his schtick, wears black, the new white, saves the swords for carving up a nice Chateaubriand Farci à la Queue de Boeuf or La Côte de Veau Fermière au Sautoir, the lad doesn't come out of his kitchen for air, except at the end of service. Lunch and dinner are served on the newly transformed ivy and flower-decked terrace. Chill with the wine list, reads really well, a glass of champagne served by Mehdi the sommelier, followed by an excellent Saint Julien Fiefs de la Grange 2002 (56€) And, if you like cigars, Mehdi's you man, finish the meal with one of his Montecristo No.4's (14€) you'll feel like you've won the lottery.
This cooking writes a new page in the "cuisine de Montmartre". No sauces, just feather light emulsions drizzled on, say, Le Tournedos de Saumon "Label Rouge" au Citron Vert et coco de Paimpol à la coriandre. Or, jus gras paired with Le Filet de Canette aux cerises, crème de Celeri Rave, mopped up with warm home-made pain Paran. Suggestions de Saison include Le Chou Vert Farci de Homard, bouillon de Crustacés au Poivre de Séchuan. Cheeses are from Monsieur Dubois and Desserts ah! les choses important. La Tarte au Poires et Gingembre, glace au Pain d'Epices, Les Crepes Suzette de Nos Grand-Meres, "from my grandmother's recipe, I've been making these since I was seven", grins Paran. Rush to Beauvilliers, you will not regret it for one balmy minute, Paran's worth a Michelin star, you read it here first.
Meanwhile below stairs you'll have noticed an evolution in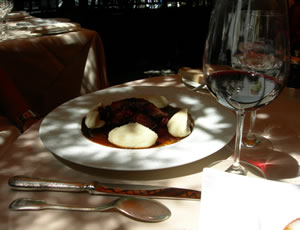 fast-food, chic snacks, in Paris. Ferran Adria calls it "Fast-Good", look for Naked, High Noon, Bert's, Bread & Roses,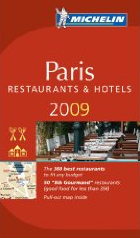 B-Boulangerie, Eat Me, Soup & Juice, Cojean and the strictly kosher Banana Republic (not great, but if you will eat kosher….).
Jerome Sorrel and Julien Ponceblanc authors of "BIEN MANGER SUR LE POUCE A PARIS" explain: "Remember the Café du Quartier? That became the Irish Pub, which is now a hip sandwicherie, salad, soup, juice bar. It began in New York, spread to London, with Julian Metcalf's Pret-A-Manger and, although, in Paris, we are still behind the times, using our book as a reference you can eat well and fast in every corner of the city".
Their delightful volume lists addresses by arrondissement and is beautifully illustrated, so no problem with translation, although they are working on an English version it won't be ready yet. And the guy's favourite? Be 73 Boulevard de Courcelles. Why? "Because how else can we afford to eat chez Ducasse"?
BIEN MANGER SUR LE POUCE A PARIS,
EDITIONS DELIF.COM 14.50€
Yohann Paran at A. Beauvilliers,
52 rue Lamarck, 18th (Metro: Jules Joffrin)
Lunch: 25€ Menu du Saison 45€ Menu Degustation 63€ + A La Carte 50-80€ including wine