Ask The Antiques Diva™: Flea Marketing in the Paris of the East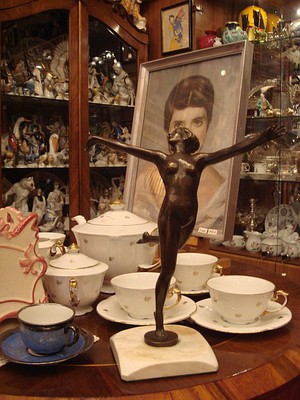 Dear Antiques Diva, As an American wedding planner living in Paris, I'm well acquainted with the flea markets of the City of Light and love nothing more than scoring antiques at Les Puces; however, I need your expert advice for my travels afar. I'm going to the Paris of the East and would love to know where to stop, shop and drop some dough in Budapest. I'm already planning my purchases! Sincerely,Parisian Party Planner,www.parisianevents.com Dear Parisian Party Planner, You're a shopper after my own heart – true shoppers in the know plan their shopping before they go. While it's always a delight to stumble across that perfect boutique as if Lady Serendipity herself has taken you by the white-gloved hand to lead you through the door, I personally always plan on adding my own dash of Fairy Godmother Shopping Dust before I travel to guarantee that I will score the perfect souvenir. Research can be the difference between shopping success or failure on your next trip abroad. Already the shopping gods are smiling on you. The Hungarian national currency is weak, meaning you'll get more Bauhaus and Biedermier for your fornit. As for what you'll find on your flea market forays in Budapest, DK Eyewitness Travel Guide to Budapest claims the scene is "dominated by 18th and 19th C pieces in the Habsburg style". In my book, the perfect Antiques Diva souvenirs are Art Deco, Jugendstil, Bauhaus, Biedermier and Successionist pieces. The prices on these top-notch pieces in Budapest tend to be lower than in Paris and the selection is downright diva-worthy. However, save these high-end, high-fornit pieces for shopping in the antiques district at the Falk Miksa utca or along the Vaci utca. Even though you might also find these pieces at the flea markets, you don't necessarily want to buy them there if you're looking for a guarantee that what you are buying is the real deal! If you've only time for one antique shop in Budapest, make it Bardoni, located at Falk Miksa utca #12, where they not only have the best collection of European antiques in town, but they also ship them home for you, dealing with all those pesky details that divas don't want to bother with on their own time. Remember if you are buying true treasures of the Hungarian empire, you must obtain permission from the Museum of Applied Arts before you can take them out of the country. Beyond Bardoni, on the other hand, and if you're not necessarily looking to break the bank but want to take home some seriously cool Budapest bric-a-brac, then a trip to the Ecseri Flea Market in the XIX district is a must-do. Filled to the brim with cast-offs from the communist era, you're as likely to stumble upon a bust of Stalin as you are to pick up a prized piece of slightly chipped Zsolnay porcelain. In my house, I have the most over-the-top gilt jardinière I picked up at Ecseri years ago and it never fails to elicit a song of praise from visitors chez moi. While Ecseri happens to be my favorite Budapest flea market, it's not the only game in town. The Józsefvárosi Flea Market is located closer to town but has a slightly different feel to it. Both markets are far from high-end, but this one is known informally as the "Four Tigers Market" due to its huge variety of mostly new Asian goods. They do, however, have a smattering of Soviet pieces, plus a few of the Roma vendors sell eastern European antiques and vintage pieces. Bar none my favorite market to go to in Budapest doesn't sell an antique but is a delightful market to frequent nonetheless! Central Market Hall is a gorgeous, renovated 19th C food hall selling everything from meats and cheese to local fruits and veggies. While it's an excellent place to stop for lunch, I prefer to go early before the crowds hit to wander the stalls, picking up packs of paprika and gorgeous carved wooden spoons and brightly colored kitchen knick-knacks. Though it is known for selling a lot of tourist tack, I happen to like Hungarian tourist tack and recommend you go upstairs and buy an "authentic" Hungarian peasant blouse, pretty Hungarian pottery and assorted folk art pieces while there! Trust me, your amies will be clamoring for Budapest décor once they see yours and they'll never once consider that you might have purchased that tea pot from a souvenir store! Bonne Shopping in Budapest – otherwise known as "The Paris of the East".  They say this nickname comes from its resemblance to Paris with the amazing architecture, the river dividing the left and right banks, the tree-lined boulevards and majestic bridges, but I for one think that it's called the Paris of the East because it's the only city whose shopping comes close to comparision! Toma Clark Haines is The Antiques Diva™, author of the blog
Antiques Diva
http://www.antiquesdiva.blogspot.com/
and Chief Executive Diva of The Antiques Diva™
European Shopping Tours
http://www.antiquesdiva.com/
and the tour de force behind the online antique store "
Treasures by The Antiques Diva™
".
http://www.treasuresbytheantiquesdiva.blogspot.com/
. The Antiques Diva™ is the In-House Antiques Expert for Bonjour Paris. Bonjour Paris
Premium Members
will receive a 10% discount with the Antiques Diva™ Tours. PHOTO CREDIT: Antiques Diva Bonjour Paris Profile Picture is by Angelica Arbulu
http://angelica.carbonmade.com/
. Take trips, not chances. For…
SUBSCRIBE
ALREADY SUBSCRIBED?
BECOME A BONJOUR PARIS MEMBER

Gain full access to our collection of over 5,000 articles and bring the City of Light into your life. Just 60 USD per year.

Find out why you should become a member here.

Sign in

Fill in your credentials below.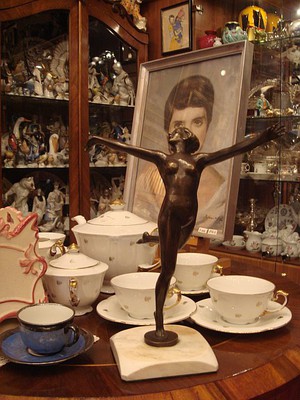 Dear Antiques Diva,
As an American wedding planner living in Paris, I'm well acquainted with the flea markets of the City of Light and love nothing more than scoring antiques at Les Puces; however, I need your expert advice for my travels afar. I'm going to the Paris of the East and would love to know where to stop, shop and drop some dough in Budapest. I'm already planning my purchases!
Sincerely,
Parisian Party Planner,
www.parisianevents.com
Dear Parisian Party Planner,
You're a shopper after my own heart – true shoppers in the know plan their shopping before they go. While it's always a delight to stumble across that perfect boutique as if Lady Serendipity herself has taken you by the white-gloved hand to lead you through the door, I personally always plan on adding my own dash of Fairy Godmother Shopping Dust before I travel to guarantee that I will score the perfect souvenir. Research can be the difference between shopping success or failure on your next trip abroad.
Already the shopping gods are smiling on you. The Hungarian national currency is weak, meaning you'll get more Bauhaus and Biedermier for your fornit. As for what you'll find on your flea market forays in Budapest, DK Eyewitness Travel Guide to Budapest claims the scene is "dominated by 18th and 19th C pieces in the Habsburg style". In my book, the perfect Antiques Diva souvenirs are Art Deco, Jugendstil, Bauhaus, Biedermier and Successionist pieces. The prices on these top-notch pieces in Budapest tend to be lower than in Paris and the selection is downright diva-worthy. However, save these high-end, high-fornit pieces for shopping in the antiques district at the Falk Miksa utca or along the Vaci utca. Even though you might also find these pieces at the flea markets, you don't necessarily want to buy them there if you're looking for a guarantee that what you are buying is the real deal!
If you've only time for one antique shop in Budapest, make it Bardoni, located at Falk Miksa utca #12, where they not only have the best collection of European antiques in town, but they also ship them home for you, dealing with all those pesky details that divas don't want to bother with on their own time. Remember if you are buying true treasures of the Hungarian empire, you must obtain permission from the Museum of Applied Arts before you can take them out of the country.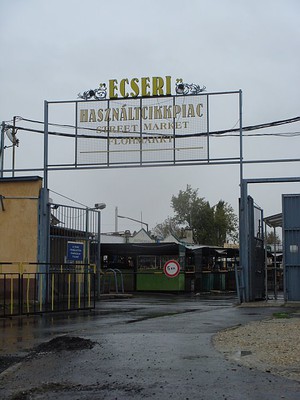 Beyond Bardoni, on the other hand, and if you're not necessarily looking to break the bank but want to take home some seriously cool Budapest bric-a-brac, then a trip to the Ecseri Flea Market in the XIX district is a must-do. Filled to the brim with cast-offs from the communist era, you're as likely to stumble upon a bust of Stalin as you are to pick up a prized piece of slightly chipped Zsolnay porcelain. In my house, I have the most over-the-top gilt jardinière I picked up at Ecseri years ago and it never fails to elicit a song of praise from visitors chez moi.
While Ecseri happens to be my favorite Budapest flea market, it's not the only game in town. The Józsefvárosi Flea Market is located closer to town but has a slightly different feel to it. Both markets are far from high-end, but this one is known informally as the "Four Tigers Market" due to its huge variety of mostly new Asian goods. They do, however, have a smattering of Soviet pieces, plus a few of the Roma vendors sell eastern European antiques and vintage pieces.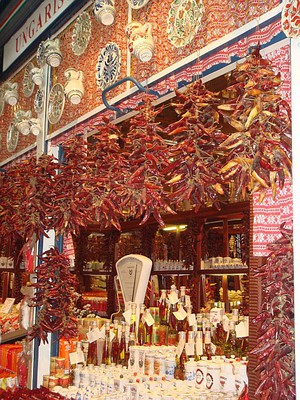 Bar none my favorite market to go to in Budapest doesn't sell an antique but is a delightful market to frequent nonetheless! Central Market Hall is a gorgeous, renovated 19th C food hall selling everything from meats and cheese to local fruits and veggies. While it's an excellent place to stop for lunch, I prefer to go early before the crowds hit to wander the stalls, picking up packs of paprika and gorgeous carved wooden spoons and brightly colored kitchen knick-knacks. Though it is known for selling a lot of tourist tack, I happen to like Hungarian tourist tack and recommend you go upstairs and buy an "authentic" Hungarian peasant blouse, pretty Hungarian pottery and assorted folk art pieces while there! Trust me, your amies will be clamoring for Budapest décor once they see yours and they'll never once consider that you might have purchased that tea pot from a souvenir store!
Bonne Shopping in Budapest – otherwise known as "The Paris of the East".  They say this nickname comes from its resemblance to Paris with the amazing architecture, the river dividing the left and right banks, the tree-lined boulevards and majestic bridges, but I for one think that it's called the Paris of the East because it's the only city whose shopping comes close to comparision!
Toma Clark Haines is The Antiques Diva™, author of the blog Antiques Diva http://www.antiquesdiva.blogspot.com/ and Chief Executive Diva of The Antiques Diva™ European Shopping Tours http://www.antiquesdiva.com/ and the tour de force behind the online antique store "Treasures by The Antiques Diva™". http://www.treasuresbytheantiquesdiva.blogspot.com/.
The Antiques Diva™ is the In-House Antiques Expert for Bonjour Paris. Bonjour Paris Premium Members will receive a 10% discount with the Antiques Diva™ Tours.
PHOTO CREDIT: Antiques Diva Bonjour Paris Profile Picture is by Angelica Arbulu http://angelica.carbonmade.com/.
Take trips, not chances. For peace of mind each and every time you travel, enroll for MedjetAssist evacuation services.
If you're coming to France (or for that matter anywhere) you can reserve your hotel here. To rent a car, Bonjour Paris recommends Auto Europe.
Please post your comments or questions and let them flow. Register HERE to do so if you need a Bonjour Paris user name and password.
More in Antiques shopping, Flea markets France, out of France, Shopping, tourism
---
---